If you're constantly searching through your kitchen drawers to locate the cooking utensil you need, or if your current utensil crock is top-heavy from everything stored inside and continuously falls over, check out our list of the best utensil crocks to add some efficient kitchen organization into your life. Utensil crocks keep your most-used kitchen tools in one convenient holder right there on the kitchen counter. It clears up drawer space and prevents you from having to dig through a sea of utensils to find something specific, saving you time and energy.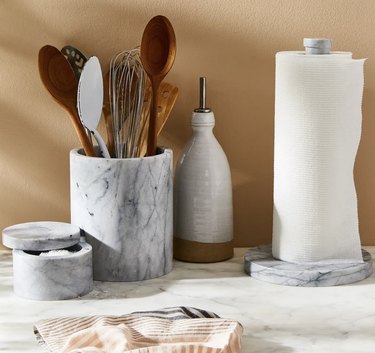 Utensil holders, also known as utensil crocks, range in price depending on the material and size. You can find smaller crocks to hold the basic kitchen tools you use on a daily basis and bigger canisters that can hold at 17 or more large utensils. Of course, the larger the utensil holder, the more space it'll take up on the countertop. We've laid out important aspects to consider and selected the best kitchen utensil holders in 2022.
What to Consider When Purchasing a Kitchen Utensil Holder
​Material:​ Utensil holders come in a variety of materials, including stainless steel, bamboo, plastic, stoneware and ceramic. Stoneware and ceramic are the heaviest materials and are unlikely to take a tumble if overloaded with cooking utensils. Bamboo is the most eco-friendly and sustainable option, while stainless steel and plastic also get the job done, but since they're a bit lighter, you'll want to make sure they are tall and sturdy enough to withstand the weight of your cookware without tipping over.
​Size:​ Since you probably have a plethora of spatulas, cutlery, wooden spoons, whisks and other kitchen tools, you'll want to make sure the utensil caddy is large enough to hold them. Generally, most cooks use 10 to 15 utensils on a regular basis. Large-capacity utensil crocks should be able to hold around 17 cookware items, while smaller ones can hold around 10.
If you have the space on your countertop, it's a good idea to go big even if you don't have 17 cooking tools to hold right now. You never know when you'll acquire more, and the more space you have, the less you'll have to force utensils inside and the less likely the caddy is to spill. Plus, more kitchen storage is always better. A tool crock with a medium height of around 7 inches will hold taller utensils, but you'll still be able to keep track of the shorter ones.
​Style:​ There are a wide variety of color, design and overall style options. You can find a utensil organizer to match the decor in your kitchen, blend in so it isn't an eye sore or stand out as a focal point of your kitchen counter.
​Special Features:​ Certain special features make utensil crocks even more convenient, like dividers that split the holder into equal sections, allowing you to organize gadgets by category; lazy Susan-style rotating base that helps you find what you're looking for quicker; a washable silicone mat that provided a soft area for the utensils to land and personalized monograms.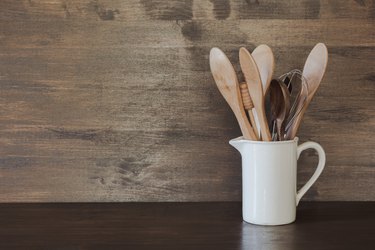 The Best Overall Utensil Holder
Dowan Extra-Large Kitchen Utensil Holder
Keep all your essential utensils handy with this large and deep holder. Made of heavy ceramic, this utensil crock is stable and won't easily fall over, allowing you to place more inside without the worry of it being top-heavy. The bottom is made of recycled cork mat that is non-slip and anti-scratch, protecting surfaces and keeping it in place. This kitchen utensil holder comes in 6.8-inch and 7.2-inch options in white or gray.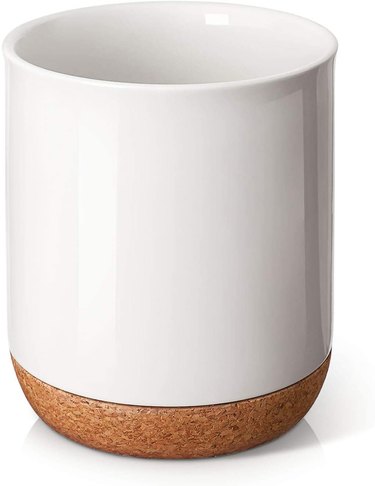 The Best Budget Utensil Holder
Mainstays Glazed Stoneware Utensil Holder
This cooking utensil holder made of stoneware provides easy accessibility to your important kitchen tools, plus it has a clean and modern look that can match most kitchen decor. At under $8, it's the least expensive option on our list, but you wouldn't know it by looking at it. The utensil crock is durable and dishwasher safe, so it can be washed alongside your plates, cups, silverware, dinnerware, flatware or whatever you call your forks, knives and spoons. The available colors are white and gray.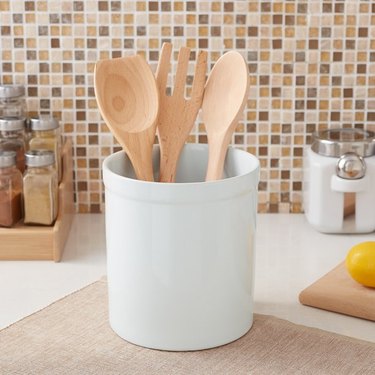 The Best Stainless Steel Utensil Holder
FineDine Stainless Steel Kitchen Utensil Holder
Made of high quality, food grade stainless steel, this kitchen utensil crock has some perks. It features three compartments to help keep your kitchen tools organized, it's fingerprint proof so you won't have to deal with smudges and it has a non-skid base to keep it in place on the countertop. The matte stainless steel will match your stainless steel appliances. In addition to stainless steel, there are five color options that can add a pop of color to your home decor.
The Best Stoneware Utensil Holder
Food52 Marble Utensil Crock
Yes, it's pricey for a utensil holder, but hear us out. This beauty is made of marble, so not only is it a pleasure to look at, it's also incredibly sturdy and built to last. The marble utensil holder is the right height for keeping your whisks, spoons and ladles at an arm's reach while you cook. It's also large enough to chill a bottle of wine or act as a flower vase. As soon as you place it on your countertop, your kitchen will instantly feel like it has just had an upgrade.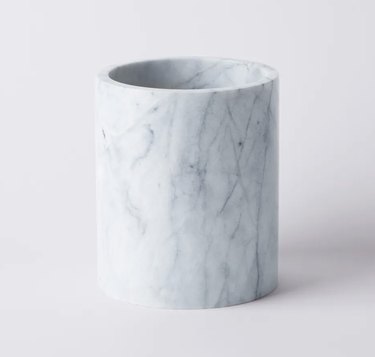 The Best Space-Saving Utensil Holder
Totally Bamboo Kitchen Utensil Holder
Crafted from Moso bamboo, this large, oval-shaped utensil holder is eco-friendly and brings a sense of peace to the kitchen. When things start to feel chaotic, just glance over at this spa-like holder to escape. It's best for storing the absolute essential cookware items, not the ones you only occasionally use, as there isn't enough space for everything. To clean, use a damp cloth and soap to wipe.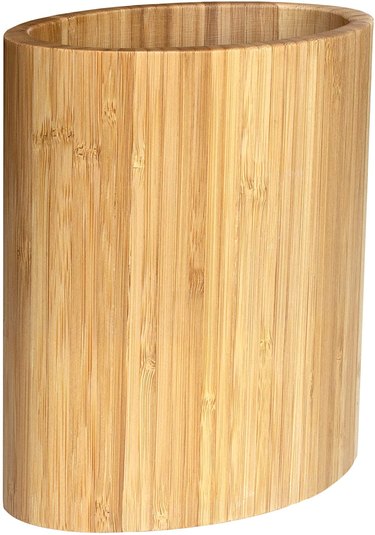 The Best Rotating Utensil Holder
Cooler Kitchen Extra Large Rotating White Utensil Holder
You won't have to cram in your utensils with this extra large holder. It has three compartments so you can separate your tools and keep them organized, and the base rotates like a lazy Susan, so you can reach your utensils more efficiently. A gripped mat at the bottom of the crock prevents the tools from making a loud sound when you drop them in. It also has rubberized feet that won't scratch your countertop or move around. It can hold up to 20 utensils, and its no-tip design keeps everything in place. Choose from five colors: white, black, red, yellow and stainless steel.
The Best Personalized Utensil Holder
Bed Bath & Beyond Floral Stainless Steel Utensil Holder
Whether you want to give one as a gift or create one for your family, this personalized monogram utensil holder is a sweet way to add some charm to your kitchen. Personalization options include one initial and one line of text in one of eight colors, which can be a last name, a nickname or something funny if you're feeling spicy. Made of coated stainless steel, this holder has side handles and is durable, but it needs to be hand washed to avoid the design from chipping.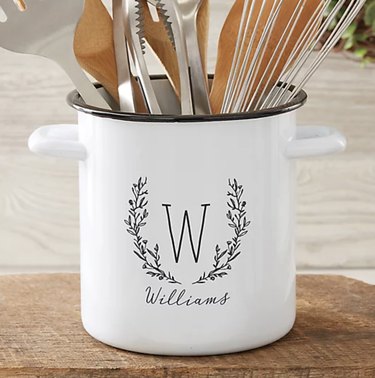 The Best-Designed Utensil Holder
You can never go wrong with something from Le Creuset, the French cookware maker that makes the most beautiful and durable stoneware cookware collections. This utensil crock is no exception. It will add fresh color to your kitchen while keeping your necessary tools close by. A tough, non-porous enamel finish prevents chipping, scratching and staining. If you already own other Le Creuset pieces, this can be the perfect compliment.
The Best Handcrafted Utensil Holder
Brighten up your cooking space with this stunning handcrafted utensil crock. This hand-glazed stoneware jar is all about function and decor, bringing unique style to any countertop. It comes in one color—a pretty, yellow citrine. The company notes that due to its handcrafted nature, there will be slight variations in the design. It is, however, microwave- and dishwasher-safe.