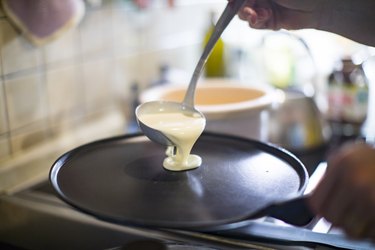 Of all the kitchen utensils you give a lot of thought to, ladles probably don't rank too highly. But if you attempt to pour some chicken soup directly from the pot into a bowl, or if you try to dish it out with a big spoon, you'll quickly realize that ladles are one of those less glamorous but really helpful kitchen tools. And while they may not have many varying or exciting features, there are some simple things that set apart the best ladles from all the others.
If you're active in the kitchen, your trusty ladle can frequently come in handy. Use it to serve soups, stews, chilis, mulled cider or wine, and more; to top foods with sauces and gravies; and for tasks like portioning and pouring pancake batter or risotto broth. So, don't be dismissive of this humble cooking utensil, and take a little time to select a super scooper you'll be happy with for the long haul.
Below are some things to think about when you buy your next ladle, plus some product recommendations that will help you choose with confidence.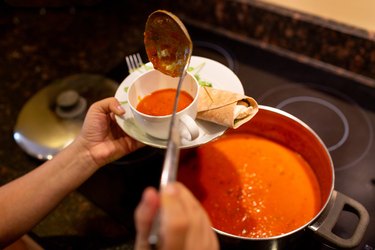 What to Consider When Purchasing a Ladle
​Material:​ Like most kitchen utensils, ladles are made from lots of different materials. Plastic ones are generally the cheapest. They're lightweight and safe to use with nonstick cookware, but they're also the most likely to need replacement sooner than other materials, susceptible to staining and the least heat-resistant. Plus, they aren't always dishwasher safe.
Stainless steel is often a great option. However, while it's durable, long lasting, stain-resistant and easy to clean, it's typically costlier, it can scratch your nonstick cookware and it can get very hot. Wood is another common option. It doesn't conduct heat to any noticeable degree and it's safe for use with nonstick pots and pans, but it too can stain depending on what you scoop. It shouldn't go in the dishwasher, and it requires a bit more care than other materials if you want it to last. Silicone ladles can be a great choice too; similar to plastic but more durable, they're heat resistant and dishwasher-safe.
​Features:​ You might not think of ladles as kitchen tools with lots of differing features, but there are some design aspects to consider. For example, some ladles have a built-in pour spout that facilitates more controlled pouring. A handle with a hooked end lets you rest the ladle on the rim of a pot between uses rather than lay it on the counter. You can also hang it for storage instead of taking up a bunch of drawer space with this awkwardly shaped, bulbous-ended utensil.
Also, make sure the handle is long enough if you want to use it in deep pots, or short enough if you want to pour more precisely. Some ladles have measurement markings inside the scoop that are convenient for portioning purposes. Other common features you can find, if you're so inclined, include extra-high heat resistance, stain resistance, fade resistance and the ability to go in the dishwasher.
​Size:​ Average ladles have around a 6-ounce capacity, and that's about what you want for many standard serving tasks. However, you might want a smaller one for something like dishing out gravy, or a larger one for serving larger portions, serving multiple portions quickly or something like saucing homemade pizzas.
​Price:​ Consider how much you're willing to spend on this cooking utensil. While there isn't quite as much of a price range as with more sophisticated kitchenware, you can spend anywhere from a couple of bucks to $50 or more on a ladle. Average cost for a ladle is about $10 to $15, though.
These are the most important things to think about to pick out a ladle that's right for your needs and preferences. With this criteria in mind, here are the best ladles in 2022: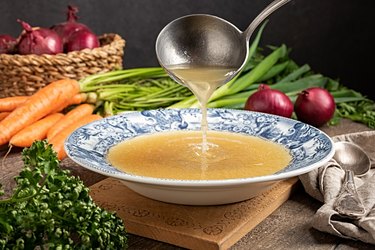 The Best Overall Ladle and Best Stainless Steel Ladle
Rösle Stainless Steel 5.4-Ounce Hooked Handle Ladle
This elegant stainless steel ladle has pretty much everything you want in one of these kitchen tools. Yes, it's sold at an above-average price, but this sturdy, durable utensil can last a lifetime. The 5.4-ounce ladle has a curved rim all the way around that helps prevent drips and spills and facilitates pouring. The 12.6-inch-long handle is big enough to get down into any pot, is angled for better handling and has a central groove for a more comfortable grip, and has a hook for resting on the rim of a pot and for hanging storage. A matte finish makes this ladle less slippery and prevents fingerprints, and the piece is dishwasher-safe for easy cleanup.

The Best Budget Ladle and Best Plastic Ladle
This affordable, BPA-free nylon ladle is a great pick if you want a budget-friendly plastic utensil. It's heat-resistant up to 400 degrees Fahrenheit—higher than many other low-cost plastic pieces. The unique flared shape lets you scrape the bottom of pots and bowls, and it's as good as having pour spouts. This ladle holds 4 ounces, while its ergonomic handle provides a good grip and has a convenient hanging hole. It wipes clean easily, but it can also go in the dishwasher.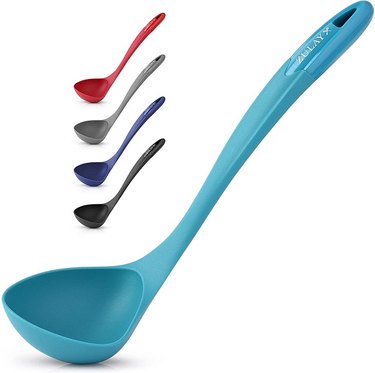 A wooden ladle is an aesthetic-looking and eco-friendly serving piece, and this attractive, handcrafted product is a recommended buy for the category. It's a good price point for a sturdy but lightweight teak kitchen utensil that will last a long time with proper care (which includes hand-washing only). The ample 12-inch curved handle provides a comfortable grip and better control; plus, it has a hanging hole to free up more drawer space. This is a piece you'll go to repeatedly, and you'll enjoy serving guests with it, too.
If you'd like a silicone ladle, this well-priced, BPA- and BPS-free product is sure to please. The precision-pouring rim prevents spills and facilitates smooth pours. There are etched imperial and metric measurement markings in the head, which is helpful if you use the ladle for portioning in addition to serving. At about 12 inches long, this piece will get to the bottom of any pot, and the cup has a 3/4-cup capacity. This kitchen tool is heat-resistant up to 550 degrees Fahrenheit, and the silicone is stain resistant and won't absorb odors. The handle is comfortable to hold and has a hanging hole. You can get this dishwasher-safe utensil in various colors.
Winco 12-Ounce Stainless Steel Ladle
When you need a large or small kitchen ladle outside the standard 4- to 6-ounce capacity, Winco offers some budget-friendly, high-quality stainless steel options. We've highlighted the largest one—the 12-ounce dipper—here, but you can also get an oversized one in 8 ounces, as well as small ones with 0.5-ounce, 1-ounce, 2-ounce or 3-ounce capacities (as well as the standard measurements). All feature lengthy handles from 10 inches to 12.5 inches long, with a convenient resting hook and a central indentation for a more comfortable grip. Their bowls have a curved rim to prevent drips and spillover, and they're all dishwasher safe, too.

The Best Ladle for Sauce and Gravy
Buy Go! Gold Drizzle Spoon With Spout
This stainless steel ladle is specifically designed for use as a sauce ladle and a gravy ladle, and you'll undoubtedly find other uses for it, too. The elegant design, mirror finish and gold color make it an attractive serving spoon you'll be happy to use when entertaining. But the design has substance as well as style, working perfectly for its particular purposes, thanks to its tapered pour spout. The curved handle is comfortable to grip and provides good control; plus, it has a hanging hole at the end. This piece is dishwasher-safe, but you're better off hand-washing it in order to preserve its beautiful appearance.

Amco Stainless Steel Straining Ladle
This convenient, one-piece stainless steel straining ladle lets you scoop, strain and pour with a single utensil, eliminating the need for a strainer or colander, in some cases. The extended curved side with holes allows you to drain excess liquids and retain solids with a simple tip of the ladle. The head has a generous 6.5-ounce capacity, while the long handle includes a hook at the end for resting the tool in your pot. This is a dishwasher-safe product.

CucinaPrime Set of 4 Stainless Steel Soup Ladles
A well-equipped kitchen has ladles of varying sizes, and this set of four stainless steel cooking utensils fills the bill at a great price point. You get ladles with 2-ounce, 4-ounce, 6-ounce and 8-ounce capacities—that's 1/4 cup to 1 cup—covering a wide range of uses. The angled handles are long (10.5 to 12.5 inches) and feature resting hooks. They also have the bowl's capacity clearly etched into them. The mirror finish imparts a high-end look, while curved lips prevent drips and spills. As a plus, you can put this kitchenware right into the dishwasher for easy cleanup.