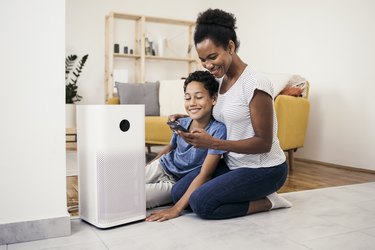 There's no question that a good air purifier can help improve the quality of the air you breathe in your home. It can reduce allergens like pet dander, pollen and mold spores; reduce unpleasant odors; remove virus particles; reduce harmful volatile organic compounds (VOCs); decrease wildfire pollution inside your home and improve the overall air quality in your living space. Air purifiers are a literal breath of fresh air that can not only improve air quality but also your health. Studies have shown that HEPA air filters can improve blood pressure levels and lung function and improve respiratory health in those with asthma, according to the Cleveland Clinic.
An air purifier is an appliance that consists of one or more filters and a fan. It works by drawing in air with the fan and pushing it through the filter, which traps air pollutants and particles. Clean air is then pushed back out, significantly improving indoor air quality. There are many air purifiers on the market, but it's important to buy one that's effective and has the features that are important to you.
What to Consider When Purchasing an Air Purifier
​Room Size:​ Air purifiers come in four sizes, each designed for a specific room size that's measured in square feet. To figure out the right size for your room, measure the square footage of the room and then choose an air purifier that can exceed the specifications.
​Small Air Purifier​: Ideal for rooms up to 200 square feet.
​Medium Air Purifier:​ Best for rooms between 200 and 400 square feet.
​Large Air Purifier:​ Good for rooms between 400 and 1,500 square feet.
​Whole-House Air Purifier:​ Best for purifying every room in the house.
To determine the square footage of a room, use a measuring tape to measure the two perpendicular walls. If the measurements are, let's say, 10 feet by 14 feet, the square footage would be 140 square feet.
​Filter:​ The gold standard for indoor air purifiers is a HEPA filter, which eliminates airborne particles to improve indoor air quality. Whatever you choose, it should be good at filtering pollutants specific to your needs (like pet dander, airborne viruses, dust, pollen, bacteria and other allergens). You should take into account whether the filter is washable or if it needs to be replaced altogether, as well as the cost of replacement filters. It's also important to note how often the filter needs to be changed.
​Electricity Consumption:​ Continuous operation of an air filter is recommended to ensure your indoor air quality stays consistent, but fortunately, air purifiers don't use an excessive amount of electricity. A standard air purifier can use up to 550-kilowatt hours (kWh) of electricity per year when run continuously. The cost to run an air purifier will depend on which device you choose, how often it's run and the price of electricity where you live. The larger the device, the more electricity it'll consume, but most air purifiers have a maximum wattage of anywhere between 40 watts and 200 watts on the highest speed settings. For lower consumption, you can run it on a lower, 10- to 30-watt setting.
​Noise Level:​ Some air purifiers are louder than others. Depending on where you're going to place the device, you might want to get one that's quiet or even silent. The noise of an air purifier can be helpful in your bedroom, however, if you enjoy white noise while you sleep.
Now that you have a better understanding of what to look for in an air purifier, check out the devices that top our list below.
The Best Overall​ Air Purifier
LEVOIT Core 300 Air Purifier
You really can't beat the price and performance of the LEVOIT Core 300. The air purifier effectively handles problems like pollen or dust in a medium-sized room. It has a 360-degree air intake and can clean a 210-square-foot room five times an hour. Sleep mode makes the device nearly silent, and it's light enough to be moved from room to room as needed. All LEVOIT air purifiers are ozone-free and avoid using UV-C light, an air cleaning method that research has shown can produce harmful ozone and secondary pollution.
​Room Size:​ Up to 547 sq. ft.
​Filter:​ HEPA
​Noise Level:​ 24 - 50 dB
​Weight:​ 7.48 lbs.
​Special Features:​ Several types of replacement filter options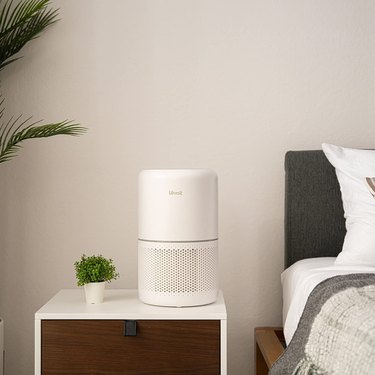 The Best Budget Air Purifier
IKEA FÖRNUFTIG Air Purifier
Perfect for any small room, this IKEA air purifier gives you a lot of bang for your buck. It comes with a particle filter that's optimized to filter away approximately 99.5% of smaller airborne particles such as PM2.5 particles, dust and pollen. A gas filter, which is sold separately, purifies the air from various gaseous pollutants like formaldehyde, which can be found in household cleaning products and various fabrics and materials. The filter should be replaced every six months. Three different fan speeds let you adapt the air purifier to your needs, and its lightweight and attached handle make it portable. It's available in black or white.
​Room size:​ 85 - 105 sq. ft.
​Filter:​ Particle and gas (sold separately)
​Noise Level:​ 28 - 60 dB
​Weight:​ 6.7 lbs.
​Special Features:​ Mountable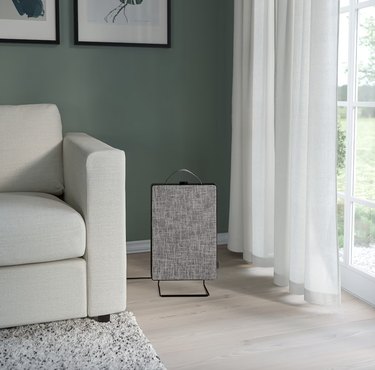 The Best Air Purifier for Large Rooms
Molekule Air Pro Purifier
Molekule's Air Pro Purifier has a hefty price tag, but depending on your needs, it could definitely be worth it. Perfect for medium-sized rooms, its exclusive PECO filter technology is what sets this device apart. A PECO filter utilizes free radicals to break down VOCs, bacteria, mold, allergens and viruses at the molecular level. The device also has a layer of HEPA filter to capture large particles and chemicals. Molekule's air purifiers have been a popular purchase during the COVID-19 pandemic as they can destroy airborne pollutants like many RNA and DNA viruses, but like all air purifiers, they haven't been proven to kill the COVID-19 virus. A bonus is its ability to connect to WiFi for remote control via your iPhone or Android.
​Room Size:​ Up to 1,000 sq. ft.
​Filter:​ PECO
​Noise Level:​ 41 - 65 dB
​Weight:​ 22.9 lbs.
​Special Features:​ Smart controls
The Best Air Purifier for Allergies
Blueair Blue Pure 211+ Auto Air Purifier
This simple, yet powerful air purifier is a great option if you're looking for a device that's effective and straightforward. Made using a three-stage filtration system, this purifier can eliminate everything from pollen to dust mites to smoke in the air. The system's activated charcoal filter works wonders on eliminating pet odors. The device completely filters the air every 12 minutes or so on a high setting in a room up to 550 square feet.
​Room Size:​ Up to 550 sq. ft.
​Filter:​ HEPA
​Noise Level:​ 23 - 56 dB
​Weight:​ 22.4 lbs.
​Special Features:​ Cordless, smart controls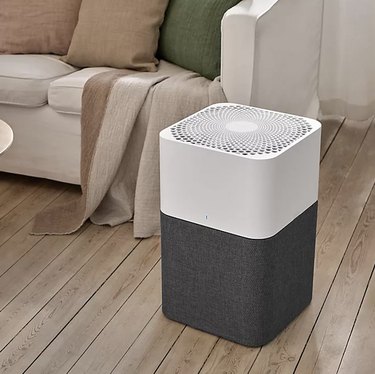 The Best Smart Assistant-Compatible Air Purifier
smartmi HEPA Air Purifier
Smartmi's Air Purifier is considered medical-grade because of its H13 True HEPA filter. It's a great choice for large rooms as it can purify the air in a 517-square-foot room in just 26 minutes. Not only is this device extremely effective, but it also has smart controls and is compatible with Alexa and Google Assistant, making it beyond easy and convenient to control.
​Room Size:​ Up to 517 sq. ft.
​Filter:​ H13 True HEPA
​Noise Level:​ 29 - 64 dB
​Weight:​ 10.8 lbs.
​Special Features:​ Smart controls, compatible with Alexa, parental controls
The Best Car Air Purifier
IQAir Atem Car Portable HEPA Air Purifier
You may not have realized that car air purifiers are a thing, but they are, and they are a huge help for anyone who spends a lot of time in the car. This one is designed for personal air purification, especially for anyone who has allergies or asthma. It also filters dangerous gas pollutants like sulfur dioxide, nitrogen dioxide and benzene, which are found in vehicle exhaust. A three-armed mount allows you to securely affix the device throughout your vehicle, and the power cable has an external USB port to charge your mobile device.
​Room Size:​ Up to 150 sq. ft.
​Filter:​ HEPA
​Noise Level:​ 35 - 55 dB
​Weight:​ 6.3 lbs.
​Special Features:​ Designed for the car, phone charging capabilities