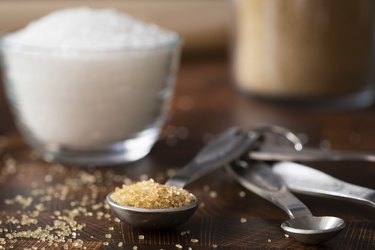 Measuring spoons are an important kitchen tool—indispensable for bakers—but not one that always gets a lot of careful consideration prior to purchase. And yes, at a quick glance, it might seem like they're all pretty much the same.
While there may not be a whole lot of striking differences between various measuring spoons on the market, after you work with them enough, you come to notice the little differences and appreciate the convenient aspects of thoughtfully designed products.
What to Consider When Purchasing Measuring Spoons
​Accuracy:​ You're counting on your measuring spoons for one job above all else: measuring. It's even in the name. So, it's disheartening to know there's considerable variation between the same measurements you get from one product to another. When you're cooking, a few more flakes, grains, leaves or other bits won't usually make much tangible difference. But when you're baking, precise measurements matter. Look for measuring spoons verified to measure accurately—at least if you ever intend to use them to follow baking recipes.
​Sizes:​ Sets of measuring spoons typically come with anywhere from four to 10 different spoons of varying measurements. The most basic sets usually have 1 tablespoon, 1 teaspoon, 1/2 teaspoon and 1/4 teaspoon. This may suffice if you mostly just use them for cooking, where precise measurements aren't crucial. But if you're a baker, you'll appreciate additional measurements.
​Style:​ Yes, there are a number of measuring spoon styles. There's the classic set of round spoons held together on a ring. Round ones are ideal for measuring liquids, but they won't fit into smaller spice jars. For that, there are narrow rectangular and oval spoons.
If you don't like the bulky storage of spoons on a ring, you can get magnetically stacking measuring spoons or a compact product with a single compartment that slides out to varying degrees to hold different quantities. And there are sets of measuring spoons that come with a leveler, allowing you to level off the spoon contents using the same hand you're holding it with, which can be convenient for you multi-tasking cooks and bakers.
Also, take a look at how prominently the measurements are displayed on the spoons. You want something clear and easy to read. And if the amounts are painted on rather than etched or stamped, they'll probably fade over time.
​Material:​ As with so many cooking utensils, stainless steel is a common, dependable material. It's strong and durable, easy to clean and maintain, heat-resistant, resistant to rust and corrosion and stains, and it looks nice, too. Unless you want a specialty item made of something like ceramic, this is the way to go.
Or, if you just want the cheapest possible measuring spoons, you'll end up with plastic. There's nothing wrong with these, but you'll probably have to replace them long before you'd replace stainless steel measuring spoons; they're prone to cracking, breaking and staining. Also, keep in mind that they're not heat-resistant, so if you accidentally lay them down on a hot baking tray or something, they'll melt.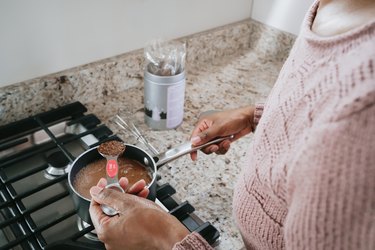 The Best Overall Measuring Spoons
U-Taste 18/8 Stainless Steel Measuring Spoons
Given their accuracy and the wide range of spoon sizes included—plus the good price for such an extensive, high-quality set—this is an easy pick for the best overall set of measuring spoons. The spoons are made of stainless steel with thick handles, and the measurement markings are large, clear, permanently etched in, and shown in milliliters as well as tablespoons and teaspoons. The range of sizes in this nine-piece set is especially great if you frequently cut recipes in half. Also, the spoons won't come off this securely-closing ring and get lost in your drawer. The spoons are easy to clean by hand, but the set is dishwasher-safe, too.
1 tablespoon
1/2 tablespoon
1 teaspoon
3/4 teaspoon
1/2 teaspoon
1/3 teaspoon
1/4 teaspoon
1/8 teaspoon
1/16 teaspoon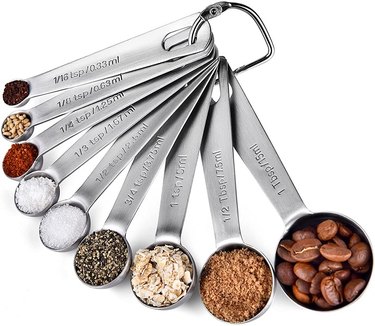 The Best Budget Measuring Spoons
KitchenAid Plastic Measuring Spoons
If you just need some measuring spoons on hand, but you aren't planning to do much baking and you don't want to spend a lot of money, this is a reliable option from the well-known KitchenAid brand. The five spoons are accurate, and the set is notably well-made and durable for plastic. The measurements are permanently etched in, and conveniently also include quantities in milliliters for liquids. Individual spoons are easy to get on and off the ring, which closes securely, and the whole thing is dishwasher-safe for simpler clean up.
1 tablespoon
1/2 tablespoon
1 teaspoon
1/2 teaspoon
1/4 teaspoon
The Best High-End Measuring Spoons
Le Creuset Stainless Steel Measuring Spoons
If you don't mind spending a bit more on higher-end cooking utensils, this five-piece set is accurate, hefty and even somewhat elegant (by measuring spoon standards, at least). Le Creuset is a beloved brand for upscale kitchenware, and this stainless steel set with a polished finish matches many of their other products and looks right at home in any luxury kitchen. The measurement markings—both solid and liquid—are quite prominent and permanently stamped in, and there's a secure ring with a clasp to keep all the spoons together. And you can put these measuring spoons in the dishwasher when you're done with them.
1 tablespoon
1 teaspoon
1/2 teaspoon
1/4 teaspoon
1/8 teaspoon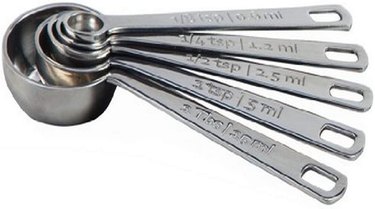 The Best Measuring Spoons for Spice Jars
Spring Chef Stainless Steel Measuring Spoons
This is a great set of accurate measuring spoons—even a strong contender for the best overall set. The only reason we chose the U-Taste set over this one in that category is because it has three more spoons than this one. But this six-piece, sturdy stainless steel set has one big advantage: The narrow, rectangular spoon heads fit into small spice containers for much easier portioning. Plus, it comes with a convenient leveling arm. It also has a simple, attractive design, with highly visible etched measurement marking in both tablespoons/teaspoons and milliliters. The small, secure ring is a nice feature as well, less bulky than many others, and the spoons nest neatly inside each other. This set is dishwasher-safe.
1 tablespoon
1 teaspoon
3/4 teaspoon
1/2 teaspoon
1/4 teaspoon
1/8 teaspoon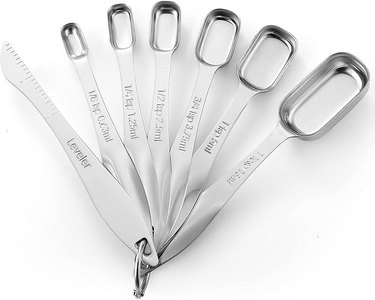 The Best Compact Measuring Spoon
KitchenArt Pro Adjust-A-Tablespoon
Probably the least-appealing aspects of measuring spoon sets are their bulk and the extra steps of getting the spoons on and off the ring that keeps them together. This handy compact tool solves both of those issues. You simply slide the compartment out using the measurement markings as a guide to accurately get different quantities. Note, however, that this product isn't suitable for liquid measurements, and after 1 tablespoon, it only measures in half-teaspoon increments. Made from a zinc alloy and plastic, this tool should be hand-washed and dried promptly.
1 tablespoon
2 1/2 teaspoons
2 teaspoons
1 1/2 teaspoons
1 teaspoon
1/2 teaspoon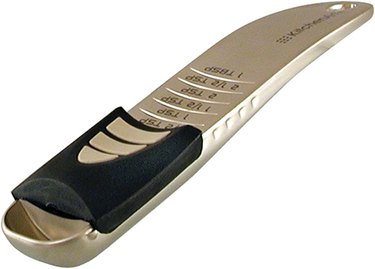 The Best Self-Leveling Measuring Spoons
Dreamfarm Levoons Self-Leveling Measuring Spoons
If you want measuring spoons you can level off using the same hand that's holding the spoon, this ingeniously designed four-piece set is perfect. You simply pinch the handle's two prongs together, and the leveling bar slides right over the spoon (there's one integrated into each of the four spoons). The measurements are accurate, the price point is good, the set is dishwasher-safe and the spoons snap together for easy, compact storage. And, as an added bonus, you can choose from a bunch of fun colors. Perhaps the biggest drawback is that only four sizes are included, though they're the most frequently used sizes.
1 tablespoon
1 teaspoon
1/2 teaspoon
1/4 teaspoon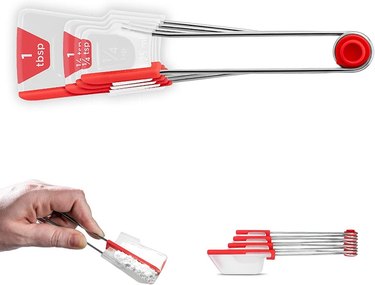 The Best Magnetic Measuring Spoons
OXO Good Grips Stainless Steel Measuring Spoons
OXO is well known for user-friendly, quality kitchen tools at good prices, and its accurate, dishwasher-safe measuring spoons are no exception. These nest together with magnets in the handles, eliminating the bulk and hassle of measuring spoons on a ring. They also have soft, comfortable, nonslip handles—another feature OXO is known for—and easy-to-read, permanently etched measurement markings. The only real downside is that it's only a four-piece set, though it has the four most essential sizes.
1 tablespoon
1 teaspoon
1/2 teaspoon
1/4 teaspoon