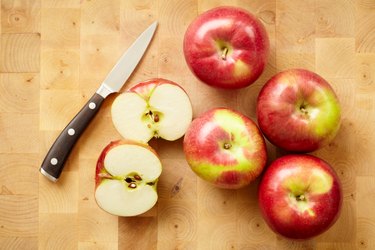 Chef's knives may get all the love and attention, but a good paring knife is the second-most important blade in your kitchen. That means it's worth taking a little bit of time and trouble to pick a good one, rather than the first one that comes to hand. The tasks you'll use a paring knife for—peeling and coring fruits and vegetables, fine cuts, delicate garnishes—are already time-consuming and fussy, so having a good knife at your disposal can save you a lot of time and bother.
So what separates a really good knife from run-of-the-mill offerings? We'll break down a half-dozen of the best paring knives, and discuss what sets them apart.
What to Consider When Purchasing a Paring Knife
Paring knives get used in a couple of different ways, depending on what you're working on. If you're peeling fruits or vegetables or deveining a bowl of shrimp, you'll hold your work—and your knife—over, rather than on, your work surface. This kind of work favors a compact knife with a flexible blade. You'll also use a paring knife fairly often for small cuts, perhaps turning thin slices of radish or cucumber into julienne for a salad. That kind of work favors a knife with a sturdier, stiffer blade and usually a heftier handle as well (to compensate for the added weight of the blade and keep the knife balanced).
Aside from that fundamental difference, there are a few other things you'll want to consider. These include:
​Handle Design:​ Handles on paring knives tend to be small, which helps keep the knife as nimble as it needs to be for delicate work. Boxier designs, with corners, are generally less comfortable than rounded, contoured grips. Some have a small ​bolster​ (protective finger guard) built-in, to protect your fingers from the corner of the blade when you're doing handheld work. That same feature is a disadvantage on the cutting board, where it prevents the knife from making clean cuts. Textured and soft-touch handles provide a good grip even when wet, while smooth and non-porous materials can become slippery.
​Blade Design:​ The blade of the knife can take a number of shapes. Some have a curved edge, like a small chef's knife. Some are straight, with a slight taper at the tip. Some are almost triangular, tapering to a sharp point (good for some kinds of garnishes). Some have a "sheep's foot" shape, with a straight cutting edge and a top edge that curves down to meet it at the point (like a small santoku). In general, straight edges are mostly good for handheld work, and curved edges for chopping on a cutting board, but there are exceptions. Also, be aware that Japanese-style knives often have a sharp corner at the back of the blade, which makes them a poor choice for handheld work: It's really easy to cut yourself.
​Sharpness and Blade Material:​ These are two closely related points. A good paring knife should start out sharp and stay that way, and it should also be relatively easy to sharpen with the time comes. Hard stainless steel (used in some knives) holds its edge for a long time but is difficult to sharpen once it becomes dull. Softer steel takes a wicked edge but will dull more quickly. High-carbon steel can also be rust-prone and require hand-washing, which isn't necessarily a deal-breaker but can be inconvenient.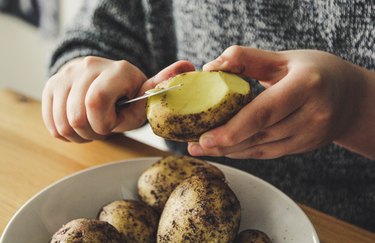 The Best Overall Paring Knife
Victorinox 3.9-inch Straight Blade Paring Knife
It's always gratifying when one of the very best tools for the job happens to be startlingly inexpensive. That's the case with this superbly capable little knife from Victorinox. The blade is as sharp as you'd expect from the legendary Swiss manufacturer (creators of the Swiss Army Knife, and a big player in chef knives as well), and it's easily sharpened and maintained. The textured, contoured handle is easy to grip, even when wet, and though the blade is relatively long, it's still nimble enough for fine detail work. Although the company recommends hand-washing—it's good for any knife, really—they're dishwasher-safe in everyday use. They even come in an assortment of colors (red, green, yellow, black) to fit with your kitchen decor. It's an excellent all-rounder at a price anyone can afford.
The Best Euro-Style Paring Knife
Henckels Zwilling Four-Star 4-inch Paring Knife
A classic European-style paring knife has a sturdier blade than the Victorinox, stiffened by a bolster where the blade meets the handle. This makes them a bit less handy for peeling an apple, but great for cutting stiffer ingredients (carrot sticks, anyone?) on a cutting board. There are other good ones out there (notably from rival German brand Wüsthof) but we favor this one from Henckels for its unusually comfortable soft-grip handle and its high-quality blade. Made from Henckels' proprietary steel alloy, it won't stain, rust or chip, and it holds an edge beautifully. It's suitable for handheld work because of the protective bolster but also works really well on a cutting board (and there's a 3-inch version for smaller hands).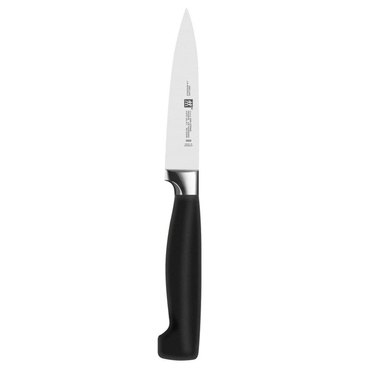 The Best Japanese-Style Paring Knife
Mac Knife Chef Series 4-inch Paring Knife
If your taste leans more to Japanese knives than European, it makes sense to have a Japanese-style paring knife as well. Japanese knives can have heart-stopping prices, but this one from Mac Knife provides unusually good value. Mac is known for making some of the sharpest knives on the market, and this one lives up to that reputation. The company's extra-hard high carbon alloy has a distinctively Japanese shape and holds a startlingly sharp edge, though the handle is pedestrian in comparison. It's an ideal knife for working on a cutting board, but beware: That sharp corner where the handle meets the blade can be a real hazard to your fingers when you're doing handheld work.

The Best "Sheep's Foot" Paring Knife
Wüsthof Classic 3-inch Paring Knife
The "sheep's foot" style of blade has a lot of devotees. You'll get nice, straight cuts, and it has the versatility you'll need for both cutting on the board or doing handheld work (the bolster protects your fingers from the blade). The angle of the handle gives the knife just enough clearance to keep your knuckles from clunking on the cutting board as you work, and the quality of the blade is everything you'd expect from Wüsthof. Its only real downside is price. If the idea of spending that much on a paring knife gives you heart palpitations, well ...Victorinox has a value version that's a first cousin to our top choice.

The Best Paring Knife for Small Hands
Victorinox 3.25-inch Straight Blade Paring Knife
If this looks familiar, it's because—yup—it's the same as our best-overall pick, but with a shorter blade. The difference (roughly 2/3 of an inch) doesn't sound like much, but when your hands are small it means you can exert a lot more leverage on the blade. That, in turn, makes for easier cutting and finer control. You'll still get the same good-quality, easy to sharpen blade, just in a slightly smaller package. It's a no-brainer, especially if you have kids who are old enough to start helping in the kitchen.

The Best Splurge-Worthy Paring Knife
Shun Cutlery Premier Grey 4-Inch Paring Knife
The best Japanese knives aren't just superbly functional tools (though they're certainly that); they're genuine pieces of art as well. This beautiful paring knife from Shun is a perfect example, with its hand-hammered finish and Damascene (layered) steel. The hammered finish is aesthetically pleasing, but it also serves the practical purpose of making it harder for foods—like the cheeses and cured meats on your charcuterie board—to stick to the blade. The generous pukka-wood handle makes this an excellent choice for large hands, but the blade's sharpness and fine point make it suitable for delicate work as well. Just be careful: Shun's blades are razor-sharp, and like the Mac we selected earlier, it's dismayingly easy to cut yourself with the heel of the blade.