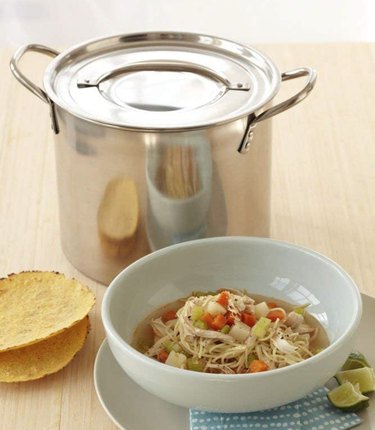 Stockpots may be one of the bulkier pieces of cookware in the kitchen, but they're quite versatile. Thanks to their generally large capacity, they can handle a considerable number of cooking tasks. Stockpots are your best friend when you want to make—you guessed it—homemade stock, but they're also great for making soups and stews, boiling lobster and shellfish, cooking large batches of pasta, and even brining chicken. Whether you're considering an upgrade from your current stockpot or you're purchasing your first one, there are dozens of solid choices on the market. We've narrowed the list down to the very best.
What to Consider When Purchasing a Stockpot
​Handle Design​: Much of your cooking in a stockpot will cause the handles to become very hot, so look for stockpots with cool-grip handles (they may not stay completely cool, but at least they'll be safe to touch). You'll also want handles that are comfortable, easy to grip and sturdy—you don't want to accidentally spill scalding contents due to poor handle design. Metal handles are usually wide and flat or narrow and round. The two most common ways handles are affixed to cookware are through welding and rivets. Welding involves joining two materials together using high heat and is generally stronger than rivets, but it's also more prone to breaking without any warning signs, which can be dangerous. Rivets, which consist of small pieces of metal that are crushed into position between harder pieces of metal, aren't as secure, but you'll usually see and feel when they're becoming loose, giving you time to repair them before any accidents happen. In most cases, either type of handle is fine.
​Cladding​: Cladding refers to what's usually a multilayer of conductive aluminum sandwiched between two layers of stainless steel that's found in metal cookware. Other common materials seen are a copper core. Some pots and other pieces of cookware will have an aluminum base while some will extend stainless steel to the base, as well. How much cladding a pot has can affect its price. More expensive stockpots and other pieces of cookware will typically have full cladding, meaning cladding all around, while cheaper pieces of cookware will only have cladding on the bottom. Since stockpot cooking usually calls for using lots of liquid, full cladding is a nice perk, but not as important as it is for drier cooking methods—such as sautéing or searing in a pan—because the liquid makes you less likely to burn the insides of the pot.
​Lid Materials​: Lids are most commonly made from tempered glass or stainless steel. While lid material doesn't affect the stockpot's cooking ability, there are a couple of traits worth considering. Tempered glass lids allow you to keep an eye on the stockpot's contents without lifting the lid. However, unlike stainless steel lids, tempered glass is susceptible to breaking, especially if you're cooking at much higher temperatures than recommended.
​Heat Threshold​: While you certainly don't have to put your stockpot in the oven, getting a stockpot that can safely cook in the oven is always a plus. The oven temperature range for most stockpots is 350 to 550 degrees Fahrenheit. Stockpots that are 100% made of ceramic and metal are not only safe to use on your cooktop, but also in the oven. However, some stockpots may include pieces of plastic or rubber gaskets that can't withstand high oven temperatures. Nonstick coatings may not always be oven-safe, either. It's always a good idea to make sure the stockpot you purchase can withstand the cooking temperatures your favorite recipes require. Some stockpots are constructed with an aluminum core or disc at the base for optimal heat conductivity that also reduces hotspots. Stainless steel is generally oven-safe up to 500 degrees Fahrenheit before it begins to get warped.
​Durability​: Since stockpots are so versatile, you'll want one that will endure regular use and last a long time. When it comes to materials, stainless steel leads the pack. It lasts practically forever and allows for even cooking. Consider the product warranty and the expected service life of the stockpot before purchasing.
​Size:​ Stockpots for home use typically span 8 to 20 quarts in capacity, with 12 quarts being one of the most common sizes. What size you get depends on your cooking needs and storage space. Since stockpots are great for making stews and soups—which work better as leftovers than some other foods—it may be a good idea to get one large enough to cook in big batches; in that case, you'll probably want 12 quarts or more. It's also worth considering the stockpot's diameter and the size of your burners: Some stockpots feature a slightly narrower design that doesn't require as large of a burner, while others are shorter but wider. Though it depends on the diameter, in general, most home burners can't accommodate much larger than a 16-quart stockpot.
With these considerations in mind, here are the best stockpots in 2022: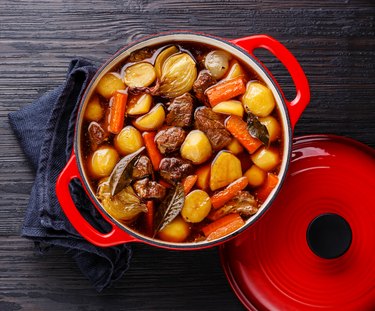 The Best Overall Stockpot
Cuisinart Chef's Classic 12-Quart Stockpot With Cover
Cuisinart's Chef's Classic 12-quart stockpot offers the best of both worlds, as it's reasonably priced and smartly-designed. Its aluminum encapsulated base allows food to heat evenly without hotspots forming, and its professional-grade stainless steel surface doesn't discolor, react with acidic foods or affect flavors. Featuring cool-grip, riveted handles and a tapered lid for drip-free pouring, the stockpot comes with a tightly-fitting lid that locks in flavors and moisture. Both the pot and lid are dishwasher-safe for easy washing. The pot stands approximately 8 1/2 inches tall and measures 10 1/2 inches wide (including the handles). Overall, this stockpot is built to last forever and finished beautifully.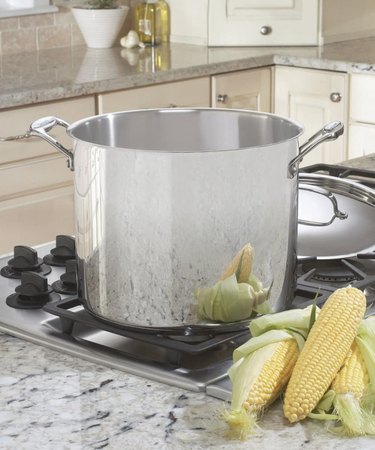 All-Clad Stainless Steel 16-Quart Stockpot
The next-best stockpot overall costs considerably more than our top pick, but it represents an upgrade in construction as well as capacity. Apart from its 16-quart capacity, another big draw is its premium cladding throughout and extremely durable 18/10 stainless steel construction. Its impact-bonded aluminum base provides even cooking and superior heat transfer. The ergonomically-designed handles remain cool to the touch. Best of all, this stockpot is compatible on all stovetops, including induction, so if you end up moving and your new kitchen features different burners, you won't have to replace your stockpot. The pot is approximately 11 1/2 inches tall and measures 14 3/4 inches wide (including the handles). All-Clad is a major player in cookware, and while it can be pricey, the quality is top-notch.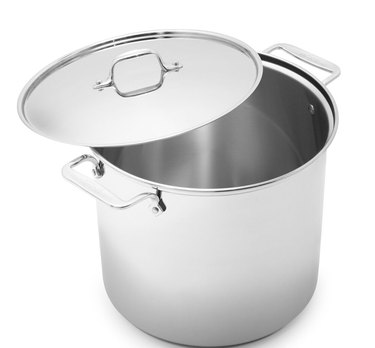 The Best Splurge-Worthy Stockpot
All-Clad D5 Brushed Stainless Steel 8-Quart Stockpot
For those who want the best of the best regardless of price, this premium stainless steel stockpot from All-Clad may be worth the splurge. It's by far the most expensive stockpot on this list, but other than its hefty price tag, it's unique for being the only option with five-layer cladding. That's right, five layers. Three layers of stainless steel alternate with two layers of aluminum that provide unbeatable heat conductivity. Unlike other pots that may only feature cladding at the bottom, the D5 boasts multi-layer cladding throughout the entire body. Other impeccable design features include flared rims for precise, drip-free pouring and cool-grip handles.
Like the All-Clad 16-quart stockpot, the D5 is compatible on all stovetops and is dishwasher-safe. It's also oven-safe up to 600 degrees Fahrenheit, which is on the high end. The D5 is a top-of-the-line piece of cookware that may not suit everyone, but for the cooking pro who wants maximum quality, it's a winner.
IMUSA USA Stainless Steel Stockpot, 8-20 Quarts
If the $400 price tag for the D5 made your eyes bug out, don't worry: IMUSA USA offers a line of quality, affordable stockpots that are much more budget-friendly. Ranging from 8 quarts to a massive 20 quarts in size, the most expensive option costs less than a tenth as much as the D5. And yet, these stockpots are no slouch. Each is made from stainless steel and comes with a matching lid that locks in flavor. There's no seasoning required—simply start using it (although we recommend at least a rinse beforehand). These stockpots are an excellent choice if you're just starting out cooking and don't want to overspend. You can even buy multiple in different sizes for less than the price of one All-Clad stockpot.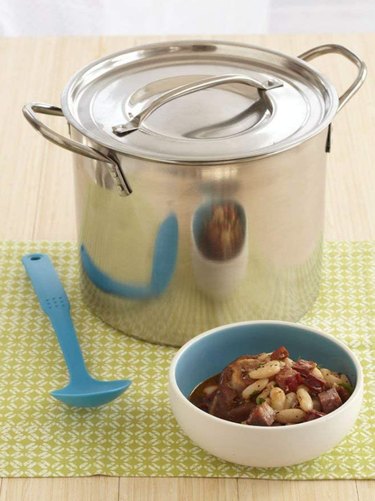 The Best Nonstick Stockpot
T-fal Specialty Total Nonstick Stockpot
"Why nonstick coating?" you may ask. Why not? While nonstick coating isn't as important in a stockpot than it is on a frying pan, it does mean you can cook with less oil. Cleanup will also be incredibly simple. T-fal is known for its quality nonstick coatings, and that trend continues with their nonstick stockpot. Offering a capacity of 12 quarts, its aluminum construction is ideal for heat conductivity. It's dishwasher-safe, but because it's so easy to clean, it'll be faster to simply wipe it down—it's that easy.
The only caveat is that, because of its nonstick coating, the stockpot is only oven-safe up to 350 degrees Fahrenheit, which is pretty limiting. Even on the stovetop, it's better to use on medium- and low-temperature settings; it's just not as well-suited to high temperature cooking as other stockpots. But if that doesn't get in the way of the types of cooking you want to do, its nonstick coating will make cleanup a breeze.
The Best Hard-Anodized Stockpot
Anolon® Advanced Home Hard-Anodized 10-Quart Stockpot
One of the advantages of hard-anodized cookware is that, unlike stainless steel, it's resistant to scratching. It's one tough cookie. Another plus is that it's nonstick. In some ways, Anolon's Advanced Home Hard-Anodized 10-Quart Stockpot improves upon stainless steel models, mixing in the pluses of the T-fal stockpot—while leaving out its disadvantages.
This stockpot's extra-thick, hard-anodized aluminum is engineered for high-quality thermal performance that eliminates hotspots and delivers uniform heating. Its sapphire-reinforced Infinity Slide nonstick interior coating lasts 16 times longer than traditional nonstick coating and 80 times longer than typical ceramic cookware. In addition to its ergonomic, SureGrip riveted handles that combine stainless steel and silicone rubber for added comfort, it comes with a shatter-resistant glass lid that seals in heat and moisture. The pot is oven-safe up to 500 degrees Fahrenheit. The only minor caveat is that it's not dishwasher-friendly.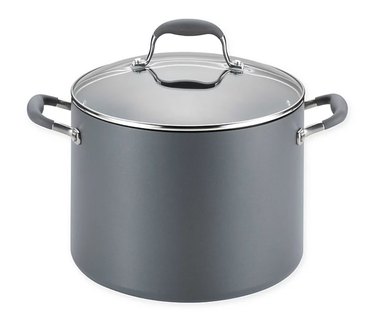 The Best Enameled Stockpot
Le Creuset Enameled Steel 8-Quart Stockpot
This enameled steel stockpot from Le Creuset looks like a close cousin of the traditional Dutch oven (for which Le Creuset is well-known). However, it's not actually oven-safe. Available in four colors, the stockpot offers a capacity of 8 quarts and is safe to use on gas, electric, induction and ceramic cooktops. The enameled interior is easy to clean and there's no seasoning required. Its stainless steel rim provides a tight seal between the lid and pot and helps prevent chipping and cracking. It's a beautiful-looking piece of cookware, but perhaps not quite as versatile as options that are oven-friendly.
The Best Stockpot for Large Batches
Mainstays Stainless Steel 20-Quart Stockpot
If you want something capable of making large batches of food, this 20-quart stockpot by Mainstays is about as big as it gets for home kitchens. It's perfect for seafood boils and cooking large quantities of corn on the cob for a hungry crowd. Made from stainless steel, it features a triple-ply aluminum base for even cooking and includes a shatter-resistant glass and stainless steel lid. Not only is it the biggest pot on the list (tied with the 20-quart model from IMUSA USA), but it's also one of the most affordable. It's a win-win.