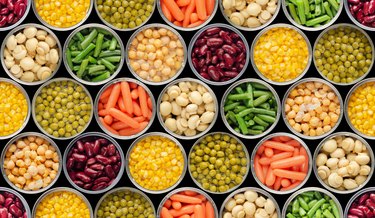 The can opener might be one of the most underrated items in the cutlery drawer. It's small and simple, but without one, it would be extremely difficult to access canned foods and cooking ingredients. While you may not have given much thought as to which can opener to purchase, as it turns out, there are different styles and designs worth taking into account. Some can openers even come with multi-functional attachments. We've laid out some important factors to consider and selected the best can openers—manual and electric—on the market in 2022. A can opener isn't a major purchase, but with a little bit of research, you can choose one that will last for years.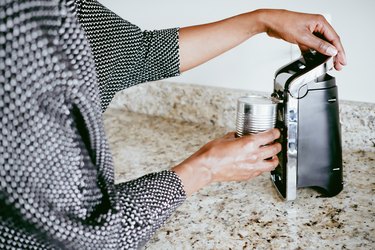 What to Consider When Purchasing a Can Opener
​Type​: There are two main types of can openers: manual and electric. The manual category includes a subcategory of wall-mounted can openers, while both main types of can openers include a subtype called safety can openers, also known as smooth edge can openers.
​Manual:​ The most classic type, manual can openers typically involve a wedge that clasps onto the outside of a can. You then twist a handle or knob that allows the wedge to slice through the circumference of the lid. Smaller can openers—such as ones designed for use in the military or while camping—may forego the twisting handle and instead pierce the can with a sharp edge.
​Electric:​ Electric can openers eliminate the need to twist a handle by doing most of the work for you. All you have to do is pull a lever or push a button, which activates a gear mechanism that pulls the can in tightly while it rotates under a dull blade, removing the lid. The best models will cut the lid off in such a way that the edges are smoother and safer to touch.
​Wall-Mounted​: While not the most stylish, if you want to save space in your kitchen drawers, you can opt for a wall-mounted can opener. Most models will come with all the tools necessary to install it on your kitchen wall or under a cabinet. These can openers feature a large crank, providing enough leverage to open cans of various sizes.
​Safety/Smooth Edge​: These can openers can be either manual or electric and offer features that guarantee smooth edges on the lid to avoid any injuries. They use pressure to help pop off the lid neatly. Instead of directly cutting into the lid, a smooth edge can opener uses a metal gear that goes under the lid's outer edge, which allows the top to pop off safely.
​Size:​ While larger isn't always better, it really depends on the storage space you have available in your drawer. That being said, if you're opening industrial cans in a soup kitchen or restaurant, you'll need a can opener that's larger. If you're looking for a small, compact can opener to bring on a camping trip, there are space-saving models that lack the twisting feature of larger can openers. Electric can openers are larger than manual can openers, which can make them difficult to fit inside kitchen drawers. However, most are still pretty compact and take up roughly as much space as an electric pencil sharpener, so they won't clutter your countertop.
​Ease of Use:​ Larger manual can openers have a wedge that clamps down onto the edge of the can's lid and a handle that you twist until the lid's circumference is completely cut through. Smaller, more portable can openers instead use a sharp edge to penetrate the can and may require more strength. Both methods are fairly straightforward, so whichever is better for you depends more on your grip strength and how comfortable you are using tools with sharp edges, since mishandling one can lead to minor injuries. Electric can openers are the easiest to use because they don't require much strength; simply push a button or pull a small lever. They may call for more maintenance, however.
​Additional Features:​ Even hand-held manual can openers may feature attachments with additional functions, such as a bottle opener or jar opener. Some electric can openers may have a small compartment in the back for storing small pairs of scissors, bottle openers and corkscrews.
Now that we've run through what to look out for when selecting a can opener, let's take a look at some of the best options: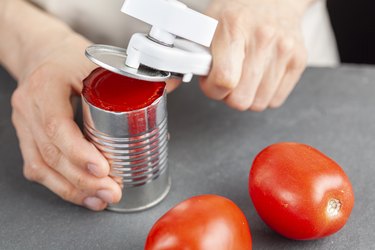 The Best Overall Can Opener
EZ-DUZ-IT Deluxe Can Opener
The EZ-DUZ-IT Deluxe probably comes closest to what you picture in your mind when you think of a can opener, but one of its strengths is actually how quintessential and intuitive it is to use. There are a lot of claims on the packaging, but with its heavy-duty swing design, which is made of heavy-gauge chromed steel, it simply works. The blade is made from carbon steel and the body is cast from alloy steel. Priced in the middle of the pack, it's affordable and long-lasting.
The rubberized handles also give you a firm, comfortable grip that's suitable for older users with more sensitive hands. Washing the EZ-DUZ-IT is also a cinch, as you can simply wash it by hand in warm, soapy water. Just remember to dry it off immediately, as it can rust. Overall, it isn't the fanciest option, but that's the point—it's straightforward, easy to handle and reliable.
​Product Dimensions:​ 7.25 x 2.13 x 1.88 inches (L x W x H)
​Item Weight:​ 10.4 ounces
​Colors:​ Three
The Best Electric Can Opener
Hamilton Beach Smooth Touch Can Opener
Hamilton Beach has several high-quality electric can openers that appear on many "best of" lists, but the Hamilton Beach Smooth Touch model is the best of the bunch. With a simple black-and-stainless steel color scheme, it's sleek, modern and will look classy on just about any countertop. But the real praise belongs to its ease of use. It effortlessly opens pop-top and regular cans while eliminating sharp edges, leaving the lids smooth to the touch. You can even reuse the lids to store the can's leftovers in the refrigerator. Designed with an easy-touch, push-down lever, it's simple enough for children to learn how to use and comfortable for aging hands, as well.
​Product Dimensions:​ 5 x 4 x 10 inches (L x W x H)
​Item Weight:​ 3.1 pounds
​Colors:​ One
The Best Smooth Edge Can Opener
With its patented design, the Good Cook Can Opener will leave the edges of your can smooth, so even children can learn to handle it safely. It's sleek, compact and will look good in any drawer. Another promise this can opener makes is that the cutting wheel or blade will never touch your food, so you won't experience any cross-contamination. The makers also claim that with no sharp edges you can reuse the lid as a cover, which is pretty nifty.
When you combine these top selling points, the Good Cook Can Opener is incredibly easy to use. The handles, blade, and guide wire are cast from stainless steel, which makes this can opener dishwasher-safe—perfect for the busy cook who doesn't want to spend time washing dishes. And lastly, this item has a lifetime guarantee. So, if you're ever not happy with it, send it back for a replacement or repair.
​Product Dimensions:​ 9 x 3.5 x 1.5 inches (L x W x H)
​Item Weight:​ 4 ounces
​Colors:​ One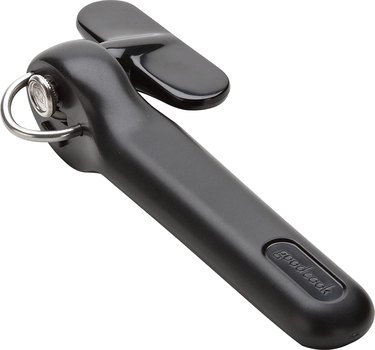 The Best Magnetic Can Opener
Zyliss Lock N' Lift Can Opener
With its locking function and comfortable, soft-touch grip, this can opener helps those who suffer from grip fatigue or arthritis. And with its headline feature of the magnetic lift function, you never need to put your fingers in harm's way. The magnet lifts the lid off the can, while the lever allows you to drop it into a bin for disposal—without ever touching it. And with its stainless steel rolling blade, it makes easy work of opening multiple cans in a row.
While the comfortable, soft grip and magnetic lift are definite pluses, this can opener is not dishwasher-friendly and needs to be wiped down by hand, never submerged. It's available in three funky color options that will fit right in with any modern kitchen.
​Product Dimensions:​ 7.5 x 3.5 x 2 inches (L x W x H)
​Item Weight:​ 6.4 ounces
​Color Options:​ Three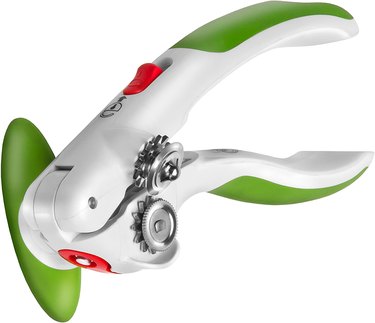 The Best Multi-Purpose Can Opener
Kuhn Rikon Auto Safety Master Can Opener
With its versatile attachments and compact, ergonomic design, the Kuhn Rikon Auto Safety Master Can Opener is the best all-rounder on the market. It's the most expensive manual can opener on our list, but it's worth the extra dollars. So, what can you open with this opener? For starters, cans and jars, as well as ring-pull cans, crown caps (beer-style caps) and screw-top bottles. Made in Switzerland, it's basically the can opener version of the Swiss Army knife.
And just because it opens all those other containers, don't think for a second they relaxed on the can opening feature. The automatic attaching feature locks onto can lids with no need to clamp it into place. It's really a breeze to operate. It's also designed to be safe, as it doesn't cut the tin's lid; rather, it separates it from the can without leaving sharp rims.
This design also means there's no cross-contamination of food. If you are still concerned about sticking your fingers in to fetch the lid, the can opener comes with a tiny pair of pliers that can lift the lid out. While the Kuhn Rikon Auto Safety Master is an all-in-one solution, you will have to wipe it down to wash it, as it's not dishwasher safe and you shouldn't submerge it in water. This opener also allows left-handed people to use it comfortably, thanks to its ambidextrous design.
​Product Dimensions:​ 8.13 x 2.63 x 2.63 inches (L x W x H)
​Item Weight:​ 4 ounces
​Color Options:​ Three
The Best Compact Can Opener
Korin Japanese Can Opener
The Korin Japanese Can Opener has no moving parts, is refreshingly basic, and offers two features: It opens both tin cans and bottles. If your child has just moved out of the house, this is the best opener for them. Made in Japan, you can expect the blade of the compact can opener to stay sharp for a long time. Its looped handle allows for at least a firm grip, if not a particularly comfortable one. The only caveat is that there is no cover for the blade, so you may want to wrap it up in a thick cloth when packing it or carrying it on the go.
​Product Dimensions:​ 5.08 x 2.76 x 1.26 inches (L x W x H)
​Item Weight:​ 4.2 ounces
​Color Options:​ One
The Best Wall-Mounted Can Opener
Swing-A-Way Wall Mount Can Opener With Magnet
For anyone who tends to misplace things in the kitchen drawer and prefers to keep their can opener in one spot, this wall-mount can opener comes with everything you need to install it, including brackets and screws. Made from durable alloy steel, it's designed to swing and lay flat against the wall when not in use, keeping things neat and tidy. You can also lock it into three different positions. It features a large crank to provide extra leverage when opening larger cans, as well as an integrated magnet that helps lift lids off for safe and easy disposal.
For best results, support smaller cans from the bottom and larger cans from the side, using a loose grip that allows the can to spin. While it requires a bit of installation effort before you can properly use it, this wall-mount can opener helps you maximize space in your kitchen drawers. It's not the most stylish, but it works wonderfully.
​Product Dimensions:​ 6.89 x 2.95 x 2.76 inches (L x W x H)
​Item Weight:​ 15.2 ounces
​Color Options:​ One