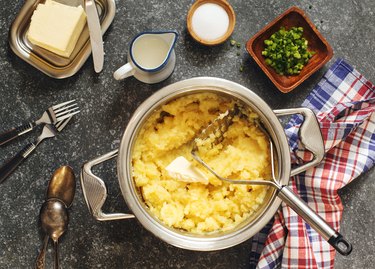 If you really want to impress your dinner guests at Thanksgiving (or any occasion), opt for fresh mashed potatoes made from scratch. While it takes more effort, it's definitely worth it: Compared to instant mashed potatoes, fresh mashed potatoes contain substantially less sodium, yet considerably more dietary fiber. Fresh potatoes are simply healthier—not to mention, they taste better. But, if you want real mashed potatoes, not dry flakes out of a box, you'll need a potato masher or ricer to do the job at home. For those who are not too clear on what a masher or ricer is, you're in luck! We've explained the difference between potato mashers and ricers, laid out what to consider when purchasing one, and selected the best potato mashers and ricers in 2022.
What's the Difference Between Potato Mashers and Ricers?
The humble, but oh-so-effective potato masher comprises two key parts: A tough and sturdy handle and a strong, flat base that has holes in it. These holes can be cutouts or shaped metal. For example, flat-headed mashers have bases that resemble showerheads, complete with dozens of tiny holes. Single-wire mashers have bases made from a zig-zagging piece of metal that leaves plenty of empty space between each peak and valley. Your potato gets mashed as it escapes the pressure created between those two spaces.
A ricer is a type of potato masher, except with a ricer, you crush your food item in a compartment that is called a hopper. You use a plunger to press the produce through the holes in the hopper. When the potato exits, it transforms into delicate, rice-like pieces, hence its name. You can stick whatever you like in a ricer, such as beans, parsnips, cauliflower and turnips; the sky's the limit. A ricer will create a more refined product when compared to a masher, which gives you a rough chunky mash.
Now that we understand the differences let's investigate what you need to consider when selecting your own potato masher or ricer.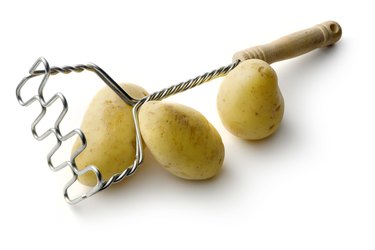 What to Consider When Purchasing a Potato Masher or Ricer
​Head and Hopper Configuration:​ We could argue that the head and hopper configuration is the most important element of these utensils. For smoother results, you'll want your masher or ricer to have a perforated and tined head. With a single-wire head, you will achieve a much more even result. Larger perforations require less force or effort, so if you suffer from aches and pains, this might be a major deciding factor. Smaller heads will require more force and will result in a coarser mash.
​Size:​ The larger the head of the masher, the more quickly you're able to mash. However, some larger-headed mashers might be difficult to handle and store. Wire mashers can fit into corners with ease, compared to a flat bottom masher.
​Materials:​ The majority of mashers and ricers are made from stainless steel. This is due to the fact that stainless steel doesn't rust and is very durable (it doesn't bend). But, if you're planning on mashing your potatoes directly in a non-stick pan, you might want to select a masher made from a softer plastic, or nylon, to avoid scratching the coating.
​Handle:​ The handle matters when selecting a potato masher. You need it to comfortably fit into your hand and to be sturdy and long. As a rule of thumb, try to select a masher with a handle that is one piece, as you want to avoid weak areas that could lead to breakages.
​Ease of Cleaning:​ If your masher or ricer is difficult to clean, you'll probably avoid using it, as mashing potatoes isn't a clean job to begin with. In most cases, potato mashers and ricers made from stainless steel will be dishwasher-friendly. Mashers with lots of nooks and crannies where potato can get stuck will be harder to clean, and even a run through the dishwasher might not clean it thoroughly enough. Nylon mashers may be among the most difficult to clean due to the tendency of food particles to cling to its surface.
With these considerations in mind, let's focus on the best mashers and ricers on the market: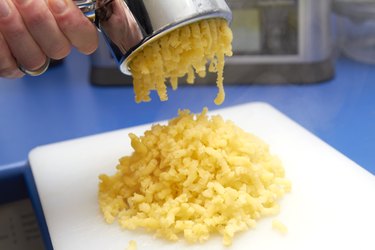 The Best Overall Potato Masher
Zyliss Potato Masher, Stainless Steel
Elegant and sleek, the Zyliss Potato Masher's soft touch and comfy grip make using this potato masher a breeze. Constructed from 18/10 stainless steel, it's rust- and corrosion-resistant, highly durable and able to take a real beating (or mashing, if you will).
It also promises to deliver fewer lumps, thanks to its combination of smaller inner holes and larger outer holes. The manufacturer promises that this pattern delivers the final product more quickly than other mashers, leading to delicious, fluffy mashed potatoes. There's also a great integrated hanging hook for easy storage. Another useful element integrated into the masher is a silicone bowl scraper, which helps you scrape up every last delicious morsel from your mashing bowl.
​Dimensions:​ 13.19" x 3.74" x 3.74" (L x W x H)
​Weight:​ 8.8 oz.
​Materials:​ Stainless steel
​Dishwasher-Friendly:​ Yes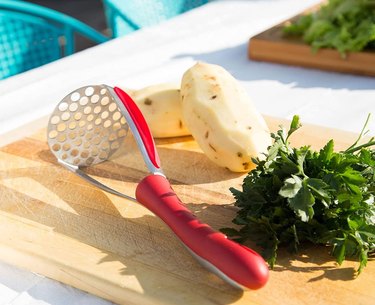 The Best Single-Wire Potato Masher
KitchenAid Gourmet Stainless Steel Wire Masher
While capable of mashing potatoes, this masher is ideal for other root vegetables, avocados, apples and nuts. Made from thick stainless steel, it's durable and rust-proof, and you can stick it in the dishwasher when you're done mashing.
It's also designed with an ergonomic handle that provides a comfy grip. The details on the handle are also quite impressive, like the debossed logo, chrome-plated bolster and stainless steel end cap. And if you're not happy with this potato masher, you can return it, as it comes with a one-year, hassle-free replacement policy.
​Dimensions:​ 10.43" x 3.15" x 4.92" (L x W x H)
​Weight:​ 8.8 oz.
​Materials:​ Stainless steel
​Dishwasher-Friendly:​ Yes
The Easiest-to-Use Potato Masher
OXO Good Grips Smooth Potato Masher
If you're looking for a masher to make the work easier, the OXO Good Grips Smooth Potato Masher is exactly what you need. Its fine grid pattern makes sure that the potatoes you mash end up silky smooth. You can also use this masher for other root vegetables and fruit. Its durable stainless steel construction makes it possible to mash a wide variety of produce.
What really makes mashing easier is the "punch" design in the metal, and with the soft, broad handle, you get a comfortable grip, as well. This masher is dishwasher-friendly and BPA-free. However, its multiple tiny holes where food particles can get trapped might make it more difficult to clean perfectly on the first wash.
​Dimensions:​ 6.13" x 4" x 3" (L x W x H)
​Weight:​ 3.99 oz.
​Materials:​ Stainless steel
​Dishwasher-Friendly:​ Yes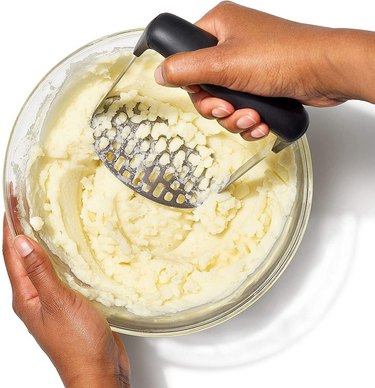 The Best Overall Potato Ricer
OXO Good Grips 3-in-1 Adjustable Potato Ricer
OXO makes the list again with its adjustable potato ricer. With its brushed, stainless steel finish and soft, comfortable nonslip grips, it's easy to use and works brilliantly. The ricer has a handy arm with a groove off the hopper chamber that locks it into place on your pot, so you can easily mash the contents directly into it.
With three adjustable settings, you can turn the rotating stainless steel disks to change the consistency to fine, medium or coarse, depending on your taste. The fine setting is perfect for creating fluffy mashed potatoes and gnocchi. Setting it to medium is ideal for spaetzle. And on the coarse setting, you'll be able to create amazing chunky applesauce for the little ones. While it is dishwasher-friendly, to achieve a more thorough cleaning, you can remove the disks and wash them separately.
​Dimensions:​ 16.62" x 5" x 5.5" (L x W x H)
​Weight:​ 2.82 oz.
​Materials:​ Stainless steel
​Dishwasher-Friendly:​ Yes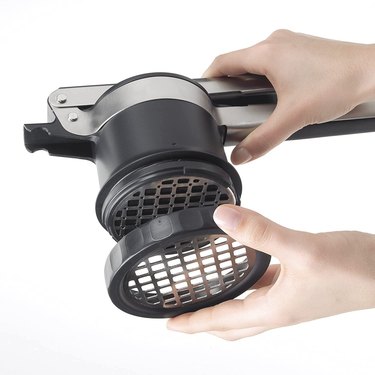 The Most Innovative Potato Ricer
Joseph Joseph Helix Potato Ricer
While all the other mashers and ricers on this list have been made of stainless steel, the nylon-made Joseph Joseph Helix Potato Ricer is so innovative that we had to mention it. Rather than relying on brute strength to mash the produce in the hopper, it employs an innovative horizontal twisting design. This helix design means you can crank the pressure without having to strain yourself.
The nylon construction of the handles is tough, while the hopper is made of durable stainless steel. These materials make it easy to wash, and they're all dishwasher-friendly, BPA-free and food-safe. For home cooks suffering from arthritis or other aches and pains, this user-friendly ricer makes ricing a much more comfortable experience.
​Dimensions:​ 10.43" x 3.58" x 3.7" inches (L x W x H)
​Weight:​ 1.06 lbs.
​Materials:​ Nylon, stainless steel
​Dishwasher-Friendly:​ Yes