A ramekin—also known as a soufflé dish—is a small, round baking dish. They do come in other shapes, but round is the traditional, most practical and most versatile shape, so it's the recommended way to go (unless you have some specialty purpose in mind that calls for something else).
If you plan to make soufflés in your ramekins, it's important that they have straight sides and a fluted rim, or else the soufflés won't rise properly. This too is the traditional design of a ramekin, but there are products on the market these days that aren't made like this.
Of course, ramekins are great for a wide variety of baked dishes—both savory (like chicken pot pies and baked eggs) and sweet (like fruit crisps and chocolate lava cake)—especially in single-serving portions. They're also useful for treats like puddings and crème brûlée, dips and condiments, smaller snacks like nuts and olives, and much more.
What to Consider When Purchasing Ramekins
​Material:​ Ceramic (including porcelain) is the go-to material for ramekins. It can do anything you want to do in a ramekin, it has an effective nonstick surface, it has high heat tolerance, it heats evenly, and it's a nice material to serve food in. If you don't want ceramic for some reason, stoneware or glass are good options based on versatility and reliability. Keep in mind that these three materials can break when exposed to sudden, extreme changes in temperature, so don't do something like transferring them directly from the freezer into a preheated oven. You'll also see stainless steel and silicone ramekins out there, but they're less dependable for a wide range of uses when you're baking, so in general, only purchase them if you have a specific reason for doing so.
​Size and Shape:​ In terms of capacity, 6 to 8 ounces is a fairly standard ramekin size, and these generally have a diameter of about 3.5 to 5 inches. You might want smaller 4-ounce ramekins for certain uses, like extra-rich desserts or condiments. And you might want larger ones for things like lighter dishes, single-serve entrées or multiple servings. Thicker, heavier ramekins tend to perform better when it comes to baking, so opt for a product that has some heft if you'll be using it in the oven. Some foods require depth, like soufflés and pot pies; others, like crème brûlée, work better in shallow, wider ramekins. You can also get square, rectangular, and other shaped ramekins if you want to enhance your presentation with a different look.
​Stackability:​ This is a feature you may very well appreciate. Many ramekins today are designed to securely stack on top of each other (or nest inside each other if they're a set of different sizes) for more space-efficient storage. If they're not made to be stackable, they'll inevitably fall over if you try to pile them up on top of each other. That means either having to spread them out and take up lots of real estate in the cabinet or tying to prop up makeshift stacks and hoping they don't fall over and break.
So, think about what you'll mostly be using a ramekin for, and it should be easy to pick out a product you'll be happy with. You may want to stock up on ramekins of a few different sizes so you can do a lot more with them.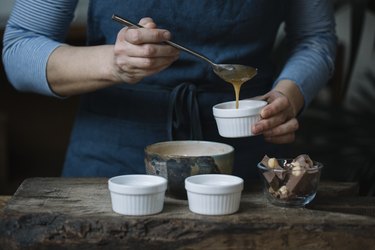 The Best Overall Ramekins
Sweese 8-Ounce Porcelain Soufflé Dishes, Set of 6
This is a great price for a set of six high-quality, chip-resistant porcelain ramekins at the large end of standard sizing. They cook evenly and are designed perfectly for making notoriously finicky soufflés, and their classic fluted rim lets them stack nicely for compact storage. Available in a bright white as well as a few other attractive colors, these ramekins have a shiny glaze coating that gives them a superior nonstick, easy-to-clean surface—plus they're dishwasher-safe. You can also put them in the microwave and the freezer, but note that they're only oven safe up to 400 degrees Fahrenheit.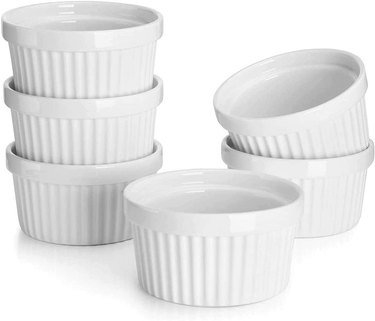 The Best Stoneware Ramekins
Emile Henry 8.5-Ounce Clay Ramekins, Set of 2
These high-performance, evenly heating, heavy, French-made Burgundy clay ramekins don't just work well—they look great, too. Formed and finished by hand, they're available in white and three other elegant colors, and they're coated in a stain-, scratch- and chip-resistant glaze that easily releases food. The above-average capacity allows for more uses and more generous portions, and excellent heat retention keeps hot food hot for a long time. These freezer-safe ramekins are also more resistant to thermal shock than many other similar products.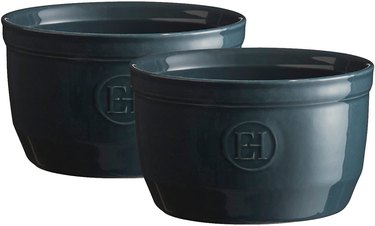 Duralex OvenChef 8-Ounce Glass Ramekins, Set of 4
If you prefer glass ramekins, this is a reliable, durable option with an elegant look that'll make you proud to serve food in them, even to guests. It's a fair price point for a set of four of this quality and given their size and stackability. The strong tempered glass is 2.5 times more resistant to chips and breaks than standard glass, and they have a higher-than-normal resistance to thermal shock. They can go in the oven, microwave, refrigerator and dishwasher.
DOWAN 4-Ounce Porcelain Ramekins, Set of 6
For a smaller-sized ramekin, this very affordable set of six 6-ounce dishes is a perfect pick. They're ideal for serving condiments and sauces, rich desserts like chocolate mousse, small sides like nuts and berries, and more. The high-fired porcelain is oven-, microwave-, freezer- and dishwasher-safe, while the high-gloss glaze resists stains, cracks and chips and makes the ramekins nonstick and easy to clean. They have the classic soufflé dish design, which means they stack neatly, too.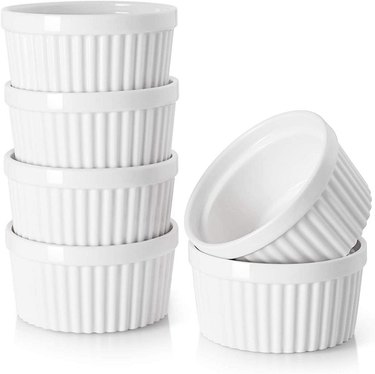 Sweese 12-Ounce Porcelain Ramekins, Set of 4
Need ramekins that are bigger than the standard 6 to 8 ounces? This set of four 12-ounce, classically designed, stackable porcelain soufflé dishes fits the bill and gives you a great product at a great price point. They cook evenly and are well-suited to uses like individual servings of main courses and setting out small finger foods for multiple people. Choose from several attractive colors, and don't worry about putting them in your oven or broiler at any standard-temperature, microwave, freezer or dishwasher. The nonstick glazed surface releases food easily and also resists stains, chips and cracks.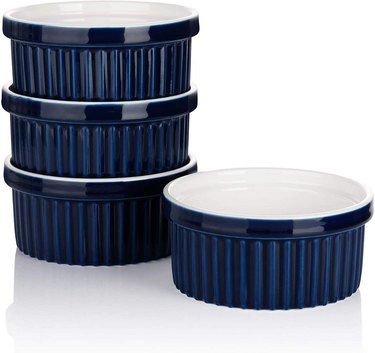 The Best Oversized Ramekin
Duido 48-Ounce Ceramic Soufflé Dish Ramekin, Single
Here's a classic soufflé dish you can make a single soufflé in for several people. Of course, this 48-ounce (1.5-quart) ramekin isn't limited to that; it's ideal for baking plenty of other entrées and multiple portions of side dishes and desserts, or for serving finger foods at a gathering. It can go in the oven up to 450 degrees Fahrenheit, or the microwave, freezer and dishwasher. This product is available in a few nice colors, and the ceramic is durable, fade-resistant and nonstick. It's sold individually, but it's stackable if you buy more than one. As an added bonus, it comes with a matching mini ceramic spoon.
WERTIOO 6-Ounce Ceramic Ramekin Bowls, Set of 8
If you're looking to pick up some reliable, standard-sized, classically designed, stackable ceramic ramekins as cheaply as possible, buy this budget-friendly set of eight 6-ounce dishes. These ramekins heat and cook evenly in the oven (up to 520 degrees Fahrenheit), and they're safe for use in the microwave, freezer and dishwasher. The set includes an assortment of vivid colors, and the nonstick surface resists scratches, cracks and chips.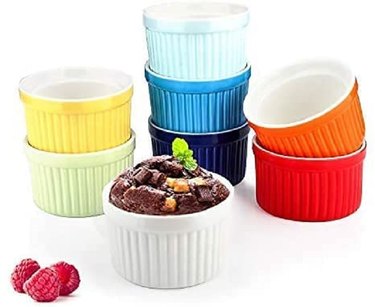 The Best High-End Ramekin
Le Creuset 7-Ounce Stoneware Ramekin, Single
Around the world, French brand Le Creuset is a go-to for high-quality, gorgeous cookware, and it hasn't sat out the ramekin game. This premium stoneware ramekin is available in several different colored glazes that are nonstick, nonporous, nonreactive, and resistant to fading, stains, scratches, cracks and chips. It performs beautifully when baking and has a matching beautiful look that'll make you happy to display it in any luxury kitchen or serve it to dinner party guests. Use it in the oven, broiler, microwave, freezer and dishwasher, and with metal utensils. It does a superior job keeping cold food cold and hot food hot, too.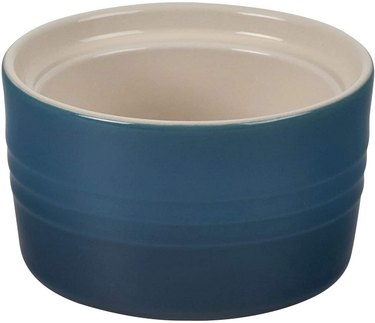 BTaT 8-Ounce Square Porcelain Ramekins, Set of 8
If you'd like something a little different and more contemporary looking, take a look at these stylish square white ramekins. Considering the quality and performance, that they offer standard, full-size capacity, and that you're getting a set of eight, it's a great price. The porcelain is safe for use in the oven, microwave, freezer and dishwasher. And, although these don't have the typical fluted rim that provides a little ledge for stacking, their slightly tapered bodies do stack securely on each other.