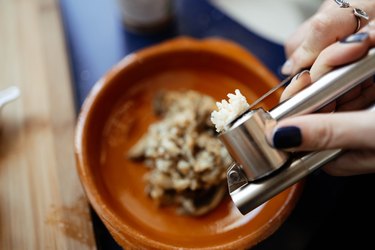 Garlic presses are one of the more controversial kitchen implements. Some purists say garlic should only be cut with a knife. Others prefer to avoid single-purpose kitchen products. But there's just no getting around the fact that a quality garlic press is a major time-saving convenience item, accomplishing in 2 seconds what you might spend 2 minutes trying to do.
It also delivers superior results when you want finely minced or crushed garlic. Not only does it take much longer to achieve this by hand—especially if you don't have pro chef knife skills—but you won't cut your garlic cloves as evenly as a garlic press does. The smaller garlic is cut, the more potent its flavor; so, if you cut unevenly sized pieces, you can end up with inconsistent flavoring throughout your dish. Plus, garlic presses spare you from those notorious stinky garlic fingers.
Of course, older garlic presses had a reputation for being annoyingly difficult to clean. But today's leading models are much better in this regard, and plenty of them can go in the dishwasher. And—something lots people don't realize—many of them don't even require that you peel the garlic cloves before you press them. The skin is thin enough that the press can push the garlic right through it, but the skin remains whole in the chamber of the press.
What to Consider When Purchasing a Garlic Press
​Style:​ Most garlic presses have two handles you squeeze together with one hand. This is the prevalent and preferred style. There are some two-handed squeezable products, but these tend to be a bit harder to use. If squeezing poses physical difficulties, or you just don't like it, there are other styles.
Rockers are the second-most-popular type. These metal pieces have mincing holes in the middle and curve upwards at each end. You position the holes over the cloves and push down on the two ends, rocking it back and forth in a see-saw motion.
And there are twist presses. These are round containers with a top and bottom that have teeth. You place cloves inside, close the container and twist, and the garlic is minced by the cross-cutting action of the teeth. A big advantage with this style is that you control how extensively you break down the garlic, twisting less for coarse results and more for finer results. Plus, it's well suited to chopping ginger, herbs, nuts and more.
​Material:​ Generally speaking, you want a metal garlic press that's strong, sturdy and unyielding when you squeeze it. Stainless steel is the go-to material since it's strong, long-lasting, easy to clean and doesn't rust—and it doesn't pick up that strong garlic scent like many other materials, including some metals. To know you're getting a durable product that should last, look for "cast" or "die-cast" in the product descriptor, which indicates that its parts are made with solid molded pieces of metal. Twist garlic presses are typically made of a strong plastic like polycarbonate.
​Chamber:​ The basket of a garlic press should be easy to clean, lest your time-saving convenience item become time-consuming and inconvenient. Some models have a basket that swings out for easier cleaning access. Models that don't have this feature aren't necessarily any more difficult to clean out, but make sure the chamber is large enough for you to get in there. Also, look at the holes. The best garlic presses seem to have round holes rather than square ones. Consider their size, too; the larger the holes, the more minced the garlic will come out, while smaller holes produce a texture closer to a paste.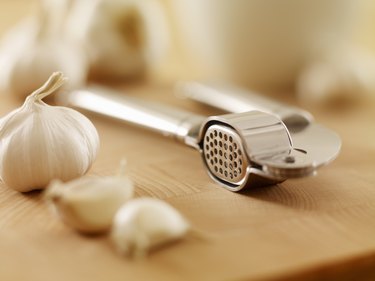 The Best Overall Garlic Press
Alpha Grillers Garlic Press with Peeler
This hefty stainless steel garlic press is strong and durable with a sleek, elegant design and handles that are comfortable to squeeze. Go ahead and press unpeeled cloves in this model, but it does come with a silicone roller garlic peeler (if you prefer to peel prior to pressing, or for use whenever you're cutting garlic by hand). The output is perfectly uniform, and the holes are sized to create a happy-medium between minced bits and a paste. The piece is dishwasher safe, but also very easy to clean by hand, with a chamber that flips out and a little cleaning brush included. And it must be pointed out that this garlic press is sold at a great price point for the quality and durability—performing as well as or better than garlic presses that cost considerably more.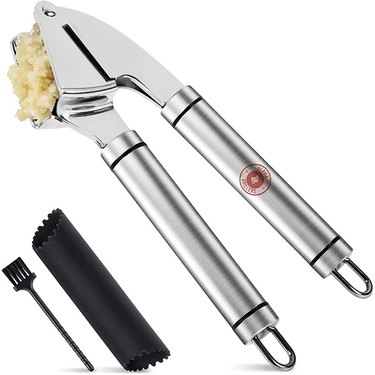 The Best Garlic Press for Arthritis
OXO Good Grips Soft-Handled Garlic Press
If you tend to press significant quantities of garlic at the same time or have some trouble with squeezing, opt for a model that goes the extra mile for comfortable use. And this is it. It's made from die-cast zinc and is heavy-duty, requiring minimal pressure. The nonslip silicone-wrapped handles are soft and ergonomically designed to fit nicely in your hand. It'll also save you the work of peeling the cloves, as it easily handles them unpeeled. This affordably priced tool also fits three average-sized cloves at the same time to reduce the number of squeezing rounds. It produces a higher yield than many other models, too. This one has relatively large, square holes, so you get a more minced output than a paste. It's easy to clean, flipping open all the way for access and able to go into the dishwasher fully extended. As an added bonus, this product handles ginger well, which many garlic presses do not (even though they often claim to).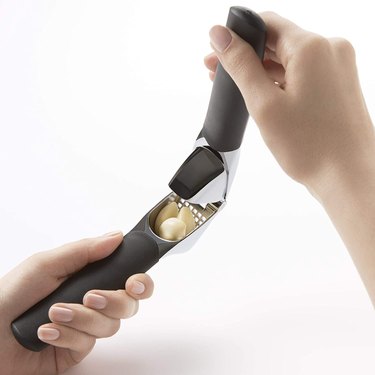 The Best Value Garlic Press
When you want to spend as little as possible on a garlic press that actually works and isn't a hassle to clean, this is a smart buy. It's a simple, solid, sturdy stainless steel construction, and you don't need to peel the cloves with this one, either. Still, it does come with a roller garlic peeler, even at this notably budget-friendly price. The output is evenly minced, and the chamber fits two to three cloves at a time. It flips open fully and comes with a small cleaning brush for easy cleanup, and it's dishwasher-safe.
The Best High-End Garlic Press
Dreamfarm Garject Garlic Press
If you're willing to pay a premium price for a high-end garlic press, this is a sensible pick that will last you a long time. The design is both elegant (a little more so than the name, a mashup of "garlic" and "eject") and functional. Using an innovative scraper tool, this product excels at maximizing the yield of crushed garlic, which comes out uniformly pasty. And, because you can load unpeeled cloves, it has a convenient function to eject the peel left behind in the basket. It also requires notably little pressure for this type of tool. This piece is easy to clean by hand, flipping open widely and having a large chamber that fits two to three garlic cloves at the same time, but it's dishwasher-safe, too. This high-quality zinc piece is available with red or black accents.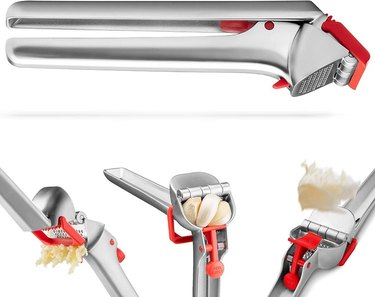 Joseph Joseph Garlic Rocker
For a squeeze-free garlic press that produces nicely minced results (closer to diced than a paste, as the holes are relatively large) and a higher yield than most squeeze-style garlic presses, choose this rocker. The attractively designed, stainless steel tool takes only very minimal pressing force while rocking it back and forth. And, because it's a single piece with no moving parts, it couldn't be easier to clean by hand—plus it's dishwasher-safe. This one works better with peeled cloves, though, and keep in mind that it requires a cutting surface. If you want to press ginger too, this is a much more effective tool than most squeeze presses.

The Best Twisting Garlic Press
NexTrend 3rd Generation Clear Garlic Twist
Twisting garlic presses are a newer style, presenting another alternative to squeeze presses. If you don't want to squeeze, or if you prefer a tool that handles ginger well too (and shallots, peppers, herbs, nuts and more), this is a top contender. Control how finely the contents are minced by how many times you twist. The only non-metal piece to make this list, it's manufactured from strong, durable, dishwasher-safe polycarbonate—which, conveniently, is clear, so you can see how finely you've cut the garlic without opening the container. This piece does tend to work better when you load two or three cloves at the same time; more of the minced garlic seems to get stuck in the teeth when mincing a single clove. And it's better to peel the cloves first.