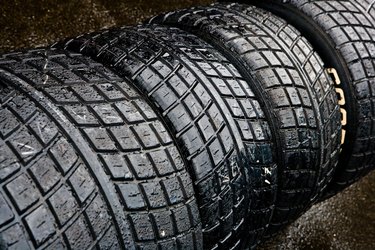 Choosing tires for your truck might not seem like an important decision, but the tires you put on your truck can be as important as putting oil in your engine. Tires can help improve the way your truck handles on and off the road, they can help or hurt your gas mileage, and some can help to keep you safe in bad weather. When you purchase new tires for you truck, an informed decision can help to make all the difference.
Michelin LTX M/S Tires
The Michelin LTX M/S tire is a light truck tire that distributes weight evenly to help reduce the wear on the tire tread. The LTX tire offers straight grooves to help the tire grip the road in all weather conditions. This tire features an extra steel belt that helps make the tire more durable and stronger under extreme weights. The LTX tire is one of Michelin's best-selling tires and the company's Web site states that it is a consumer favorite.
BF Goodrich All Terrain T/A KO Tires
The BF Goodrich All Terrain T/A KO tire offers wider grooves for better traction in all types of weather. This tire features a three-ply guard to help protect against cuts and punctures. The All Terrain T/A KO tire distributes weight evenly to make the tire last longer, and the warranty for this tire is 90,000 miles. This tire also features two full-width steel belts and a rim protector.
Goodyear Wrangler MTR With Kevlar Tires
The Goodyear Wrangler MTR with Kevlar tire was originally made for off-road vehicles, but is now available for pavement driving also. The features of the Goodyear Wrangler MTR with Kevlar include more puncture resistance with the Kevlar-reinforced sidewalls, and wraparound tread that helps improve traction in all terrains and weather conditions. The silica rubber used in the tire helps with off-road and wet-road traction. Kevlar, a product used in making bulletproof vests, is said to be five times stronger than steel, making this tire stronger than tires without this type of reinforcement.
Goodyear Wrangler AT/S Tires
The Goodyear Wrangler AT/S tire is a light-truck tire for on- and off-road terrain. Made for two- and four-wheel-drive trucks and full-size SUVs. this tire features traction in snow, rain and dry weather conditions. The Goodyear Wrangler AT/S tire, designed to be safe and sturdy for off-road driving, features puncture-resistant sidewalls and a six-year warranty.