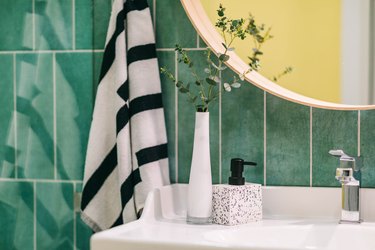 Hand washing has always been important, but over the past couple of years, keeping your hands as clean as possible has become an absolute necessity. You know, the whole global pandemic thing. Single-use plastic soap dispensers get the job done, but they don't come with the perks of reusable soap dispensers. Reusable soap dispensers keep your hands clean, but they also add character and style, are eco-friendly, and the reusable aspect makes many of them budget-friendly (although that'll depend on the dispenser and the cost of soap refills). Every bathroom and kitchen needs soap, so if you're looking to upgrade your countertop vibe, you've come to the right place.
What to Consider When Purchasing a Soap Dispenser
​Type of Dispenser:​ Dispensers come in various sizes, materials, colors and finishes. Pump dispensers are the most common and inexpensive, requiring manual pumping. Automatic dispensers have a sensor that allows for touch-free dispensing. Wall-mounted soap dispensers clear up counter space and require installation. Deck-mounted dispensers are designed to be installed directly into kitchen or bathroom counters next to a faucet. Shower dispensers usually come with one, two or three soap dispensers in a single, wall-mounted frame, which can be used for soap, shampoo and conditioner. Some soap dispensers use liquid soap while others require foam soap. You can't go wrong with whichever soap dispenser you choose.
​Durability:​ Any reusable soap dispenser you choose is going to be durable, but if you have kids, you might want to avoid glass and ceramic. While glass and ceramic are long-lasting, they are fragile and can break easily if dropped or knocked over. Since washing hands isn't always a gentle activity—even for grown-ups—breakability is something to consider. Stainless steel or plastic are your best bets for maximum durability.
​Capacity:​ If you have a big family, you might want to consider a large capacity dispenser. Otherwise, you'll find yourself refilling it way more often than you bargained for. Smaller capacity dispensers are great for a small family or someone who lives alone.
Now that you have a better idea of what to look for in a soap dispenser, check out the best options for your home below.
The Best Overall Soap Dispenser
Secura Touchless Soap Dispenser
When it comes to touch-free soap dispensers, this one by Secura has all the bells and whistles at an affordable price. It has an on/off button and an adjustable dispenser control so you can set how much liquid soap you want to be dispensed at a time. An infrared sensor can detect your hand from 2.75 inches away and dispense soap automatically. The dispenser is versatile in its display, as it can be placed on a countertop or be wall-mounted. There are four finishes: chrome, brushed nickel, dark gunmetal and silver. Four AA batteries are needed but not included.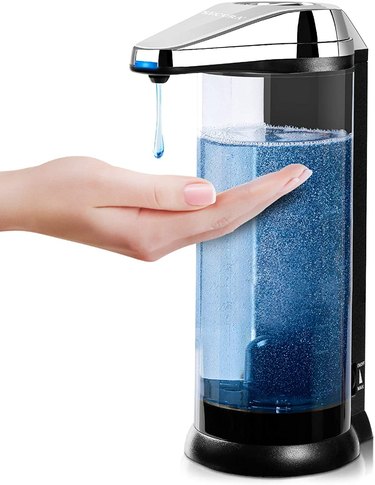 The Best Budget Soap Dispenser
Jasai Clear Glass Soap Dispenser
This soap dispenser is not only the most inexpensive on our list, but it's also one of the most popular glass pumps on Amazon—and for good reason. It's a practical pump that can blend into any home decor style while adding a dash of elegance. It has a stainless steel pump and comes with a blank wooden tag that can be written on.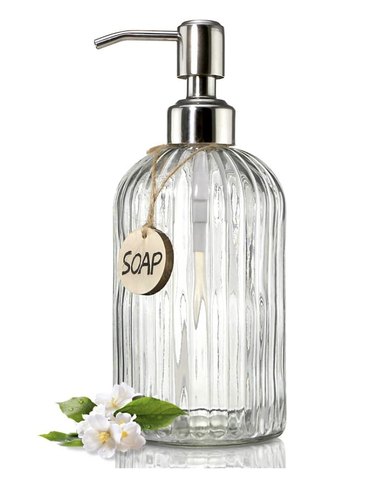 The Best Soap Dispenser for Kitchens
OXO Good Grips Stainless Steel Soap Dispenser
When you're elbow-deep in cleaning dishes, you need a sturdy one-handed dispenser. That's what you get with the OXO Good Grips Stainless Steel Soap Dispenser and its non-slip base. Kitchens can get messy, but a fingerprint-proof coating will help keep the dispenser looking as smudge-free as possible. The majority of the soap pump is made of stainless steel except for the bottom, which is transparent plastic to give you a clear view of when it's time to refill the soap.
The Best Soap Dispenser for Bathrooms
Better Homes & Gardens Reactive Glazed Textured Ceramic Soap Pump
Add some rustic charm to your bathroom with this Better Homes & Gardens ceramic soap pump. It's uniquely handcrafted with dot detailing and a glazed finish that creates variations in the color. The pump has a chrome finish and an opening that makes it convenient to refill. Use the soap pump alone or coordinate it with other matching pieces in the Better Homes & Gardens Textured Ceramic Bath Accessory Collection. It needs to be hand washed.
The Best Soap Dispenser for Showers
Better Living Products Shower Dispenser
You can fill up this three-chamber soap and shower dispenser with body wash, shampoo and conditioner, or you can buy it as a two-chamber or one-chamber dispenser for just soap. The purpose of this wall-mounted dispenser is to eliminate shower bottle clutter and single-use plastics. The mounting capabilities are versatile—it can be mounted in the corner of the shower or flat against a wall. Once it's mounted using the included waterproof silicone adhesive and two-way tape, the container can be easily lifted off for easy refilling and cleaning. The dispenser is constructed from durable, water-resistant ABS plastic and is available in a white, chrome or satin silver finish.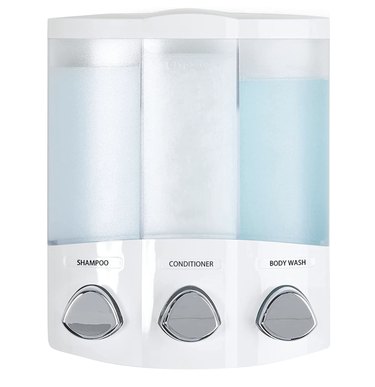 The Best Automatic Soap Dispenser
simplehuman Touch-Free Liquid Soap Dispenser
While it's a bit more high-tech than the average soap dispenser, simplehuman's Touch-Free Liquid Soap Dispenser is actually very simple to use. It's touch-free, so all you need to do is put your hand under the sensor and soap gets dispensed. Here's a fun little trick that'll come in handy (literally)—if you place your hand up close, you'll get a small dab of soap, and placing it farther away will get you a bit more. A funnel refill opening makes it easy to refill the pump without making a mess, and a flexible silicone valve snaps shut to create a seal and prevent drips—all very impressive, but definitely expected for the higher price point. The soap pump can also be used with hand sanitizer. There are three sizes to choose from: 8 ounces, 9 ounces and 32 ounces, and five finish options: brass, rose gold, white, polished silver and brushed silver. The 8- and 32-ounce dispensers are battery operated and the 9-ounce is rechargeable.
​Capacity:​ 8 oz. - 32 oz.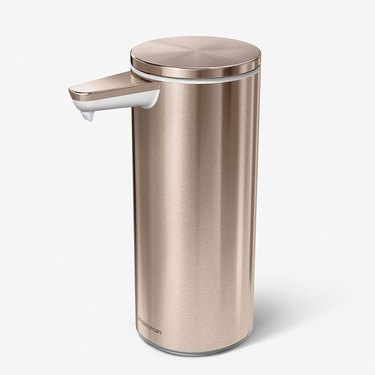 The Best Wall-Mounted Soap Dispenser
Umbra Junip Wall-Mounted Soap Pump
Add a modern touch to your bathroom or kitchen with Umbra's Junip Wall-Mounted Soap Pump. This wall-mounted soap dispenser with a rounded body and metal finish elevates your soap to keep your counter free of clutter while giving you quick access to a pump of soap. It can even be used with hand sanitizer. The wall-mounting bracket features a small hook on the bottom to hang a hand towel, mask or other small items. As a bonus, the pump includes customizable waterproof labels to indicate what's inside.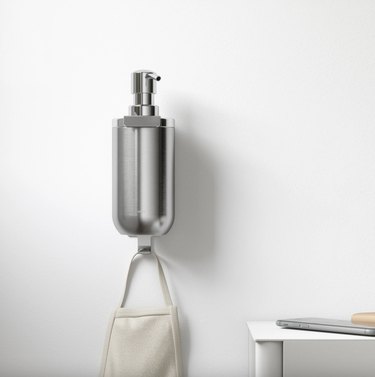 The Best Deck-Mounted Soap Dispenser
Clear up your kitchen counter space with this self-priming solid brass soap dispenser. The heavy-duty pump can rotate 360 degrees so you can position the nozzle anywhere you need it, and the spout extends 3 1/4 inches. It comes with a large, durable bottle that can be filled with liquid hand soap, dish soap, lotion, liquid detergent or hand sanitizer. Refills can be done easily by lifting the pump—there's no need to go under the sink or inside a cabinet. The finish options are stainless steel, brushed gold, chrome, matte black and spot-free stainless steel. The company notes that the gold finishes are reflective and therefore their appearance can vary depending on the lighting in your kitchen.