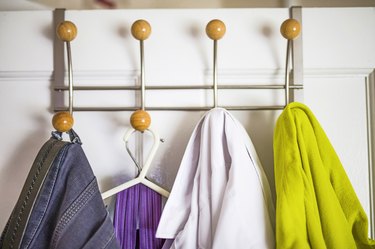 Maximizing your space is crucial for everyone. No matter if you live in a single-family home or small rental apartment, no one ever has enough space. There are hundreds of great storage solutions, but being able to utilize the space behind a door is one of the most ignored opportunities for additional storage. This being said, what should you be aware of when selecting an over-the-door organizer?
Here are a few key elements to consider:
What to Consider When Purchasing an Over-the-Door Organizer
​Durability:​ Taking the opportunity to utilize space behind any door in your home is a huge bonus. But first, you need to make sure that it is a solidly constructed solution. Far too often, these organizers can be gimmicky and poorly made, which will result in items falling on the floor.
​Functionality:​ Another key aspect to take note of is how the organizer hangs on the door. Can you still easily use the door? Do the brackets leave marks, or does the organizer make a clanging noise? No one wants a door that rattles when used. It's also in your best interest to take down a few measurements before ordering an over-the-door organizer.
​Storage Capabilities:​ The next feature to look out for is storage space. Can it comfortably accommodate what you need it to hold? The organizer should also be solid enough to handle a door slamming or being bumped.
​Materials:​ Over-the-door organizers come in a variety of materials, from metal to plastic to canvas. If you're planning to use the organizer in a room with a lot of moisture, such as a bathroom or laundry room, you might want to opt for a material that's not susceptible to mold or rust.
​Aesthetics:​ Lastly, it needs to be pleasing to the eye as some of these storage solutions will be highly visible. It's better to spend a few extra dollars on an aesthetically-pleasing organizer than to opt for a cheap-looking one that you'll grow to dislike within a couple of months.
The Best Overall Over-the-Door Organizer
White Elfa Over The Door Rack
With the Elfa over-the-door rack, you'll be able to customize and maximize a large amount of untapped space. While other over-the-door organizers rely solely on their ability to hang, the Elfa system has two attachment points—one on top of the door and the other under the door—which tighten for a secure fit. It also comes with two more points where you can affix it directly to the door if you're not concerned about damage. Choose from sturdy wire or mesh baskets in a wide variety of sizes. The baskets are removable, so you can take them down to access what you need or rearrange them whenever inspiration strikes. If you're not sure where to start when creating your custom storage solution, you can use The Container Store's design center. The dimensions are approximately 17.6 inches long, 5.25 inches wide and 80 inches high.
The Best Over-the-Door Organizer for the Pantry
Smart Design Over The Door Adjustable Pantry Organizer
This adjustable pantry organizer is super easy to install—all you need to do is assemble the pieces, hook it onto the door and begin using it. The Smart Design unit also allows for customization with adjustable shelves that clip into place. It comes in three sizes: a 5-tier version that's 51 inches high, a 6-tier version that's 58.5 inches high, and a 6-tier version that's 55 inches high. The organizer is made from sturdy, rust-proof steel, so you could also use it in a space that's prone to moisture like a bathroom or laundry room. Hardware is included if you plan to store heavy items in the organizer and want to mount it to the door. This product was designed in Southern California by a family-owned company and fits over doors that are up to 1.5 inches thick.
The Best Over-the-Door Organizer for the Kitchen
SimpleHouseware Over the Cabinet Door Organizer
It's always a nightmare finding the exact cutting board for your needs when rifling through your kitchen cupboards. But with SimpleHouseware's over-the-cabinet door organizer, you can page through your options in an instant. Installation is simple, with it just needing to be hung over the door. There are screws included if you do want to make it a more permanent solution. It's made from good quality steel and the hooks are low-profile, making them discreet. The undersides of the hooks are padded with foam to ensure they don't scratch the cabinet door. In total, this unit can store four to five regular-size cutting boards, or things like muffin tins, food wrap and cooking spray. The overall dimensions are 13.5 inches long, 3.62 inches wide and 18.5 inches high (including the hooks).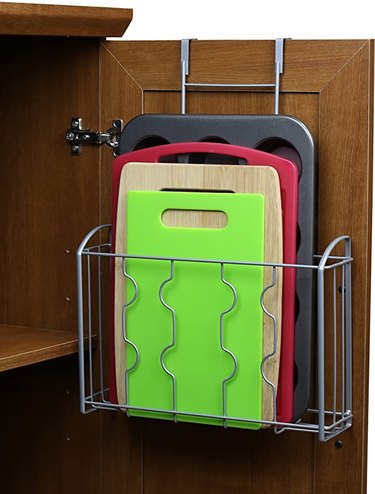 The Best Over-the-Door Hooks
WEBI Over The Door Hook Hanger
With six heavy-duty hooks and measuring approximately 15.4 inches long, you can hang a lot behind any door with this organizer. Its simple yet sturdy design means you'll be able to hang a variety of items, from bulky winter coats to wet towels to dog leashes. Thanks to the treated lacquered, rust-proof coating, these hooks can be used in any room of the house. The brackets are thin to allow you to open and close the door with ease and are padded with a sponge-like material so they won't rattle or cause any damage. The organizer fits doors up to 1.5 inches thick and has a matte black finish for a modern look.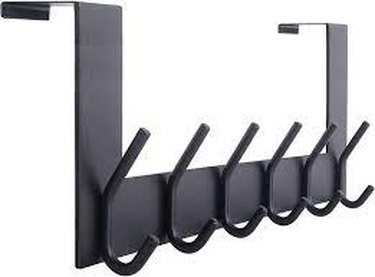 The Best Over-Door Hanging Rod
SimpleHouseware Over the Door Clothes Hanging Rod, Silver
Need more space to hang-dry your clothes after they come out of the washing machine? The SimpleHouseware over-the-door organizer is exactly what you need. It's easy to assemble and can hold up to 20 pounds of clothing. Made from heavy-duty steel, it fits doors up to 1.75 inches thick. The rod extends 9.5 inches from the door, giving you plenty of space for hanging heftier items like blazers or jackets. Flexible brackets allow you to remove the organizer when not in use, making it a great addition to the laundry room.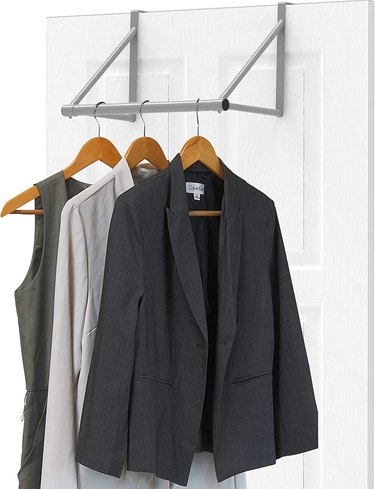 The Best Over-the-Door Shoe Organizer
Whitmore 36 Pair Over The Door Rack
With Whitmore's over-the-door shoe organizer, you can buy (almost) all the shoes you want with space for 36 pairs. The frame of the unit is made from metal and is epoxy coated. The racks have a mesh-lined backing to ensure shoes don't fall down and obstruct the door. Due to its size, there is some assembly involved, but tools are included and it's a simple process. There are fixed points for mounting, but it can just as easily hang in place. The brackets are adjustable to accommodate varying door thicknesses. Plus, all mating surfaces have been padded to ensure there are no scratch marks or clanging noises. Size-wise, the shoe rack is 7.5 inches long, 21.625 inches wide and 69.0 inches high.
The Best Over-the-Door Towel Rack
Umbra Bungee Over the Door Towel Rack
This system from Umbra works a little differently than the other hanging solutions, using a bungee cord to hold the rails in place between the top and bottom of the door. The three adjustable rods are made from clear plastic, so they blend in seamlessly with the door. Meantime, the mounting brackets have padding to ensure there are no scratches. It requires little effort to install, with the only instructions being just to place the brackets in their desired position and string in the cord. The towel rack measures 18 inches long and 7 inches wide.
The Best Over-the-Door Organizer for the Home Office
mDesign Soft Fabric Wall Mount/Over Door Hanging Solution
Created from hard-wearing polyester, this stylish organizer can be hung over a door or mounted to a wall. It comes with four large pockets where you can store files, envelopes, magazines, stationery and more. Pictured here in gray, there are five other colors to choose from (two of them feature a chevron pattern). The included brackets are made from sturdy, chrome-plated steel and will fit over doors up to 1.75 inches thick. The dimensions are 13 inches long, 3 inches wide and 28.5 inches high, providing ample space for mail, paperwork or your kid's homework.