Things You'll Need
2- 3-pound pork tenderloin, washed and trimmed

Garlic salt

Pepper

Poultry seasoning

2 cups chicken broth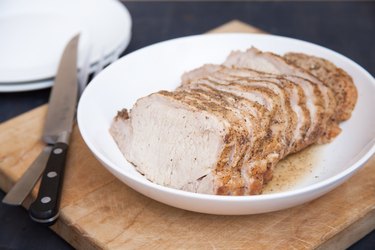 As any adventurous cook knows, part of the fun of cooking is trying new recipes, finessing old ones and using clever cookware to ensure chef-quality results. In this regard, Le Creuset's Dutch oven more than fits the bill, especially if your taste buds are set on a juicy pork tenderloin. The enameled, cast-iron cookware is wide enough for you to brown the tenderloin on your stovetop before slow-cooking it and locking in the flavor and juiciness for mouth-watering results.
Step 1
Preheat the oven to 350 degrees.
Step 2
Mix enough garlic salt, pepper and poultry seasoning to liberally cover the pork tenderloin. Pat the mixture on the top and sides of the pork.
Step 3
Turn the stovetop to medium-high and bring 1 cup of chicken broth to a boil in the Le Creuset Dutch oven.
Step 4
Put the pork tenderloin in the Dutch oven to brown, turning and adding more chicken broth if it evaporates and the pork begins to burn. The tenderloin should be evenly browned all over.
Step 5
Put the Le Creuset in your preheated oven with the cover on, and bake for 30 minutes.
Step 6
Remove the pork tenderloin from the oven and turn it over so that it can cook on both sides. Return it to the oven for another 30 minutes.
Step 7
Cut into the tenderloin to ensure that no traces of pink remain. If so, return it to the oven and check every 5 to 8 minutes until it is thoroughly cooked.
Step 8
Let the tenderloin sit for 10 minutes before slicing and drizzling it with the pan juices.
Step 9
Serve this tantalizing feast with garlic mashed potatoes, lemon-garlic green beans and chilled applesauce.
Tip
The "secret" to baking a perfect pork tenderloin is to cook it long enough so that it contains no traces of pink but not so long that it becomes chewy and tough. For best results, remove the pork tenderloin from the oven as soon as the pink is gone, remembering that the tenderloin continues to cook as it sits for 10 minutes before you slice it.
To create a pork tenderloin classic -- pork, onions and apples -- saute two chopped yellow onions, four sliced apples and chicken broth in a small saucepan until the onions are soft but not mushy. After you turn the pork tenderloin over -- at the 30-minute mark -- drape the tenderloin with dried apple slices. Pour some apple juice over the tenderloin, being sure to coat the dried apple slices. Ring the tenderloin with the onion, apple and chicken broth mixture. The sweetness of the apples and the zest of the onions complement the juicy tenderloin to near perfection.