If you don't have a pizza oven to cook pies at a higher temperature than a standard home oven can, your next best bet for turning out crispy-crusted, restaurant-quality pizza is to bake it on a pizza stone or pizza steel. Most commercial pizza ovens cook pies at 700 to 800 degrees Fahrenheit, and some—like lots of woodfired pizza ovens—crank up the heat to around 900 degrees Fahrenheit. Meanwhile, most home ovens max out at about 500 to 550 degrees Fahrenheit, which just isn't hot enough to bake a perfect pie. At least, not without some help from a pizza stone or steel underneath.
Now that you're sold on the importance of having a pizza stone (also called a baking stone, because you can in fact bake more than pizza on it) or a pizza steel (otherwise known as a baking steel), you'll need to determine which type is right for you. And then you'll need to choose from lots of products available on the market today.
What to Consider When Purchasing a Pizza Stone or Steel
​Material:​ Pizza stones are generally made of clay or cordierite ceramic; pizza steels are made of—you guessed it—steel. Pizza steels absorb, conduct and retain heat better than pizza stones, so they cook pies faster. They're also much less prone to damage; they can't crack, chip, shatter or break like stones that are banged, dopped or exposed to too rapid a change in temperature. Steels should be cared for like cast-iron, including some seasoning, and they're generally pricier than pizza stones.
While pizza stones cook pies a bit slower and must be protected against damage and thermal shock, they produce the same higher-quality end results. Their porous surface also wicks moisture from the dough to help achieve an extra-crispy crust. And they're available with much more variety and at lower price points. They're more useful for other types of baking too, especially for more delicate foods like breads and pastries that can easily get scorched on the bottom when using a baking steel. There's not much practical difference between clay and ceramic stones, though cordierite is somewhat heftier and more durable. But there are a number of precautions necessary during use and cleaning with all stones to fend off thermal shock and prevent them from absorbing water and cracking as they heat up.
One other option is a cast-iron pizza pan. It's a heavy-duty material that retains heat exceptionally well and can last a lifetime with proper care (which is a little more demanding than with pizza steels and stones). Most cast-iron cookware is sold pre-seasoned today for convenience. And these pans can go on the stove, on a grill and even right on a campfire.
​Size and Shape:​ You might automatically think round when you think pizza stone or steel. But a square or rectangular one actually gives you more room to work on, and it's more practical for uses beyond pizza. But because round ones are usually smaller, they might be better suited to your kitchen if you have tight storage space. But generally speaking, you want as large a baking surface as possible while still having airflow around the stone or steel in the oven.
​Price:​ You can spend somewhere around $30 for a value pizza stone or pizza steel. But typical costs for stones are around $40 to $50, while steels range wider, from about $60 to close to $200. You can certainly find quality products at the lower end of the price range. Still, you can get more durable stones by spending more.
It's also worth noting that, while all pizza stones and steels go in the oven, some can also be used on the grill if that's a feature that appeals to you. All of these considerations should help you narrow down the many pizza stones and steels available to find one you'll be happy with.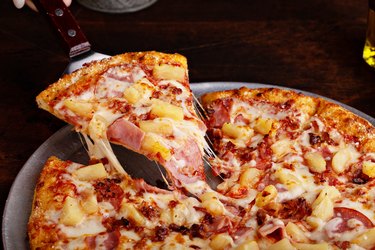 The Best Overall Pizza Stone
SourdoughBread FibraMent-D Home Oven Baking Stone
Yes, this is expensive for a pizza stone. But it's an investment you'll be very happy with. This one turns out especially crispy, puffy, nicely browned crust. That's primarily because it has an extra-coarse surface that allows more steam to escape the dough. The patented stone blend also provides exceptional heat retention and distribution, so it cooks evenly and faster than the average baking stone.
The superior heat retention also keeps this stone hot enough to quickly bake multiple pizzas in a row, which is great if you need more than one pie to feed the family or if you entertain. It's also quite capable of handling breads, biscuits, croissants, pastries, cookies, pies and other baked goods, so you'll have plenty of opportunities to use it beyond pizza night. The beveled edges make it a little easier to maneuver this stone in and out of the oven than similar products.
You can also buy an optional flame diverter pan if you want to use this product on a wood-burning, charcoal or electric grill, too. Plus, it can be custom cut to your size specifications.
​Manufacturer:​ SourdoughBread
​Material:​ Patented stone blend
​Shape:​ Rectangular
​Size:​ 15" x 20" x 0.75"
​Weight:​ 17 lbs.
The Best Overall Pizza Steel
The Original Ultra-Conductive Pizza Stone
For a fast-cooking, indestructible option for cooking restaurant-quality pizza, choose this product, which is made in the U.S. from special ultra-conductive steel and can last a lifetime. When you preheat this baking steel to 500 degrees Fahrenheit, it delivers the same pizza-cooking power as a 900-degree Fahrenheit wood-fired pizza oven. That means you can even bake up a fantastic, professional-grade Neapolitan-style pie.
This steel is versatile, too. It can double as a griddle on the stovetop and as an induction plate, and it can go under the broiler and directly on grills and open flames. You can even put it in the freezer and use it as a cold plate.
​Manufacturer:​ The Original Baking Steel
​Material:​ Steel
​Shape:​ Rectangular
​Size:​ 14" x 16" x 0.25"
​Weight:​ 16 lbs.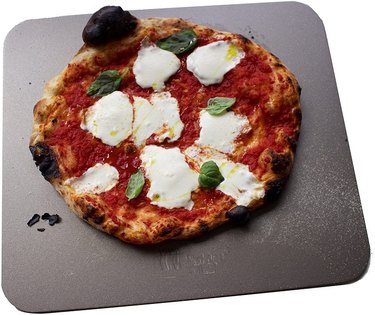 The Best Budget Pizza Stone
Pizzacraft ThermaBond Baking/Pizza Stone
This budget-friendly pizza stone is still durable (a concern when purchasing lower-cost baking stones), and able to withstand temperatures up to 800 degrees Fahrenheit. There's a heat-transfer pattern on this stone that promotes better air circulation and helps with maneuvering it in and out of the oven. Conveniently, you don't need to season or condition this stone, and you can use it on the grill. It handles frozen pizza, breads, pastries and other baked items nicely as well. Overall, this one's a reliable, affordable, user-friendly product for anyone on a budget and for pizza-making novices looking for a suitable starter stone.
​Manufacturer:​ Pizzacraft
​Material:​ Cordierite
​Shape:​ Square
​Size:​ 15" x 15" x 0.59"
​Weight:​ 9 lbs.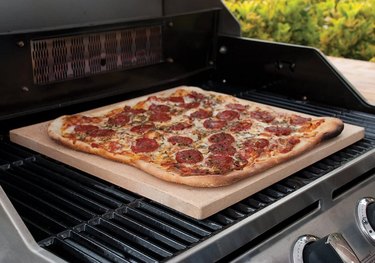 The Best Budget Pizza Steel
IMPRESA Steel Pizza Stone
For a relatively low-cost pizza steel that delivers fast, even cooking and great results, choose this one. It heats quickly, retains the heat well and distributes it evenly across the entire surface without hot spots. The low-friction nonstick surface makes it quick and easy to rotate your pizza during baking, and it slides right off at the end. It also makes cleanup a breeze, easily wiping clean (as with cast-iron cookware, you shouldn't wash steel cookware). There's also a convenient 1-inch hang hole that can be also be used as a finger hold when the steel isn't hot.
​Manufacturer:​ IMPRESA
​Material:​ Steel
​Shape:​ Square
​Size:​ 14" x 14" x 0.25"
​Weight:​ 13 lbs.
The Best Cast-Iron Pizza Pan
Lodge Pre-Seasoned Cast-Iron Baking Pan
Lodge is the oldest and best-known manufacturer of cast-iron cookware in the U.S. It's the go-to brand for cast-iron skillets, griddles and more—and there's no exception when it comes to a cast-iron pizza pan. Cast-iron is famous for its ability to hold heat, and you can quickly make multiple pizzas on this pan once it's brought up to temperature. In addition to baking on this pan, you can sear, broil, grill and more, as it's safe for use in any oven, on the stove, on an induction cooktop, on any grill and even directly over a campfire. This pan comes pre-seasoned with 100% vegetable oil and releases your food without a fight. The two large handles make moving and maneuvering it quite easy, and this pan will last a lifetime and longer with proper care.
​Manufacturer:​ Lodge
​Material:​ Cast-iron
​Shape:​ Round
​Size:​ 18.43" x 14.75" x 1.25"
​Weight:​ 9.55 lbs.

The Best Pizza Stone for the Grill
Emile Henry Flame Top Pizza Stone
If you prefer an elegant, upscale-looking pizza stone, this one is an obvious choice. But this ceramic-coated clay baking stone (made of all-natural materials) has great performance to match its high-end appearance. It can be used in any type of oven and under the broiler, but it also works quite well on gas, charcoal and wood-fired grills—able to withstand heat up to 900 degrees Fahrenheit. The surface is nonstick and scratch-resistant, and the two raised side handles facilitate easy transport and maneuvering. As an added bonus, you can put this product in the dishwasher, which you can't do with most pizza stones and steels. And it's even nice enough to use as a serving plate!
​Manufacturer:​ Emile Henry
​Material:​ Ceramic-coated clay
​Shape:​ Round
​Size:​ 16.5 x 14.5 x 1.5 inches
​Weight:​ 5.73 lbs