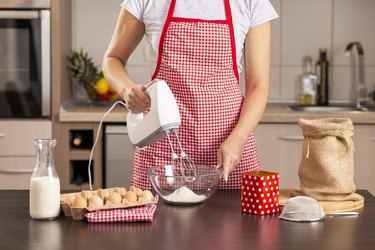 When a task is too much for a whisk to handle but not big enough a job to bring out your stand mixer (if you even have one), an electric hand mixer is your friend. They're more compact and usually less expensive than stand mixers, but still designed to make quick work of whipping, blending and mixing a variety of foods, including cake batter, bread dough, egg whites and mashed potatoes.
While food processors and immersion blenders can sometimes substitute for a hand mixer for certain tasks like emulsifying a salad dressing or whipping eggs, there are tasks that a hand mixer does better, like beating up a light and fluffy frosting. Really, when it comes to baking prep in general, a hand mixer comes out on top.
What to Consider When Purchasing a Hand Mixer
​Speed and Power​: The whole point of a hand mixer is to be able to mix more quickly and more powerfully than whisking by hand, so how fast it operates and how many speed settings it offers is worth considering. Hand mixers can have as many as 12 speed settings so you can adjust the speed depending on the mixture you're making.
​Corded Versus Cordless​: Corded models provide continuous power as long as they're plugged in, but cordless hand mixers offer much more freedom of movement. Some corded models use a swivel cord to avoid getting tangled, which is a plus.
​Stability​: Some hand mixers feature an indentation under the handle, allowing them to rest comfortably on the edge of a bowl, which minimizes slipping and makes holding it less strenuous for you.
​Attachments and Accessories​: Every hand mixer comes with a beater attachment, but some models offer additional attachments like wire beaters (instead of central post beaters), whisks, dough hooks and even immersion blender blades. Other models might include a storage container for all of the accessories or a measuring cup. These extras could raise the hand mixer's price a bit, but they make it more versatile.
​Storage​: Some hand mixers include a built-in storage compartment for housing beaters, extra attachments and power cords, making it even more convenient to store.
With these considerations in mind, we've selected the best hand mixers in 2022.
The Best Overall Hand Mixer
Breville Handy Mix Scraper Hand Mixer
Breville's hand mixer excels at pretty much everything when it comes to baking—whipping eggs, beating cake batter, mixing oatmeal for cookies, kneading bread dough, you name it. It boasts nine speeds and is advanced enough to recognize what type of attachment you've inserted and automatically adjusts its speed to the ideal level for each task. Its quiet scraper beaters are coated with silicone that minimizes noise while maximizing contact with the bowl. A light even turns on to illuminate your mixing bowl so you can see everything while mixing. Featuring an ergonomic handle that allows for a natural and comfortable hand position, the hand mixer comes with a detachable storage compartment for the power cord and attachments. In addition to two scraper beaters, it comes with two dough hooks and two balloon whisks.
The Best Cordless Hand Mixer
KitchenAid 7-Speed Cordless Hand Mixer
If you'd like to avoid potential power cord tangles entirely, KitchenAid's cordless hand mixer is incredibly easy to maneuver. It offers seven speeds, from a slow stir for chunky ingredients to medium for creaming butter and sugar to high speed for whipping egg whites and heavy creams. Its lithium ion battery takes two hours to fully charge, which will provide enough power to make up to four batches on a single charge. However, a quick 10-minute charge is enough to mix batter for a cake if you're pressed for time. The speed dial on top of the handle also lets you know the battery's charge level and when it's time to recharge it. Another nice feature is the hand mixer's flat bottom that allows it to stand upright on its own. The only downside is that this hand mixer doesn't come with any additional attachments beyond its twin beaters.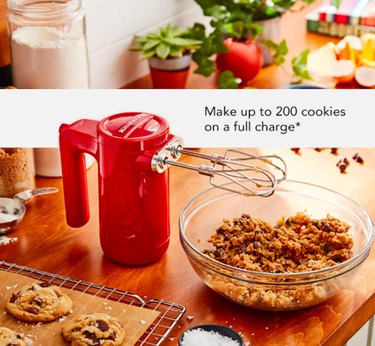 Oster 270-Watt Hand Mixer With HeatSoft Technology
For maximum efficiency, Oster's hand mixer with HeatSoft technology is our pick. It's perfect for last-minute baking when it seems like your butter couldn't melt any slower. The secret lies in the HeatSoft technology itself, which involves a built-in fan that blows warm air onto cold butter in your mixing bowl, gently softening the mixture for faster and more consistent results. The hand mixer offers five speeds, plus a one-touch turbo boost feature and comes with two full-size beaters that eject straight into the sink for easy cleaning. It also has a removable magnetic nozzle that's dishwasher-safe.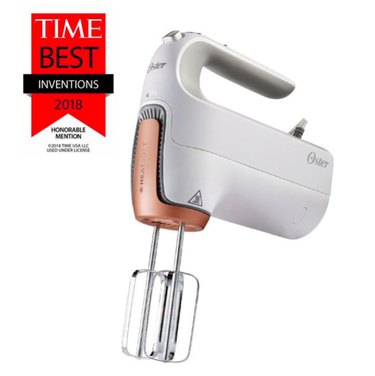 The Best Budget-Friendly Hand Mixer
Hamilton Beach 6-Speed Electric Hand Mixer
This affordable 250-watt model from Hamilton Beach touts six speed settings, as well as a "QuickBurst" function that adds an extra power boost with a single touch. For a budget-friendly hand mixer, it goes above and beyond the basics to include thoughtful features and extras; among them, a power cord that's been designed to stay out of the way for both right- and left-handed users, a built-in groove that conveniently stabilizes the mixer on the edge of a bowl, a whisk attachment, and a storage case for housing the power cord and attachments. It's the perfect example of "less can be more."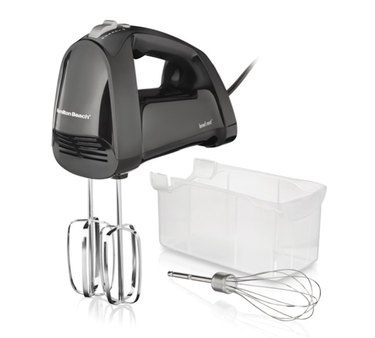 The Most Versatile Hand Mixer
Cuisinart Power Advantage 9-Speed Hand Mixer
If you're looking for a hand mixer that comes with pretty much everything you could want in one bundle, the Cuisinart Power Advantage hand mixer fits the bill. It boasts nine speeds, including three low-start speeds that help prevent splattering. The simple on/off button and one-touch speed control make it easy and intuitive to use, along with its ergonomic handle and swivel cord that allows for a high degree of freedom of movement. It comes with a slew of attachments, including two beaters, a whisk, two dough hooks and even a spatula. Talk about versatility! That's not all; it comes with a handy storage case so you can keep all the attachments in one place. Overall, it's lightweight, easy to handle and thoughtfully designed.