If you're looking for an easy, kid-friendly holiday activity, look no further than this Christmas slime. It calls for simple ingredients, like clear glue, contact solution, baking soda and glitter — lots of it! What's more, each child can embellish and customize her own slime in myriad ways. Read on to learn how to make DIY Christmas glitter slime just in time for the holidays.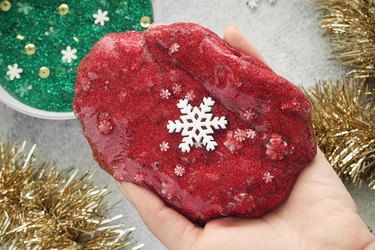 Things You'll Need
(2) 5-ounce bottles clear Elmer's glue

Warm water

3 to 4 tablespoons contact solution (with boric acid)

1 teaspoon baking soda, divided

2 tablespoons green glitter

2 tablespoons red glitter

Sequins, polymer clay sprinkles and/or buttons
Tip
Polymer clay sprinkles are available on Etsy.
Step 1
Empty one bottle of clear glue into a bowl.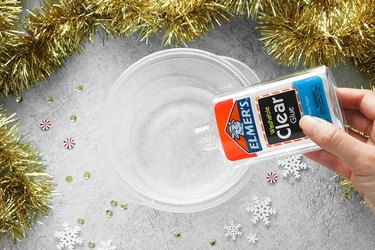 Step 2
Fill the bottle with warm water until it's about 1/3 full. Replace the cap, shake well and pour it into the bowl.
Step 3
Add 1/2 teaspoon baking soda. Stir well.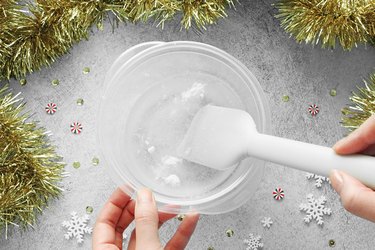 Step 4
Mix in 2 tablespoons of glitter. You can use multiple colors if you'd like.
Step 5
Add 1 1/2 tablespoons of contact solution. Mix well until firm. The slime will be sticky at first, but it will firm up as you stir. You can also knead it with your hands if you don't mind the stickiness. If needed, add another 1/2 tablespoon of contact solution.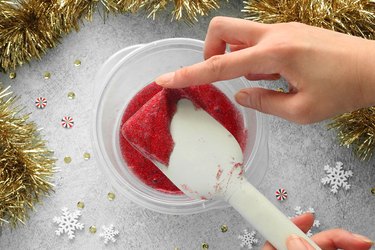 Step 6
Fold in the sequins, polymer clay sprinkles and/or buttons. Feel free to mix and match.
Store the slime in a sealed container in the refrigerator when not in use.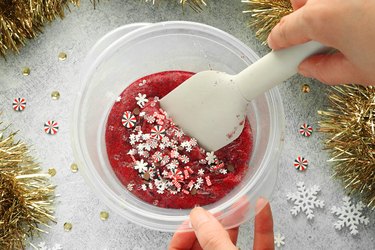 Repeat with the green glitter. Happy holidays!