You may have jumped on the tie-dye bandwagon, but have you ever heard of ice dyeing? If you haven't, but you rock a '70s- or '90s-inspired style, you definitely should try it. This unique twist on traditional tie-dye—and its superior results—will surprise you.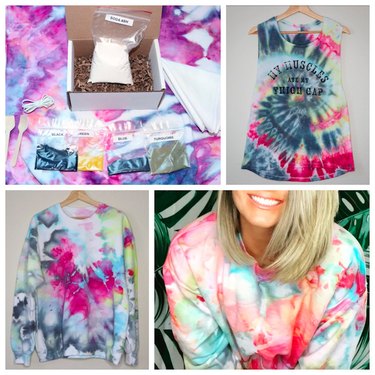 Ice dyeing, also known as ice tie-dyeing, involves spreading ice cubes over fabric, sprinkling dye powder on top of the ice (or under—both work) and letting the melting process dictate how the dye splits, bleeds and ultimately lands on the fabric—leading to delightful and breathtaking results. The biggest difference between regular tie-dyeing and ice dyeing is that tie-dye uses liquid dye and requires you to mix powdered dye with water and then either spray your fabric using a bottle or soak it in a bucket or tub.
With ice dyeing, you just need ice, some sort of drying rack (a dish rack will do) and a basin, such as an aluminum foil pan. The way the ice slowly melts distributes colors more evenly and results in even more vibrant and intricate patterns than the ones you'd get from regular tie-dyeing. You can see the difference yourself in this YouTube video.
To get you started on your ice dyeing journey, here's a list of ice dye kits that are excellent for those trying it out for the first time. And remember, you're not limited to only dyeing T-shirts—ice dyeing works on towels, sweatshirts, pillow cases and even sneakers. The possibilities are endless. Aren't you just dyeing to try?
1. Ice Dye DIY Color Kit by OodleBaDoodle
This kit by OodleBaDoodle on Etsy comes with nearly everything you need to start ice dyeing. It even comes with some thoughtful items like fabric to test out colors, a sample swatch card and notebook. The only things you'll have to provide yourself are a drying rack and disposable pan (and ice, obviously), but you can easily use what you've got at home. There are six themed color combinations to choose from: Spring Blossom, Space Mission, Lost in the Redwoods, Yellow Brick Road, Moonwalk and Dinoasaurus Rex. Each combo comes with five well-curated hues. One kit comes with enough to dye 10 T-shirts or a king-size bedding set.
Easy-to-follow instructions
5 fiber-reactive dye colors
Soda ash fixer
Fabric to test dye
Inspiration sample swatch card
Protective gloves
Wooden spoon
Notebook
Water resistant pen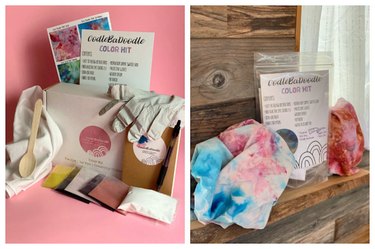 2. Personalized Vegan & Soil Friendly Ice Dye Kit by KazahanaDyehouse
One of the neatest things about this kit by KazahanaDyehouse on Etsy is that you have the option of personalizing the box, making it a great gift idea for a creative friend. You can put your giftee's name on the box and select three colors for them. If you go for the standard kit, you'll still get to choose your favorite of three color combinations: Hanami, Forest Flowers or Blue Surf, each containing three colors. Made in the UK, the dyes are vegan, soil-friendly and fully recyclable. You'll need to provide your own fabric and a bucket.
3 procion dye sachets
Ice dye instruction card
Soda ash
Spoons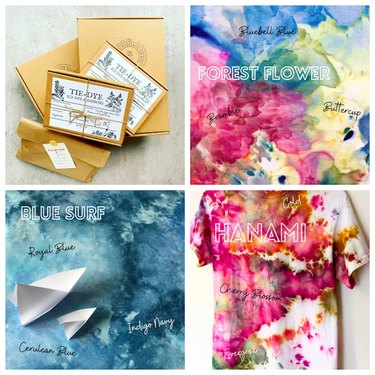 3. 4 or 8 Colors Complete Ice Dye Kits by SharkBitesOfLife
These ice dye kits by SharkBitesOfLife on Etsy are very similar, but one comes with four colors, while the other features eight. Each kit comes with high-pigment dyes, detailed video and digital instructions, 1 or 2 cups of soda ash, biodegradable spoons and your choice of a test fabric—the 4-color kit lets you choose between a bandana or adjustable face mask, while the 8-color kit gives you the additional option of a white towel. You can dye around 20 items with the 4-color kit and around 40 items with the 8-color kit.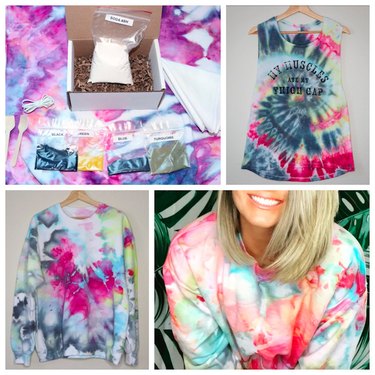 4. Ice Dye Kit by LikewhoaHandmade
This ice dye kit by LikewhoaHandmade on Etsy comes with everything you'll need to get started, except for a drying rack and a tub or pan. Choose between two color combinations, Sunrise or Twilight, that each come with three carefully selected colors. Complete with a step-by-step instruction booklet and even two 100% cotton tea towels, this kit is perfect for quilters or fashionistas, and would even work as a creative group activity.
3 curated dye colors, with 2 color combos to choose from
Compostable gloves and spoon
Instruction booklet with pictures and pattern ideas
2 tea towels (100% cotton)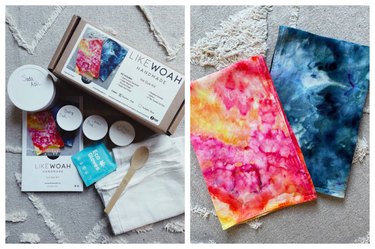 5. Tulip One-Step, 4-Color Ice Dye Kit
This ice dye kit has it all—you don't even need to provide a rack. Complete with three bottles of one-step dye powders and an ice dye grate (serving as a drying rack). This kit covers all the bases, so the only thing you might still need is a disposable pan, but you could also place the grate over a sink if you're not concerned about the mess. The dyes are non-toxic and evoke the beautiful colors of tulips. Unlike in other kits, you won't find soda ash, but you won't need any—the dyes already have soda ash in the formulas. This kit really is easy-peasy!
2 pairs of plastic gloves
20 rubber bands
Ice dye grate
3 bottles of one-step dye powders
Instructions