Halloween season is upon us! While some people relish the dark, creepy and twisted side of Halloween, there's also room for more light-hearted, kid friendly festivities. From eye-popping paper crafts to magical potions and elixirs, these Halloween activities are simple, inventive and (relatively) mess-free. Whether you're planning the ultimate Halloween party for the younger set or just want to enjoy some hands-on Halloween diversions for before or after trick-or-treating, these activities are a perfect way to get kids in the Halloween spirit—and adults can get in on the fun, too!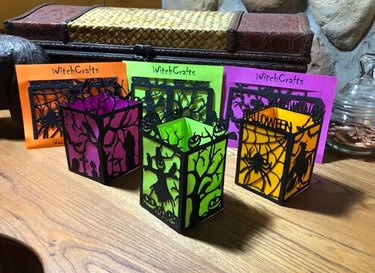 1. Printable Halloween Cootie Catchers by LaleliloluStudios
"Cootie catchers" (paper fortune tellers) have been an elementary school staple for years. These fortune teller templates by LaleliloluStudios on Etsy put a Halloween twist on that classic idea.
The product instantly downloads as a PDF file containing instructions in English or Portuguese and seven different cootie catcher designs: Vampire, Witch, Spider, Pumpkin, Black Cat, Skeleton and Mummy. Sure to be a hit at a Halloween party for kids, each guest can choose their favorite design, have fun writing messages on the inside and later take their creation home.
All you have to do is print them on 8 1/2-by-11-inch, letter size paper, and since it's a digital file, you can print as many copies as you like. The seller also provides a link on the product page to a video tutorial.
7 Halloween designs
Full instructions
2. No-Carve Pumpkin Decorating Sticker Kit
Carving jack-o'-lanterns is a popular Halloween tradition, but if you don't have carving tools or simply want to avoid making a mess, decorating pumpkins is a great alternative. This "no-carve" pumpkin decorating kit on Amazon comes with 10 sheets of assorted stickers that let you make up to 40 pumpkin facial expressions, as well as 30 decorative, three-dimensional bat decals made of flexible PVC. The stickers and decals are self-adhesive and you can remove them without leaving any residue. Kids will have a blast making wacky and only mildly spooky faces. All you have to do is supply the pumpkins!
If you're hosting a Halloween party, we recommend providing smaller pumpkins so each child can easily bring their party favor home.
10 sheets of stickers to make up to 40 pumpkin faces
30 three-dimensional bat decals
3. DIY Halloween Witches Potion Kit for Kids by BrassTacksKits
This best-selling potion making kit by BrassTacksKits on Etsy requires a bit more preparation on your part will work equally well at a Harry Potter-themed party or Halloween party—and who says it can't be both? The box kit comes with everything kids need to make 10 colorful witches' potions (5 large and 5 small), including vials, stoppers, mixing cups, a funnel, glitter, a recipe book and LED string lights. Note: These potions aren't edible, but are loads of fun to make and eye-catching to display. And since the kit includes airtight stoppers, it's safe for kids to take their potent creations home with them.
5 large vials and 5 small vials
5 large and 5 small cork stoppers
decorative ribbon
glitter
mixing cup
funnel
stickers
LED string lights
recipe book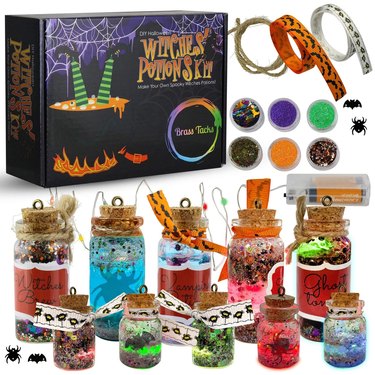 While you probably don't want to drink the magic potions above, here's a Halloween creation you can actually eat—and it looks delicious! This kit from MyBakeryClub lets you paint your own Halloween-themed cookie using edible royal icing. Each kit comes with one cookie, four different icing colors, a tiny paint brush and a card with simple instructions. Cookies come wrapped in an FDA-approved cellophane bag. All you need is a tiny bit of water to mix with the icing.
1 cookie (approximately 4 inches long, 4 1/2 inches wide and 1/2 inch thick)
4 different colors of royal icing
1 miniature paint brush
1 card with instructions
​Cookie ingredients (Kosher and Pareve, but not certified):​
​Cookie dough​: White granulated sugar, margarine, eggs, flour, vanilla extract, lemon zest
​Icing:​ Meringue powder (CK), fondant (Wilton), water, lemon juice, vanilla flavoring, powdered sugar, light corn syrup
There are seven cookie designs in all: Ghost & RIP, Witch Cat Cauldron, Witch Hat, Frankenstein, Skull, Bat With Moon or Frankenstein. The seller notes that the cookie has a delicious buttery flavor that pairs nicely with the sweetness of the soft royal icing. This is one Halloween activity that anyone with a sweet tooth can enjoy, kids and adults alike.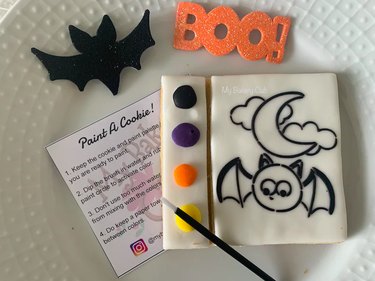 5. Paper Halloween Luminary Craft Kit by WitchNextDoorStore
This craft kit by WitchNextDoor lets you make six beautiful, Halloween-themed paper luminaries, which are like lanterns without a handle. All you need is a little bit of glue. Once you're finished, simply place an LED tea light inside each luminary for a real visual treat.
The kit comes with instructions and heavy duty colored card stock, including your choice of design: Grim Reaper, Scarecrow or Witch. Each fully-assembled luminary stands between 3 1/2 inches and 4 inches tall and sits about 2 1/2 inches square. You have the option of choosing six of the same design or getting the "All 3 Designs" pack, which comes with two of each design.
This is a sophisticated-looking craft, but it's easy to make and perfect for kid friendly Halloween parties. Imagine how impressed parents will be when their kids come home with such a dazzling party favor—one that they put together themselves!
If you love this craft and want more like it, this shop also has a 15-piece variety pack for $30 that lets you make one or more of each Halloween paper craft they offer.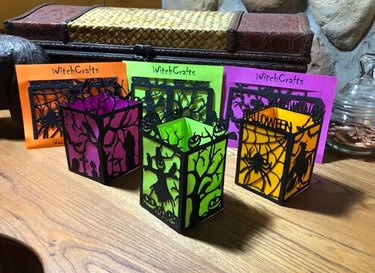 Having guests make their own party favors would be a fun twist on the usual Halloween goody bag. Even if you're not hosting the ultimate Halloween party for kids, these crafts and activities are an excellent way for children to get in the Halloween spirit.