Halloween is right around the corner, and you know what that means — it's carving time. Don't reserve your carving skills for only pumpkins, though. There's actually a lot of other food items you can carve, from pineapples to potatoes. For larger fruits and veggies, you can stick with the traditional carving method of cutting off the top, hollowing out the inside and cutting shapes all the way through the rind. If you're really up for a challenge, you can try your hand at sculpting, where you actually shave away individual layers of the skin to create intricate details.
Either way, your new creation is sure to be the talk of the Halloween party or will look nice displayed on your front porch. So, grab your trusty set of carving tools or hurry up and order a new set on Amazon and start working on these fun Halloween decorations. Here are 10 things you can carve this Halloween besides a pumpkin.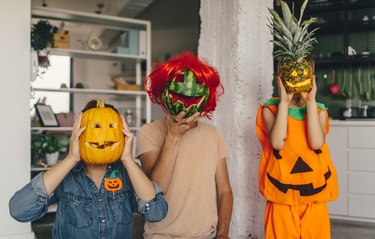 Butternut squash and gourds are probably the closest things to a pumpkin without actually being a pumpkin. Since the flesh of a butternut squash is naturally a creamy off-white color, they are great for carving a skeleton, a ghoul or a ghost-inspired design. Add a few carved squashes to your pumpkin-covered porch this Halloween for a festive layered look.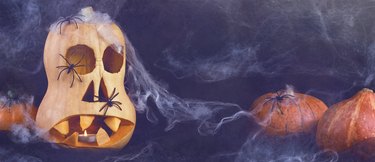 Serve up a spooky side of watermelon this year. The contrasting lime green and red make this a great addition to your Halloween party snack table. It can be tricky to hollow out the watermelon like you would a pumpkin; be sure to take advantage of the red inside when deciding on a design. You can try using one of our favorite hacks and use an immersion blender to liquefy the insides before carving. Just cut off the top of the watermelon, insert the blender and pour the blended watermelon into a pitcher with ice for a tasty treat your guests will love. You'll be left with a perfectly hollowed-out watermelon waiting to be carved.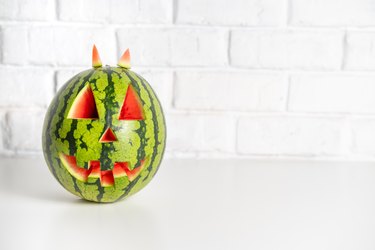 Did you know that the first thing people carved for Halloween wasn't even the pumpkin? That's right, it's thought that the first thing people carved for the yearly harvest festival was actually the turnip! The tradition of carving jack-o'-lanterns started back in Ireland and Scotland. It was later brought to America by immigrants, and the tradition later shifted from carving turnips to carving pumpkins. Bring the tradition back to life this year and carve up a row of tiny turnips to create a spooky centerpiece for your table. If you're having a hard time hollowing out the turnip, try sculpting a design directly into the flesh instead.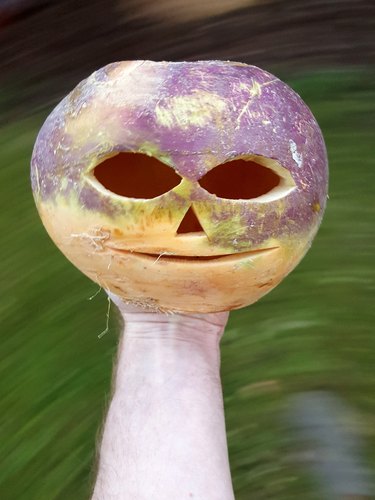 Perfect for a Halloween party in a tropical climate, carved pineapples are the ultimate combination of cute and creepy. Make your own by cutting off the top of the pineapple and use a serrated knife to gently remove the delicious insides. Grab your trusty Halloween pumpkin carving tools since they'll give you more control than a regular kitchen knife and get to work on a kooky or spooky face. It's best to keep the design simple, though, since you won't have much space with which to work. Add a battery-operated tea-light candle and admire your creation.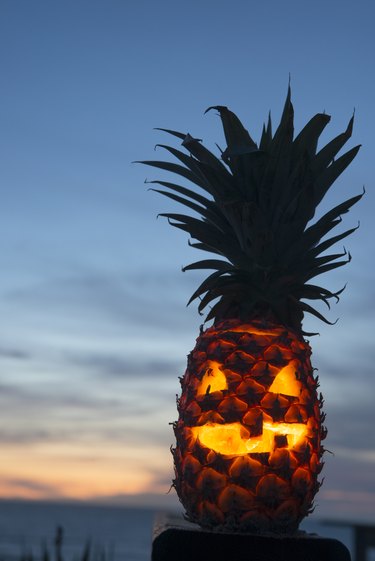 Carve a stinky, spooky accessory for this year's Halloween dinner table. Leave the outside skin in place as you carefully slice the top off an onion. Then, you can use a small melon baller to help remove the insides. Grab a sharp paring knife to carve a small face and then just replace the top stem and you're good to go. Stick to one color of onion or experiment with different varieties.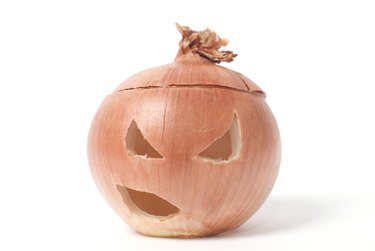 Your kids will get a kick out of seeing little jack-o'-lantern oranges with their lunch this Halloween. There are two ways you can display them, so be sure to pick one method before you start carving. You need to slice one end off the orange, so you can either place the cut end down on the table and make the orange a purely decorative accent, or you can position the cut-out end at the top and fill it with a small fruit salad. Either way, these are sure to be a hit.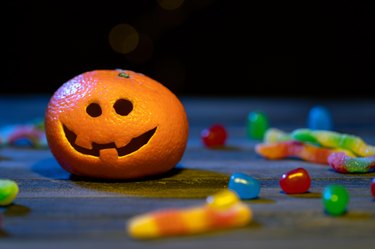 Whip up half a dozen shrunken heads out of apples to take the punch at your Halloween party to the next level. You'll need to sculpt these instead of carving them like you would a traditional pumpkin. Create a mixture of lemon juice, salt and water in which to soak the apples both before and after sculpting to keep them from browning. This is a great DIY project with which kids can help since there's really no way to mess up the creepy faces. Just be sure to overexaggerate the features since they'll inevitably shrink a bit.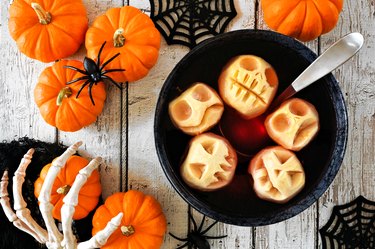 Cut potatoes into thick slices and use small cookie cutters or a carving knife to cut out fun faces. Either sweet potatoes or russets will work. Brush the slices with a light coat of oil and season them with salt and pepper before roasting in the oven. This is one part of the meal that everyone will happily gobble up.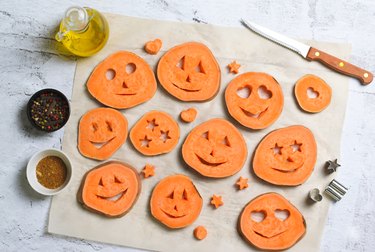 Grab those forgotten bell peppers in your fridge crisper drawer along with your carving tools and go to town. You can either hollow them out and use them as a vessel for seasoned rice and ground meat or you can carve directly into the pepper, leaving the seeds and insides intact. This is one simple project that will dress up any dinner table.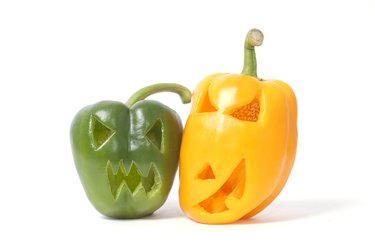 No Halloween party is complete without an avocado skull hanging out in the bowl of guac. Use a sharp knife to carve out eyes, a nose and teeth. When you're finished, cover the entire thing with lime juice to keep it from turning brown.