Let's ​face​ it – face masks are still a big part of daily life in 2021. Many schools and businesses require people to wear masks, and DIY chain kits can be a fun way for kids to express their creativity while making them a bit easier to wear on a regular basis. The chains are handy, and they can also be quite fashionable.
With the simple-to-follow instructions provided in these kits, it won't take long to make one that is perfect for your child. Instead of having to remember where the mask is, the chain ensures it will remain near your child even when it's not being worn, so your child won't need to take it off and put it somewhere. See the stellar DIY kits we rounded up!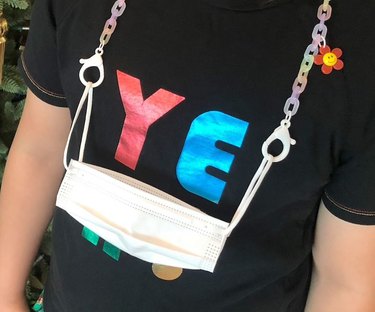 1. DIY Acrylic Chain Mask Lanyard Kit for Kids
Go all out with the many styles and colors available in this kit for kids from Goodplace4U on Etsy. Not only can you design it to your liking, but you can also spoil your loved ones with a playful yet efficient mask lanyard.
There's enough in each kit to make one necklace perfect for attaching to a face mask. Fortunately, there are a few extra pieces in case mistakes are made along the way (i.e., the kiddo factor). Connecting the links might be a bit much for children to do on their own, so it's recommended to have a parent's supervision when getting started.
45 acrylic chain links
1 daisy charm
2 plastic lobster clasps
1 extra open jump rings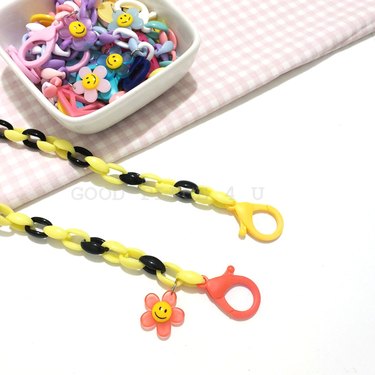 2. Back-to-School Mask Chain Kit
This year, school will likely still look a bit different due to the pandemic. In addition to bringing book bags and pencils, your star pupil may also need a mask when heading back to class. What better way to accessorize and keep the garment handy than a back-to-school-inspired mask chain kit? This one by SorellaChains on Etsy fits the bill.
It can double as a unique present for any of your little ones, and the arts and crafts project encourages independence and teaches kids how to do things with their hands. After completing it, they can show off their self-made chains and keep their masks off germy surfaces. Yes, please!
2 crimp tubes (1 is an extra)
1 elastic cord with clasp attached
Instructions
White or black alphabet beads with your name or a special word
Charm or sports bead: rainbow, unicorn, baseball, football, basketball, soccer ball, tennis ball, volleyball
Choice of heart clasps or classic clasps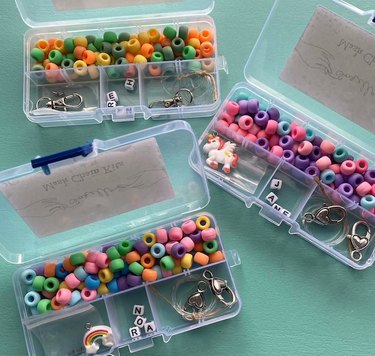 3. Rainbow Acrylic Chain Face Mask Strap Kit
Is your child a lover of pastels? This rainbow acrylic kit from Beadsmaker on Etsy will be right up her alley. It's cute, it comes with all the necessary supplies in each set and it's not a chore to make because sometimes, we all want to press the easy button. Plus, it's cost-effective.
The kits include enough parts to make one face mask necklace of varying sizes, so don't worry about running out of parts if you want to go for a slightly longer chain. Throw on the little sunflower charm and voila – your child's face mask will be easy to keep track of and will be the talk of their friends!
2 plastic lobster clasps
60 pieces of open link chain parts
1 smiley face flower pendant
5 pieces of enamel-coated large jump rings
4. DIY Face Mask Lanyard Kit for Kids
There will be no shortage of color on your son or daughter's face mask if you opt for this adorable lanyard kit for kids. The clips are easy to connect together to create vibrant and unique chains.
Be sure to have your child put it together on a neat space. There are 900 pieces, so passing out a smaller amount at a time might be beneficial. Similar to the aforementioned kits, this one doesn't have a face mask included, so be sure to provide your own and take it to the next level! This can be a DIY project they can enjoy with their buddies since there's plenty to go around.
900 connectable pieces
12 cute charms
5. DIY Tie-Dye Face Mask & Lanyard Kit for Kids
Are you looking for a kit with masks included for your 4- to 9-year-old? We've got a winner for you. Kids can design their very own tie-dye masks with this top seller. Each kit comes with white cloth that can be colored however they like, including blue, purple, green, yellow, pink and more.
The tie-dye will need to absorb for 12 hours, so keep that in mind. After the masks are looking sharp and fashion-forward, there are pieces included to create a lanyard using letters and solid beads. The kit is a one-for-all package, and you can't beat the price, so there's no wonder it's a popular choice among Amazon shoppers.
3 cotton washable masks
110 letters and solid beads
Elastic
Hardware
Tie-dye tube
20 rubber bands
6 plastic bottles with caps
6 fabric dyes in rainbow colors
Your little ones won't have to fret about hanging onto their face masks anymore, whether they are heading to school, hanging out with friends or spending time with family. Making the chains or lanyards can be a fun DIY arts and crafts project with your kids, all while taking precautions to guard health and to smartly accessorize.