Although it dates back to the 4th century, the mandala has endured to the present day as an important spiritual symbol. In fact, mandalas appear to be more popular than ever. People use them for meditation, prayer and healing, and they've been shown in clinical studies to boost the immune system, lower blood pressure and ease depression.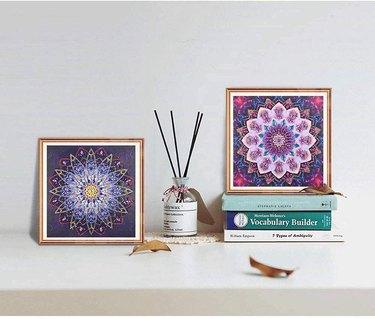 The word "mandala" means "circle" in Sanskrit, suggesting the sense of wholeness in circular shapes. Mandalas are typically round, beginning with a center point that radiates into more intricate designs as it moves outward. They represent the universe in its most ideal form.
Mandalas are rooted in Buddhism, but as Buddhist monks traveled, they brought their mandalas along with them, and eventually, the use of mandalas spread and became part of Hinduism and other religious practices. In a modern context, mandalas are used in a variety of ways that are not explicitly religious. For example, they might be displayed in a yoga studio to signify that the studio is a sacred space and a safe zone from the problems of the external world.
Mandalas aren't just meant to be collected or displayed. The process of actually creating a mandala is just as important, as it's believed to restore inner peace and foster wisdom from within. To get you started with this transformative activity, here are some of our favorite DIY mandala kits. Not only will you be harnessing your creative spirit but you'll be embarking on the road to harmony and enlightenment.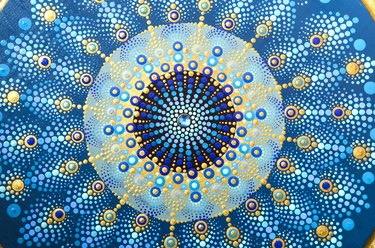 1. 67-Piece Mandala Painting Kit
If you've never done mandala art before, this supply packed kit comes with all the materials you'll need to jump right in. The stencils make it easy for you to create many designs, and the extensive variety of paints and tools included means you'll have everything at your fingertips without having to buy anything additional.
8 acrylic and 4 metallic paints
Paint sealer
3 sets of dotting tools
Compass
12 stencils
4 black boards
5 pre-drawn wood stencils
Turntable
Brush
5 rubber-tip pens
Sponge
Paintable bag
Step-by-step instructions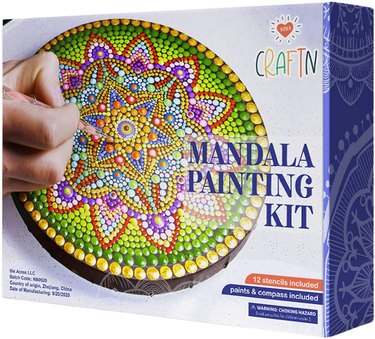 2. Stained Glass Mandala Window Art Cling Kit
This unique kit allows you to make mandalas that cling to windows, creating a beautiful stained glass effect. The paint comes in easy-to-use squeeze bottles, so there's no need to brush on the paint. Plus, it dries clear to look like stained glass. The transparent mandalas refract sunlight from the windows, resulting in glorious colors. What a meditative experience!
8 window art clings
5 bottles of paint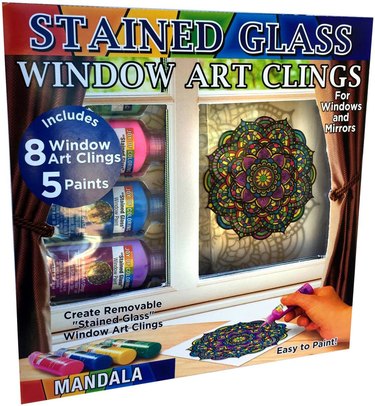 3. Set of 4 Diamond Painting Mandala Kits
If creating a mandala is said to be a calming, restorative activity, then creating a diamond painting of one must be the ultimate in meditation. For those unfamiliar with diamond painting, it is a popular technique similar to paint by numbers. A canvas has a design printed on it with numbers, and instead of painting, you glue "diamonds," or rhinestones, into those corresponding numbers. The visual effect is similar to cross-stitch. The process is done slowly section by section, so your mind becomes very focused, and outside worries disappear.
4 printed canvases, each 9.84 by 9.84 inches
Diamonds
Pen
Glue
Plate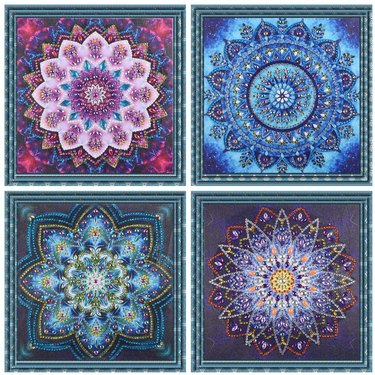 4. Mandala Rock Painting Kit
For those intimidated by brush painting, dot painting is a simple, creative alternative. By using tools with various-size heads, paint is dotted on a surface. With the help of stencils, the results are practically foolproof. This technique is used in this mandala kit, in which stones are painted to eye-catching effect with dots. Stones are a beautiful medium for mandalas, as they can be displayed in many settings and even carried with you for meditation on the go.
10 stones (2-3 inches)
8 acrylic rods
6 paintbrushes
5 dot tools with rubber head
4 ball stylus
8 mandala stencils
Painting tray
White pencil
12-color paint set
5. Sidewalk Mandala Chalk Art Kit
Imagine the possibilities when your canvas is as big as your sidewalk. Outdoor chalk art is a great way to showcase your designs to the public, and popular chalk artists have made their mark on social media. This chalk art kit includes a large stencil that will make quite the impact, and the kit is also perfect for getting the kids to go outside and be creative. With this chalk art kit, your mandala might just be big enough to enlighten the whole neighborhood.
22.5-inch fold-out stencil
Red, yellow, orange, green, purple and blue jumbo chalks with drawing tip
Instructions
Many artists will say that painting is a spiritual journey for them. As you craft these mandalas, you may find yourself agreeing, with your new mantra being "nama-stay creative."