New year, new resolution to taking care of our environment. One way to accomplish this is by using environmentally safe cleaning products. It's not always easy to know what is safe or how to find these products, so the following list should come in handy. Cleaning is definitely not always a fun task but since it must be done, the least we can do is make sure the earth is being harmed by all our chores.
Here are five products to make your cleaning journey just a little greener.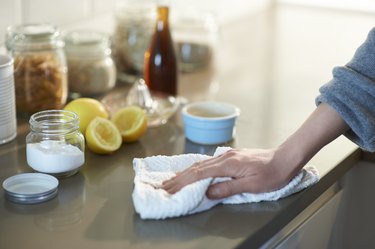 1. Better Life All-purpose Cleaner
It's always easier to start with an all-purpose cleaner. At any given time, it's the one that's going to be reached for first and will also most likely run out first too. It contains plant based, biodegradable ingredients that will leave your surfaces fresh and sparkling. It can be used on toilets, upholstery, baseboards, walls and toys. There are no limits when using this cleaner, which comes with two bottles and a sprayer that can be used for both.
‌Most Notable Feature:‌ Cruelty free ingredients.
2. Planet Dishwashing Liquid
Dish washing will be easier to stomach when using this dish cleanser. It's hypoallergenic, safe for your septic and biodegradable. You don't always think about what goes in the septic tank and with this you won't have to at all. It also comes in recyclable packing so there won't be any guilt about buying plastic. This dishwashing liquid would surely make the dish washing process less painful simply because you could be sure that you've done everything the right way.
‌Most Notable Feature:‌ Nontoxic Cleaner
3. Seventh Generation Multipurpose Wipes
An unforeseen side effect of the pandemic is the likeliness of having a pack of disinfectant wipes handy. Wipes are such a good thing to have because with such little work, they bring so much piece of mind. Which is why the Seventh Generation wipes are a good investment for your home or your car. They don't have any dyes or additives, contain essential oils, and are sustainably farmed. These wipes will give you piece of mind while simultaneously keeping your environment safe, clean and fresh.
‌Most Notable Feature:‌ Contains essential oils.
4. Better Life Toilet Bowl Cleaner
Cleaning the toilet is the absolute worst chore known to man, but it has to be done. The key to cleaning a bathroom is use to a product that is effective and will leave the bowl smelling fresher than how it was found. The Better Life toilet bowl cleaner does all that while being biodegradable, nontoxic, and alcohol free. This cleaner would be a great addition to your arsenal because as you clean your toilet you would also be ensuring that the environment is also clean.
‌Most Notable Feature:‌ Biodegradable Cleaner
5. Greenshield Glass Cleaner
Everyone loves a clean mirror or window but the getting it that way isn't always easy. It requires a bit of elbow grease to get those grease smudges or toothpaste splatters off the glass. Luckily with the Greenshield glass cleaner that is exactly what you'll be able to do. It is a vegan nontoxic cleaner that contains no harsh chemicals. It's also fragranced with essential oils and comes in recyclable bottles. All in all, this cleaner would be a great choice to add into the cleaning cabinet.
‌Most Notable Feature:‌ Vegan Cleaner
Any of these cleaners are sure to help make your home more environmentally friendly as well as help you clean it. Ethical cleaning is not an easy task but the payout is rewarding. This list will definitely help you make a more informed decision or at the very least point you in the right direct when it come to nontoxic products.