Baked feta pasta has become insanely trendy, and it's easy to see why. The recipe, which first went viral on TikTok, is equal parts delicious and simple. All you need to do is toss tomatoes and feta with olive oil and spices and then bake it and mash it up. The result is a creamy, flavorful pasta sauce that's hard to resist. Ready to try it for yourself? Read on to learn how to make baked feta pasta.
Things You'll Need
2 pints cherry and/or grape tomatoes

1/2 cup extra-virgin olive oil

3 garlic cloves, minced

1 tablespoon fresh oregano or thyme, chopped

1/4 cup fresh basil, chopped (plus more for topping)

1/2 teaspoon salt

1/4 teaspoon ground black pepper

1/2 teaspoon crushed red pepper flakes

8-ounce block of feta cheese

8 ounces pasta (of choice)

Canned olives or cooked vegetables (optional)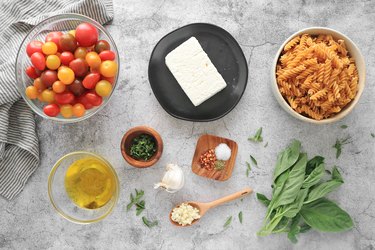 Tip
If you're on a gluten-free diet, use your favorite gluten-free pasta.
Step 1
Preheat the oven to 400°F. In a medium baking dish, combine the tomatoes, 1/4 cup olive oil, minced garlic, oregano, basil, salt and black pepper. Toss well until the tomatoes are completely coated in olive oil and spices.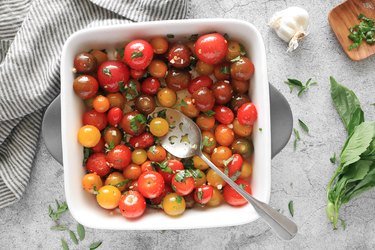 Step 2
To the center, add the block of feta cheese. Drizzle the remaining 1/4 cup of olive oil on top of the feta and then sprinkle crushed red pepper flakes on top.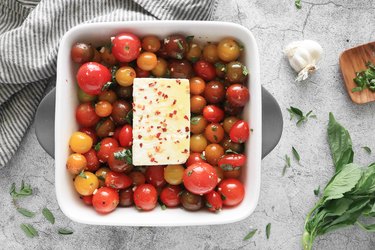 Step 3
Bake for 35 to 40 minutes or until the tomatoes burst.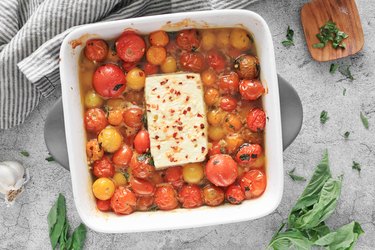 Step 4
While the feta and tomatoes are baking, cook the pasta according to the package directions.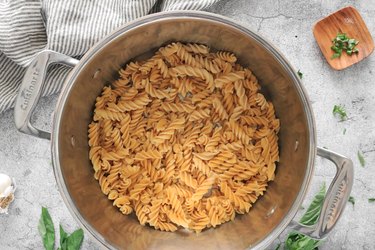 Step 5
Mash the feta and tomatoes with a large fork.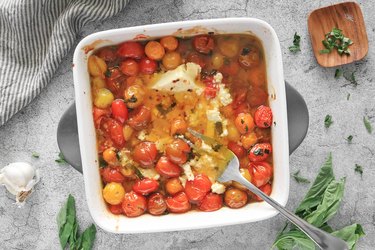 Step 6
Mash and stir until the ingredients form a thick, soupy sauce. It will thicken as it cools. You can leave chunks of feta cheese if you'd like.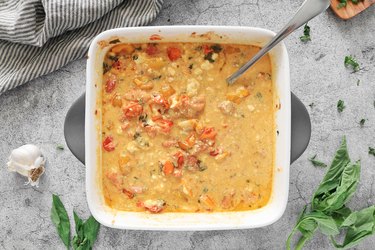 Step 7
Mix in the pasta and olives or cooked vegetables. Garnish with extra basil and enjoy.