Brownies are kind of like the pizza of desserts. Even when they're just okay, they're still pretty great. Brownies made from a boxed mix are a reliable crowdpleaser, but in terms of taste, they tend to score no higher than a nine on a 10-point scale. Get that perfect 10 by doctoring your boxed mix with tasty extras.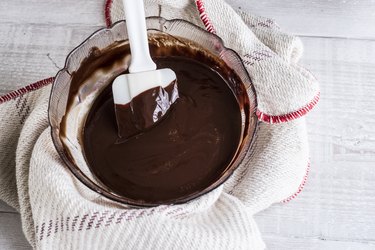 If you can't get enough of chocolate-covered pretzels, this easy brownie upgrade will be your new favorite dessert. Making a pretzel crust is as easy as mixing crushed pretzels with a little sugar and melted butter. Bake the crust for about 10 minutes, then pour prepared brownie mix on top and bake until set. The salty-sweet crunch is a perfect balance for gooey brownies.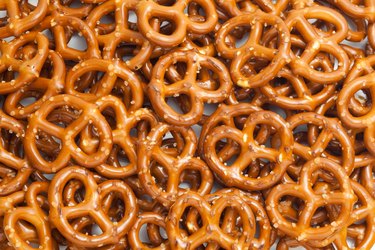 2. Stir in Espresso Powder
For people who love coffee, there's never a bad time for a dose of joe. Adding espresso powder to your brownie mix infuses dessert with delicious mocha flavor. Stir in a few teaspoons, or more to intensify the coffee essence. Even if you don't love espresso flavor, you may want to experiment with adding a little bit to your mix; it will intensify the chocolate flavor.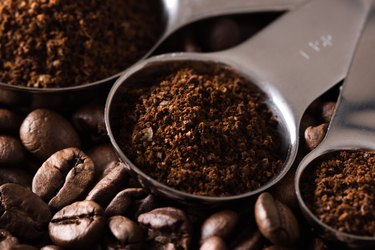 Mint and chocolate are a classic combination. There are a few ways to infuse boxed-mix brownies with mint flavor. For one, you could add mint extract to the batter. Alternately, top finished brownies with mint frosting and an optional layer of chocolate ganache. The longer the brownies sit with the frosting, the moister and mintier they'll get.
When it comes to crunchy add-ins for your boxed-mix brownies, your imagination is the only limit. Stir in any kind of nuts, crushed pretzels, crushed cookies or coated candies. Crispy rice cereal or toffee chunks will also add texture. If you love spice, stir in cinnamon candies; they'll melt somewhat in the oven but should still retain some crunch.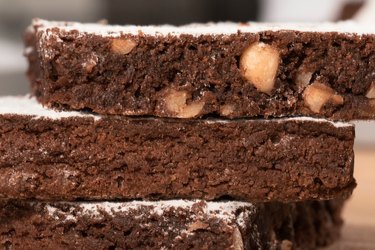 5. Add Some Peanut Butter
One guaranteed way to improve brownies made from a box mix? Cover them with peanut butter and more chocolate. Using a mix takes half the work out of making "buckeye brownies." Top a batch of baked brownies with peanut butter filling and chocolate glaze or frosting.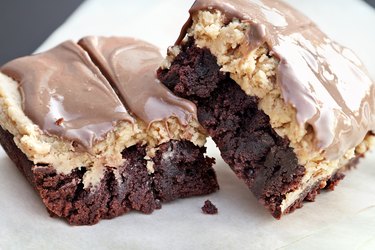 6. Turn Them Into Cupcakes
Anyone who has strong opinions about how their sandwiches are cut knows that sometimes, changing the shape of your food really seems to change how it tastes. Put that into practice by baking your prepared brownie mix in a cupcake pan. Baking them as cupcakes gives every brownie the crispy texture of edge pieces. Top the finished brownies with frosting.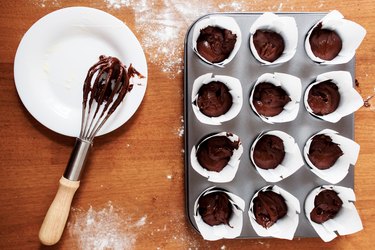 7. Drizzle With Sweet or Salty
Let's be honest. Drizzling brownies with something rich and delicious makes you feel like you're a pro pastry chef... and sometimes you might even pretend to talk to the audience on your imaginary cooking show while you do it. Obviously, a drizzle of chocolate sauce is a perfect topper for any batch of brownies. Salted caramel or a fresh berry sauce is equally impressive.
If chocolate is good, doesn't it stand to reason that triple the chocolate is three times the good? Okay, the math doesn't matter — the bottom line is that boosting the chocolate content of your brownies boosts their flavor, too. Try stirring in a little cocoa powder, mixing in chocolate chips and topping the finished brownies with chocolate frosting or ganache.
9. Swirl in Cheesecake Filling
Cheesecake brownies are just the thing for anyone who loves brownies but doesn't love intense chocolate flavor. Cutting the sugary brownie mix with rich, tart cheesecake filling makes them even more luscious. Plus, these treats look impressive but are super simple to make. Pour brownie batter into a prepared pan, and pour in a simple cheesecake batter of cream cheese, sugar and egg. Use a knife to swirl the mixtures together before baking.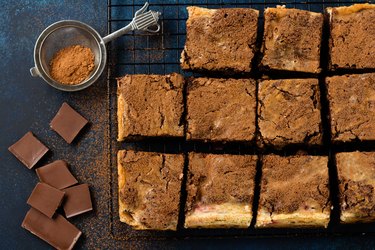 10. Experiment With Extracts
Extracts are the most effective way to alter the basic flavor of boxed brownies. These concentrated liquids will infuse every bite. Adding a splash of vanilla or almond extract will subtly enhance the flavor of your brownies. If you have any lemon or coconut flavorings on hand, you might experiment with them, too.