These pizza dough garlic knots are surprisingly easy to make at home. Serve them with baked ziti, eggplant Parmesan or of course... pizza! They also double as a comforting snack or finger-friendly party appetizer. Between the buttery topping and freshly chopped parsley, these homemade garlic knots will surely hit the spot.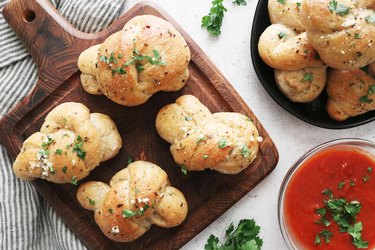 Things You'll Need
18 ounces pizza dough

6 tablespoons unsalted butter

1 1/2 teaspoons Italian seasoning

1/4 teaspoon salt

3 teaspoons jarred minced garlic (or 6 fresh cloves, minced)

Pizza, pasta or marinara sauce, for dipping


1 small bunch fresh parsley, chopped, for topping (optional)

Grated Parmesan cheese, for topping (optional)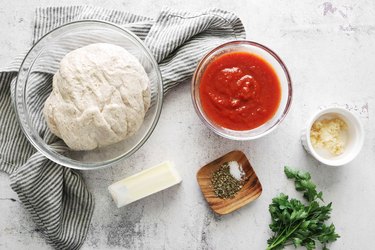 Tip
Before starting, let pizza dough sit for at least 30 minutes at room temperature.
Step 1
Line a large baking sheet with parchment paper or a silicone baking mat.
Generously flour your work surface and hands. Form the dough into a log about 12 inches wide. Using a pizza cutter, slice the dough every 1 inch, creating about 12 pieces in total.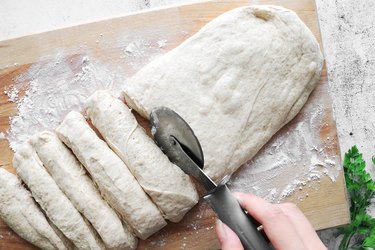 Step 2
Roll each piece into a skinny log, flouring your work surface as needed. It may help to alternate rolling and pulling the dough. Cross each of the ends of each log to form an "o" shape.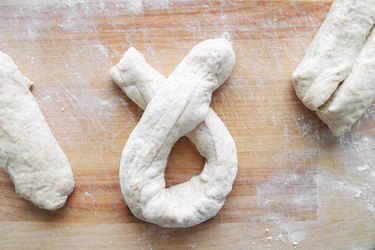 Step 3
Pull one end through the "o" to create a knot. Again, don't forget to flour your surface and hands as needed. It will be much easier to work with the dough!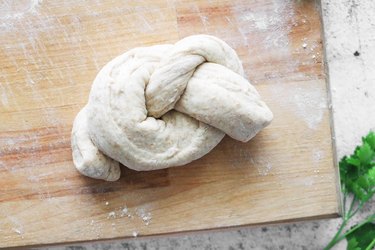 Step 4
Repeat with the remaining pieces. Place on the baking sheet, leaving about 2 inches in between. Loosely cover and let sit for about 45 minutes, or until the dough has doubled in size.
Step 5
About 10 minutes before the 45-minute mark, preheat the oven to 400°F.
Melt the butter in a small saucepan over low heat. Add the garlic, Italian seasoning and salt. Cook for about 1 minute, or until the garlic is light golden brown.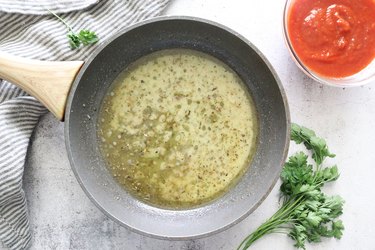 Step 6
Generously brush the garlic-butter mixture onto the knots. Save the remaining butter.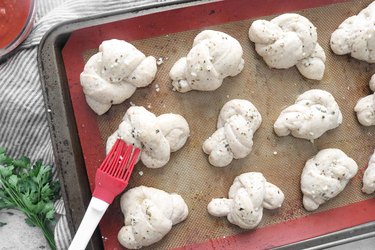 Step 7
Bake for 15 minutes or until golden brown. You might need more or less time, depending on your oven. Start checking on the knots after 10 minutes.
Drizzle the remaining garlic-butter on the knots, top with parsley or Parmesan and serve with sauce.