For a simple yet comforting weeknight meal, whip up these easy Bisquick dumplings. It calls for staples like chicken broth, frozen vegetables and Bisquick mix — all of which you probably already have on hand. This particular version also features shredded chicken, but you can easily make it vegetarian by omitting the meat and using vegetable broth. Either way, you can be sure this recipe will hit the spot.
Things You'll Need
4 boneless skinless chicken breasts, shredded or chopped

1/2 medium yellow onion, diced

1 1/2 cup mixed vegetables, frozen or fresh

5 cups chicken or vegetable broth

1 teaspoon salt

1/2 teaspoon black pepper

3 bay leaves

1/4 cup heavy cream (optional)

2 1/4 cups Bisquick mix

2/3 cup milk or water

1 tablespoon olive oil or butter
Tip
Use heavy cream for an extra-hearty meal. But if you'd like to keep it light, feel free to skip it.
Step 1
In a large pot, warm the olive oil or butter over medium heat. Cook the onion for 5 to 7 minutes or until tender.
Step 2
Add the mixed vegetables, broth, salt, pepper and bay leaves. Simmer for 7 to 10 minutes.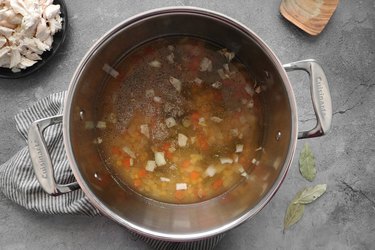 Step 3
While the broth is simmering, combine the Bisquick mix and milk in a large bowl.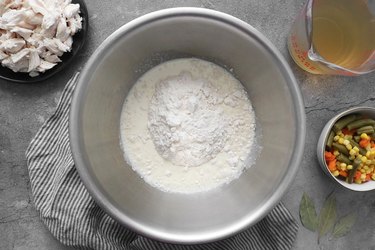 Step 4
Stir until thoroughly combined. The batter should be sticky, but it should still clump together. If it's too dry, slowly add more milk, one tablespoon at a time. If it's too wet, add a sprinkle of Bisquick.
Step 5
Form the batter into dumplings, about the size of golf balls.
Step 6
To the pot, add the chicken and heavy cream, if using. Stir well. Drop the dumplings onto the liquid, making sure they aren't completely submerged.
Reduce to low heat and simmer for 10 minutes, uncovered.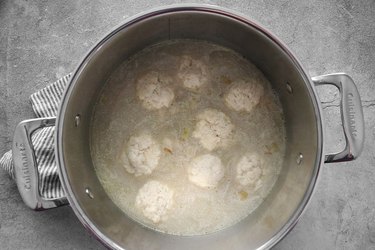 Step 7
Cover the pot. Simmer for another 10 minutes or until the liquid is thick.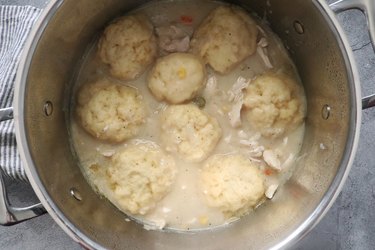 Remove the bay leaves before serving. If you'd like, garnish your easy Bisquick dumplings with fresh parsley or oregano.