Split pea soup is a classic dish that's the epitome of cozy and hearty. And while it's often available in a can, nothing beats making it from scratch. All you need to do is toss the ingredients in a pot and simmer until the peas are soft. Top it off with chopped or shredded ham, or skip the meat for a vegetarian version. Either way, we think you'll love this warm and comforting bowl of homemade goodness.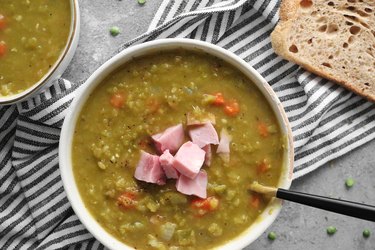 Things You'll Need
2 tablespoons unsalted butter (or olive oil)

1 cup yellow onion, diced

2 large carrots, peeled and diced

3 celery stalks, diced

3 teaspoons jarred minced garlic (or 2 minced garlic cloves)

1 pound dried green split peas

1 large potato, peeled and cubed

Salt and pepper

1 teaspoon dried oregano

2 medium bay leaves

Ham bone or 1/2 teaspoon smoked paprika


8 cups broth or water

1 1/2 cups chopped or shredded ham (optional)
Step 1
In a large pot over medium heat, warm the butter or olive oil. Add the diced onions, carrots and celery. Mix well and cook until the onions are clear and soft, about 5 to 7 minutes. Add the minced garlic and cook for another 30 seconds.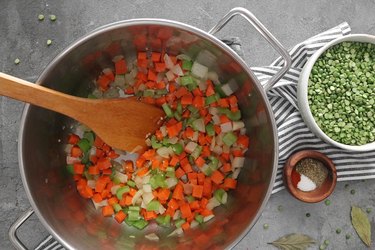 Step 2
To the pot, add the split peas, spices and bay leaves.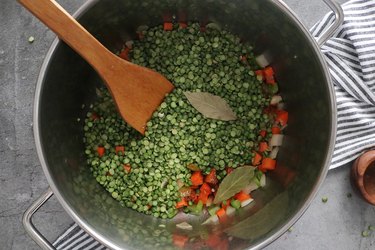 Mix until fully combined.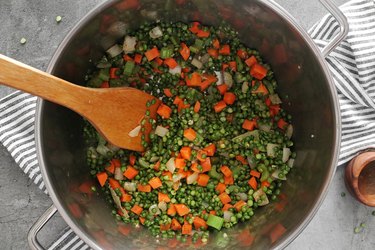 Step 3
Add the broth and potatoes. If using ham bone, add it now. Mix well, bring to a boil then reduce the heat.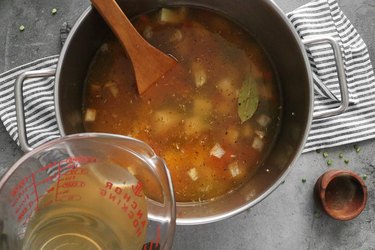 Step 4
Simmer uncovered for about 1 hour. As it cooks, occassionally check the soup. Skim off any foam then stir. As it nears one hour, the peas will soften and become creamy.
Step 5
When the soup reaches your desired consistency, mix in the ham, if using. Keep in mind that the soup will thicken considerably as it cools. Simmer for another 10 to 15 minutes then turn off the heat.
Remove the bay leaves and ham bone. Taste and add more spices, if needed. Top with extra ham or croutons, or pair with your favorite bread. Enjoy!