Celeriac is as strange-looking as vegetables come, but don't let that fool you. It's perfect in a soup, and it shines as a partner to potato. It has an earthy, unique flavor reminiscent of celery, to which buttery potatoes lend a tasty contribution. Garlic and thyme bring out the best in these two main ingredients while also adding both a spicy bite and an herbal aroma. The end result is delicious—a cozy soup for just the right season.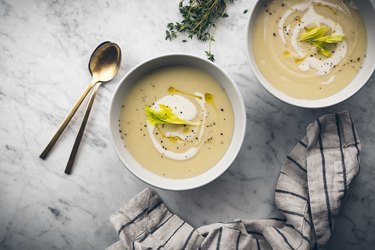 Things You'll Need
2 tbs olive oil, plus more for drizzling


2 ½ cups leeks, white part only sliced into half moons

2 garlic cloves, minced

1 lb Yukon gold potatoes, peeled and cut into 1-inch cubes

1 lb celeriac root, peeled and cut into 1-inch cubes

4 1/2 cups low-sodium chicken or veggie stock

5-6 sprigs of thyme


salt and pepper

creme fraiche, for garnish

heavy-bottomed pot

blender
Step 1
Add 2 tbs of olive oil to a large pot set over medium heat. Once warmed, add the sliced leeks and a pinch of salt. Sauté the leeks until softened, about 4 minutes. Add the garlic and cook for one additional minute.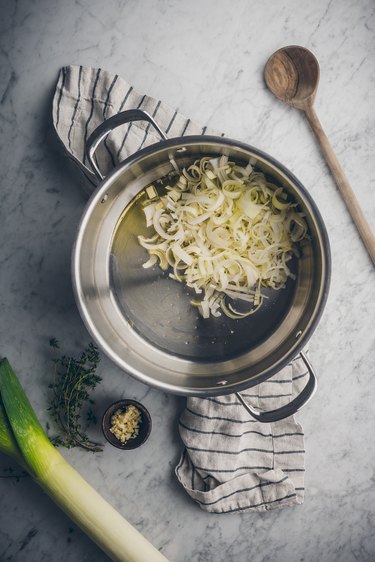 Step 2
Add the 4 1/2 cups of stock, celeriac, potatoes and thyme, and bring everything to a gentle simmer. Cover and let simmer for 25-30 minutes, or until the veggies are fork tender.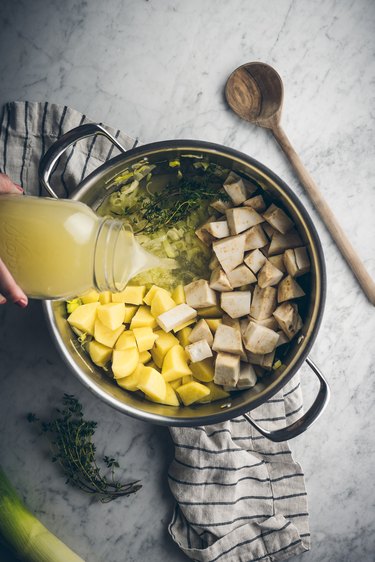 Step 3
Set aside about 1 cup of stock from pot. Working in batches, transfer the veggies and remaining broth to a blender and blend until smooth. Pour soup back into the pot and season with salt to taste.
Tip
If you prefer a thinner soup, simply add the remaining 1 cup of stock in increments to the blender until desired soup texture is achieved.
Step 4
Garnish hot soup with creme fraîche, a drizzle of olive oil, and a crack of pepper.