Equal parts creamy and cheesy, this mashed potato casserole is the ultimate comfort food recipe. The mashed potato base is thick and velvety thanks to a generous helping of sour cream. As if that isn't enough, it's also topped with shredded cheddar cheese, crispy bacon and vibrant parsley for a pop of color. Serve it in place of plain mashed potatoes and let the compliments roll in! Read on to make this sinfully delicious dish.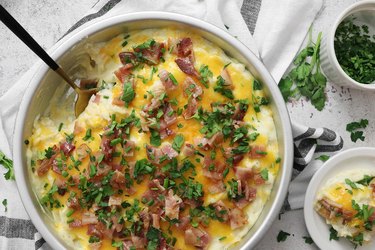 Things You'll Need
3 pounds potatoes

1/2 small yellow onion, finely diced

4 tablespoons butter, melted

1 cup full-fat sour cream

1/3 cup milk or half & half

1 3/4 cup shredded cheddar cheese

1 tablespoon and 1 teaspoon salt, separated

1/2 teaspoon ground black pepper

1 teaspoon garlic powder

4 to 6 strips bacon, cooked and chopped

1 1/2 tablespoons chives, finely chopped

1 1/2 tablespoons fresh parsley, finely chopped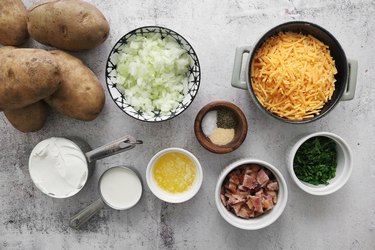 Tip
Omit the bacon to make the casserole vegetarian-friendly.
Step 1
Wash the potatoes, then peel and chop into 1 1/2-inch cubes.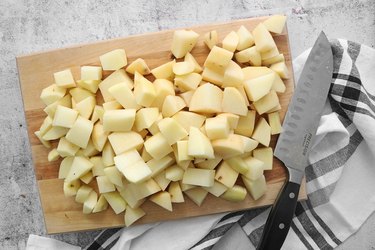 Step 2
Put the potatoes in a large pot. Cover with cold water, making sure all the potatoes are submerged. Add 1 tablespoon salt. Bring to a boil then reduce to a simmer, partially covering the pot. Simmer until the potatoes are fork-tender, about 20 minutes. Drain and let sit for 3 to 5 minutes.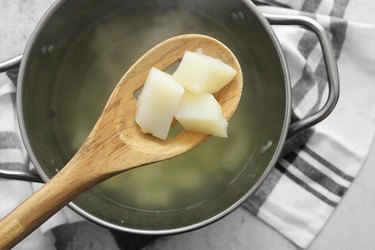 Step 3
Preheat the oven to 350° Fahrenheit.
In a large bowl, mash the potatoes with a potato masher or ricer.
Tip
Use a food processor to speed up the process.
Step 4
Add the butter, sour cream and milk. Stir well until combined.
Step 5
Mix in 1 cup of cheddar cheese and stir well.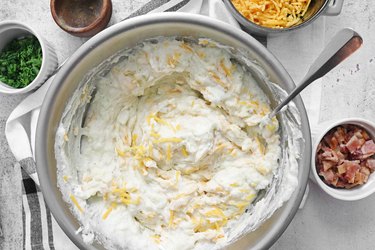 Step 6
Transfer the potato mixture to a greased 9-inch pan or 2-quart casserole dish. Top with the remaining cheese.
Step 7
Loosely cover the casserole with aluminum foil.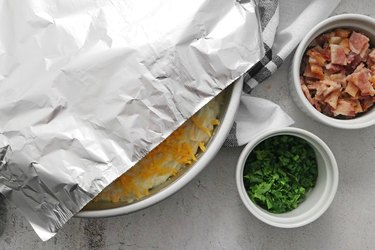 Step 8
Bake for 25 minutes. Remove the aluminum foil, add the bacon and bake for another 10 minutes or until the cheese is melted and bubbly. Top with chives and parsley.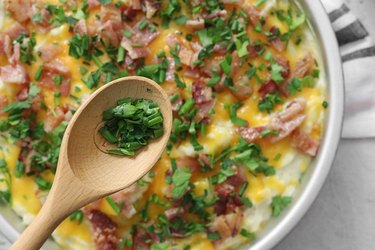 Your homemade mashed potato casserole is ready to enjoy. Serve it as an appetizer or side dish, depending on your menu.