It's always great to have a cool and refreshing treat on hand during the hot summer season, and this frozen yogurt bark is about as good as it gets. This recipe combines lightly sweetened yet delightfully tangy Greek yogurt with fresh, juicy summer berries—it's so refreshing. In just few simple steps, you'll be beating the heat in no time.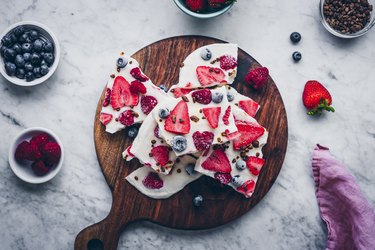 Things You'll Need
2 1/2 cups plain Greek yogurt

3-4 tbs maple syrup

1 1/4 tsp vanilla extract

6 strawberries, hulled and sliced

10 raspberries, cut in half

1/4 cup blueberries

1 tbs cocoa nibs or mini chocolate chips

medium bowl

baking sheet lined with parchment paper
Step 1
Add the yogurt, maple syrup and vanilla extract to a medium bowl and mix until combined. Taste and add remaning tablespoon of maple syrup if a sweeter yogurt base is preferred.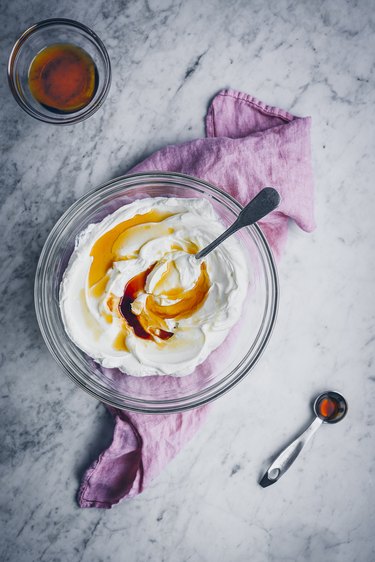 Step 2
Pour the yogurt onto the prepared baking sheet and spread into a 10-by-13-inch rectangle. Top the yogurt with the berries and cocoa nibs.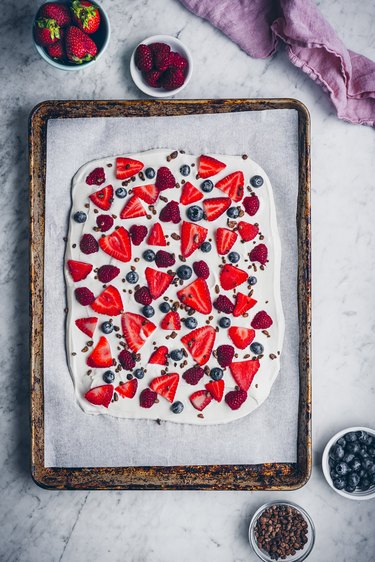 Step 3
Freeze for 2-3 hours, or until frozen solid. When ready to enjoy, simply break up the bark up into desired-sized pieces and enjoy!