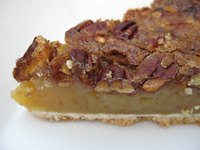 Corn syrup is a common ingredient in pecan pie recipes because it adds sweetness and helps to make the filling stiff and gooey. Sometimes you just don't have all of the right ingredients on hand, so there are several ways to substitute for corn syrup. You can try different substitutes to give it different flavor. If you are a diabetic or simply wish to limit the amount of sugar you eat, there are also a few healthy substitutes you can use in your recipe. You can bet that your pie will still be delicious and there will be no leftovers.
Replace one cup of corn syrup with homemade simple syrup by combining one cup of sugar with 1/4 cup of water and boiling on the stove until it is a thick consistency like corn syrup. Use white granulated sugar to substitute for light corn syrup or make it with brown sugar if your recipe calls for medium or dark corn syrup.
Substitute equal parts molasses for the dark or mild molasses for light corn syrup in your recipe. Molasses is a perfect substitute for dark corn syrup, although some people don't like the taste of molasses.
Increase the amount of brown sugar in your recipe and add water to replace the corn syrup. If your recipe calls for 1/2 cup of brown sugar, you will need to use about 1 1/2 cups of brown sugar and 3/4 cups of water.
Replace equal parts maple syrup for the corn syrup. If you don't want an overpowering maple syrup taste, use a combination of 1/2 maple syrup and 1/2 simple syrup.
Try equal parts of brown rice syrup for a gluten-free alternative to corn syrup. You get the added bonus of vitamins B, B6 and K, plus thiamine and niacin in your pie recipe.
Substitute 3/4 cup of agave nectar for every one cup of corn syrup called for in your recipe because it is slightly sweeter than corn syrup and sugar. The glucose in agave nectar won't spike your blood sugar like other sweetener, making it a popular choice among diabetics and the health-conscious.
Use equal parts of honey in place of the corn syrup for a healthier alternative. If you like the taste of honey and pecans in baklava dessert, then you will love this in pecan pie.