This cherry cobbler is a mouth-watering dessert that's perfect for the whole family during summer cherry season. This easy approach to cherry cobbler is great for people of all baking skills. The topping on a classic cherry cobbler requires a bit of skill, as one must make a biscuit by cutting in chilled butter and ice water. This goof-proof approach is much quicker and easier, yet results in the same flaky, buttery topping.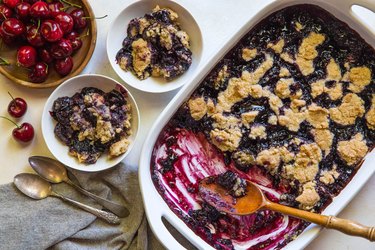 Cherry Filling
Things You'll Need
8 cups cherries, pitted and halved (or 2 (16-oz.) packages frozen cherries)


2/3 cup brown sugar

1 tbsp lemon juice

2 tsp corn starch

1/4 tsp sea salt
Step 1
Add the ingredients for the cherry filling (cherries, brown sugar, lemon juice, corn starch and sea salt) to a large pot.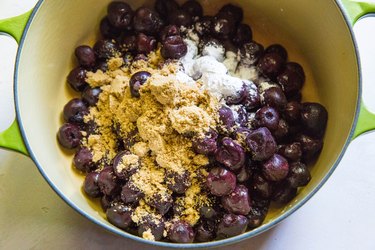 Step 2
Cover and heat over medium on the stove top. Bring mixture to a full boil, then reduce the heat to a gentle boil. Cook, stirring occasionally, until cherries have softened and much liquid has seeped out, about 5 to 8 minutes.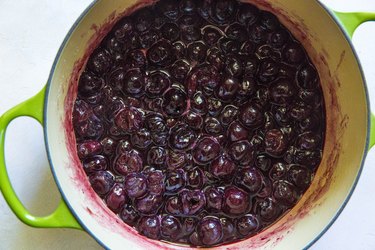 Cobbler Topping
Things You'll Need
2 cups all-purpose flour

1/2 cup brown sugar

1/2 cup granulated sugar

1/2 tsp ground cinnamon

1/2 tsp sea salt

3/4 cup unsalted butter, melted
Step 1
Add the dry ingredients (flour, brown sugar, granulated sugar, ground cinnamon and sea salt), to a large mixing bowl.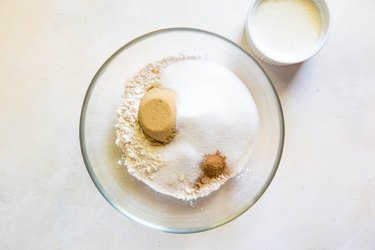 Step 2
Stir the dry ingredients together until well-combined.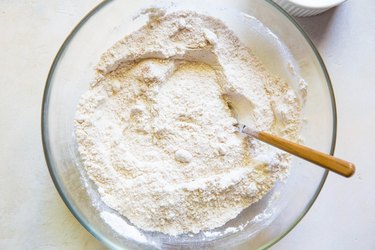 Step 3
Pour melted butter into the mixing bowl over the dry ingredients.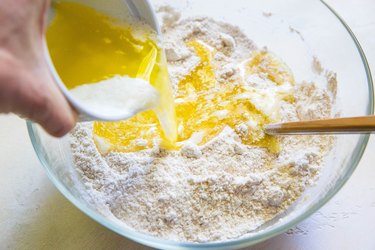 Step 4
Stir mixture together well until a thick dough forms.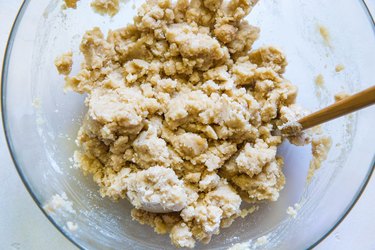 Prepare the Cobbler
Step 1
Preheat the oven to 400° F. Pour the cherry filling mixture into a large (13" x 9") casserole dish.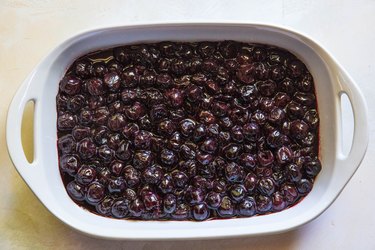 Step 2
Evenly distribute the cobbler topping mixture on top of the cherry filling. You can form round biscuit shapes, or leave the topping rustic by crumbling the topping on in no specific pattern.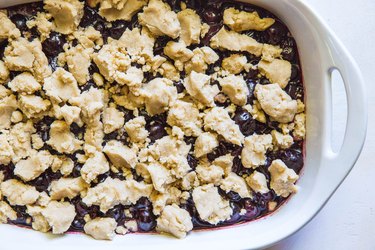 Step 3
Bake on the center rack of the pre-heated oven 30 to 40 minutes, until the topping is golden brown and the cherry filling is thick and bubbly.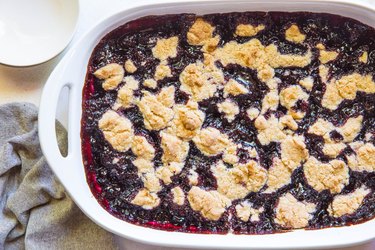 Step 4
Serve cobbler in bowls with a scoop of vanilla ice cream on top.