If you're looking for a flavorful meal that's both healthy and delicious, try these homemade chicken gyros. From the creamy tzatziki to the crispy veggies, this easy recipe will make your taste buds sing! This particular variation even features a Greek yogurt chicken marinade that can't be beat. Read on to make your own batch of chicken gyros with fresh tzatziki sauce.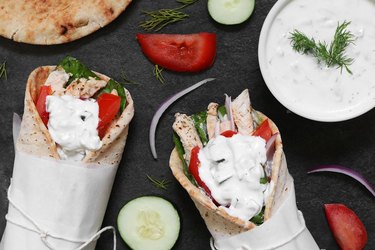 Marinated Chicken
Things You'll Need
1 1/2 pounds boneless and skinless chicken breast, sliced

1/4 teaspoon paprika


2 teaspoons dried oregano

1/2 teaspoon ground black pepper

1 teaspoon salt

1 tablespoon red wine vinegar or apple cider vinegar

1 tablespoon olive oil

2 tablespoons lemon juice

1/4 cup plain Greek yogurt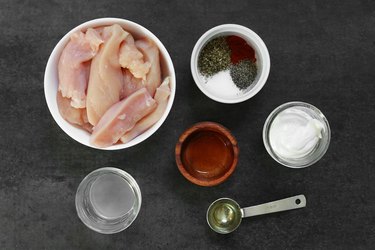 Step 1
In a bowl, combine the spices, vinegar, olive oil, lemon juice and Greek yogurt. Mix well.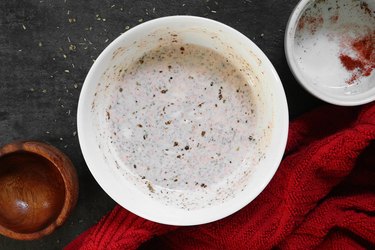 Step 2
Place the chicken in a resealable bag or casserole dish with a lid. Pour the yogurt marinade on the chicken, making sure both sides of each piece are completely drenched. Cover and let sit in the refrigerator for at least 2 to 4 hours. If you're in a rush, 30 minutes will do the trick.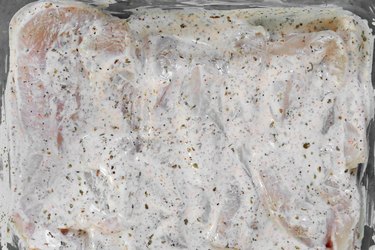 Step 3
Over medium heat, cook the chicken 4 to 5 minutes on each side. The chicken is ready when it is no longer pink inside.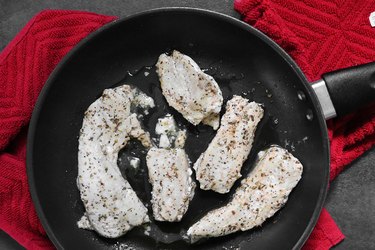 Step 4
If necessary, slice the chicken into strips.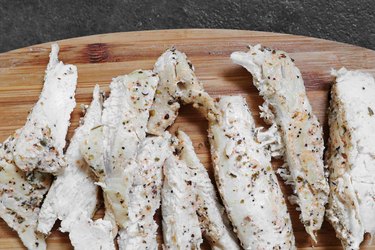 Tzatziki Sauce
Things You'll Need
1 1/4 cup plain Greek yogurt

1 medium cucumber

1 tablespoon fresh dill, chopped

1 teaspoon salt

1/8 teaspoon ground black pepper

2 garlic cloves, minced

1 tablespoon red wine vinegar

1 tablespoon olive oil

1 tablespoon lemon juice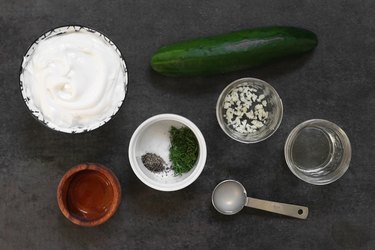 Step 1
Slice the cucumber lengthwise and scoop out the seeds.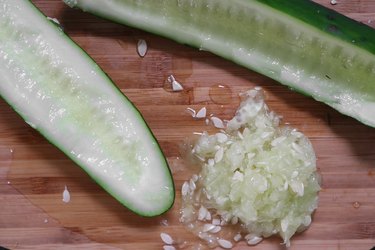 Step 2
Roughly chop up the cucumber.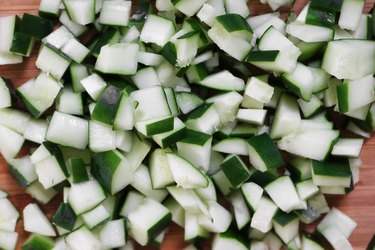 Step 3
Place the cucumber in a strainer or colander. Sprinkle a liberal amount of salt and place it in a bowl. Let sit for 20 minutes.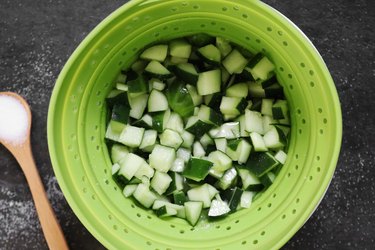 Tip
This is an important step. Cucumbers hold a lot of water, which can make your tzatziki sauce very watery. Adding the salt will help draw out excess moisture. Don't worry, though — the cucumber won't taste salty.
Step 4
After about 20 minutes, wrap the cucumber in a paper towel and give it a squeeze. Add the cucumber to a bowl and combine with the remaining ingredients.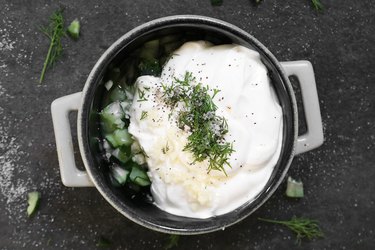 Step 5
Chill in the refrigerator for 20 to 30 minutes to let the flavors develop.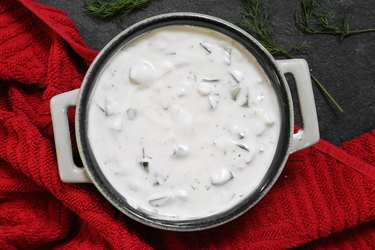 Chicken Gyros
Things You'll Need
6 pitas

Sliced cooked chicken

2 small tomatoes, sliced

1/2 red onion, sliced

1 cup romaine lettuce, tightly packed and chopped

Tzatziki sauce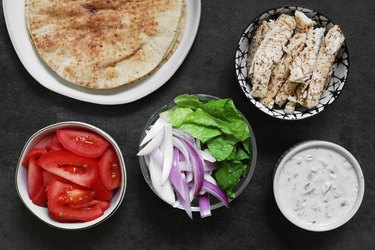 Step 1
Briefly warm up the pitas in the microwave or in a pan over low heat.
To construct the gyros, add the lettuce, red onions and tomatoes on a pita. Add the sliced chicken and top with tzatziki sauce. Garnish with extra dill or chopped cucumbers, if desired.
Step 2
Wrap the pita and secure with aluminum foil or parchment paper with twine. Enjoy!