Buddha bowls are big right now, and it's easy to see why. They're delicious, nutritious and fun to make. It doesn't hurt that they look beautiful, too! Typically, a Buddha bowl includes whole grains, protein, healthy fats and lots of veggies. The result is a complete meal that's both tasty and wholesome. To make one for yourself, try this smoky chickpea Buddha bowl with lemon tahini sauce. From the flavorful spices to the nutty notes, you'll adore this mouthwatering recipe.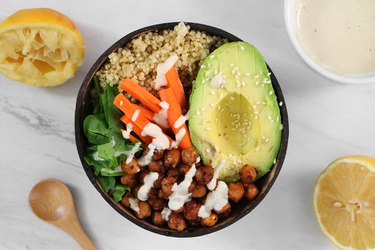 Baked Smoky Chickpeas
Things You'll Need
1 1/2 cup chickpeas (15.5 ounce can)

2 tablespoons olive oil

1/2 to 1 tablespoon liquid smoke

1/2 teaspoon fine sea salt

1 teaspoon ground black pepper

1 teaspoon chili powder

1/2 teaspoon smoked paprika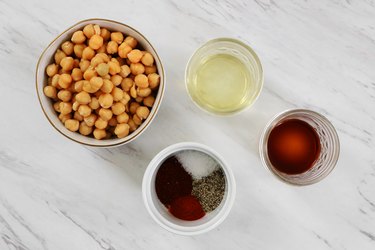 Step 1
Pre-heat the oven to 425° Fahrenheit.
In a bowl, toss the chickpeas with the oil, liquid smoke, and spices. Add more or less liquid smoke based on your preference.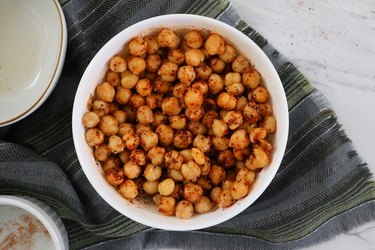 Step 2
Transfer the chickpeas on to a baking sheet. Bake for 20 minutes or until crispy, tossing once halfway through.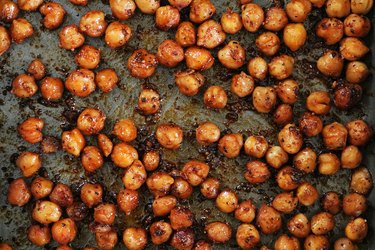 Lemon Tahini Sauce
Things You'll Need
3/4 cup tahini

2/3 to 3/4 cup water

3 to 4 tablespoons lemon juice

1 tablespoon olive oil

1 tablespoon minced garlic

Salt and pepper, to taste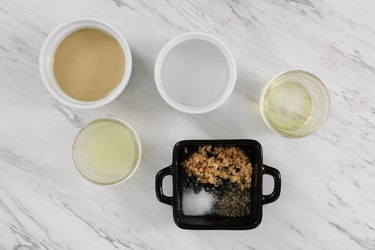 Step 1
Combine all of the ingredients in a high-powered blender. For a thicker sauce, use 2/3 cup water. For a thinner sauce, use 3/4 cup or more. You can also adjust the lemon juice, garlic and spices according to your taste buds.
Blend until smooth. To store leftover tahini sauce, use an air-tight container and keep in the refrigerator.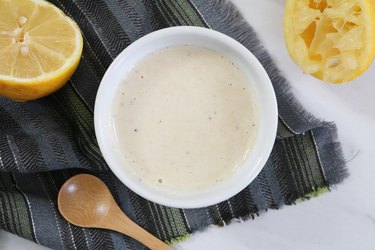 Tip
This tahini sauce is easy to customize. For example, you can add less lemon juice and more garlic. Make a thicker sauce by mixing equal parts tahini sauce and yogurt. Add fresh herbs like cilantro, oregano or dill for even more flavor.
Smoky Chickpea Buddha bowl
Things You'll Need
Whole grains (quinoa, brown rice, etc.)

Smoky chickpeas

Vegetables

Healthy fats (avocado, almonds, etc.)

Lemon tahini sauce
To construct your Buddha bowl, combine whole grains, healthy fats and vegetables of your choice. Ideas for veggies include leafy greens, carrots, broccoli and sprouts. Add the smoky chickpeas, tahini sauce and a sprinkle of sesame seeds (optional).
Remember, when it comes to Buddha bowls, the possibilities are endless. The smoky chickpeas and tahini sauce pair well with so many types of vegetables.