When you think of comfort food, what comes to mind? For many, it brings about thoughts of heavy meals that are high in calories and low in nutrition. However, with a recipe like this hearty lentil & potato stew, you can enjoy comfort food in the healthiest way. This vegan-friendly dish is packed with protein, vegetables and flavor. The best part? As a simple "one pot" meal, it's super easy to throw together. Read on to learn how!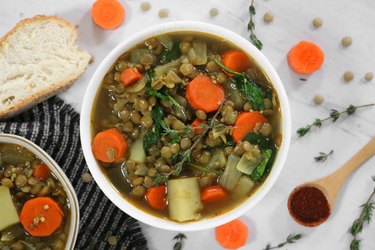 Things You'll Need
5 cups broth of choice

2 tablespoons olive oil

2 tablespoons minced garlic

1 medium onion, diced

1 large potato, peeled and cubed

2 to 3 medium carrots, peeled and sliced

1 cup dried green lentils

1 teaspoon chili powder

1/2 teaspoon cumin

1/2 teaspoon turmeric

1 teaspoon dried oregano

1/2 teaspoon black pepper

1 to 2 teaspoons fine sea salt

Fresh herbs for garnish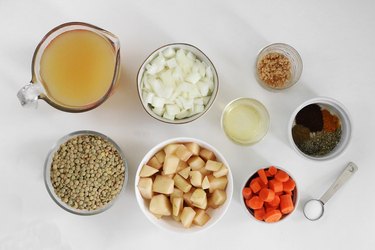 Step 1
In a large pot over medium heat, combine the olive oil, onions and carrots. Cook for 5 to 7 minutes, or until the onions are slightly soft.
Add the garlic, chili powder, cumin, turmeric, dried oregano and black pepper. The salt will be added at the end. You can add more or less spices according to your preference. Cook for 1 minute.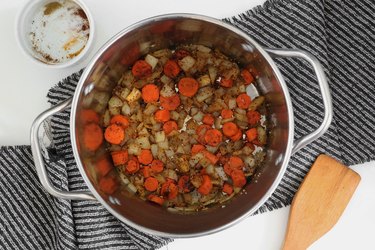 Step 2
Add the broth. Want more of a soup than a stew? Add another 1 to 2 cups.
Toss in the potatoes and lentils. Bring the mixture to a rolling boil, then reduce to a low simmer. Cook for 20 to 30 minutes or until the lentils are tender.
Step 3
Once the lentils are cooked, remove the pot from the heat. Add 1 to 2 teaspoons of salt and stir. This will stop the lentils from cooking and prevent them from becoming mushy.
Optional: Add 1 to 2 cups of baby spinach leaves while the stew is still hot. As you stir the stew, the spinach will cook.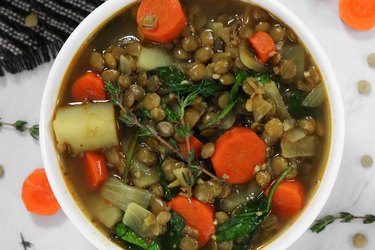 Like many homemade soups and stews, this recipe is easy to customize. For example, you can use sweet potatoes instead of white potatoes. To bulk it up, add 1 or 2 cups of your favorite cooked beans. You can also add other vegetables like red bell pepper, celery or tomatoes.
Serve hot with fresh herbs and a slice of your favorite bread. Yum!