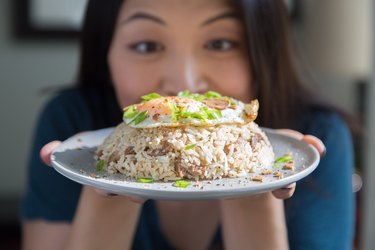 Make It Egg-Cellent - in partnership with Eggland's Best, we asked our favorite chefs to take a breakfast, lunch, or dinner staple and make it better by adding EB eggs to it, and ended up with a few exclusive and delicious recipes that you can make at home.
Pork adobo rice with fried egg is one of my favorite comfort foods. The contrast of flavors and textures is magical. This dish is quick and easy to cook (and it makes for great leftovers!). Best of all, it can be served any time of day.
This recipe gives new life to day old cooked rice. Flavorful Filipino pork adobo is tossed with garlic fried rice and topped with a sunny-side up Eggland's Best fried egg. The runny egg yolk provides creaminess while the crispy egg whites add another dimension of texture to this savory rich dish.
Eggland's Best eggs are ideal for this recipe because they stay fresher longer than ordinary eggs and have the delicious, farm fresh taste that I love.
Yield: 5 ½ cups, serves 5
Things You'll Need
2 tbsp grapeseed oil 



4 garlic cloves, minced 



4 cups cooked rice, preferably day-old, cold 



1 tbsp reduced sodium soy sauce 



1 tbsp water 



1 ½ cups chopped or shredded pork adobo, or more as desired 



5 Eggland's Best fried eggs 



Chopped green onions, to garnish 



Fried garlic chips, to garnish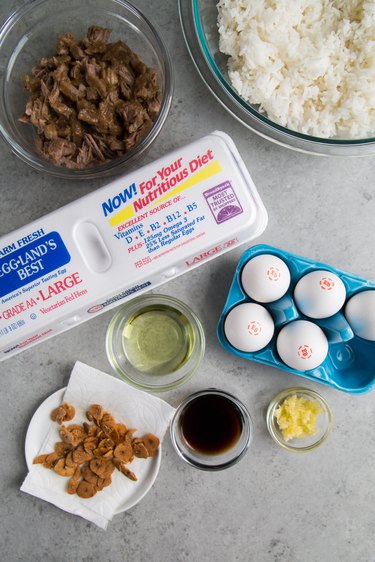 Pork Adobo
Things You'll Need
2 pounds pork shoulder, cut into 2-inch pieces

1 head garlic cloves, chopped


¼ cup soy sauce


½ cup vinegar

1 tbsp whole peppercorn


3 pieces dried laurel leaves (bay leaves)

1 cup water
Fried Eggs
Things You'll Need
1 tablespoon grapeseed oil


5 Eggland's Best large eggs


Salt and pepper, to season


A couple dashes of Maggi seasoning, to taste
Step 1
In a large saute pan (or wok), heat oil over medium heat. Once warm, add minced garlic and stir. Cook for about 45 seconds until fragrant and starting to brown.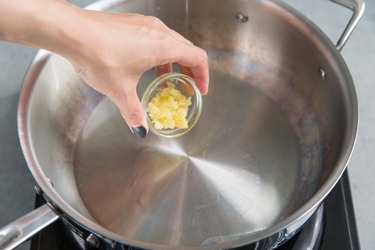 Step 2
Add rice, soy sauce and water. Increase to high heat. Break up any clumps of rice. Toss mixture together. Cook for about 2-3 minutes until rice has been heated through.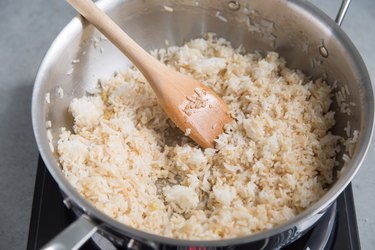 Step 3
Add pork adobo and two tablespoons adobo sauce. Toss to combine. Serve immediately with Eggland's Best fried eggs. Garnish with chopped green onions and fried garlic chips.
Pork Adobo
Step 1
In a saucepan, combine pork, garlic, soy sauce, vinegar, peppercorn, laurel leaves and water. Set over medium heat and cook until meat is tender. Add additional soy sauce or vinegar, according to taste preferences.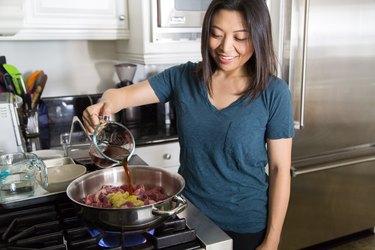 Fried Eggs
Step 1
Place heavy-bottomed non-stick skillet (or saute pan) over medium heat. Add half of oil and swirl to coat pan. Once oil is shimmering and hot, add 2-3 Eggland's Best whole eggs. Reduce heat to low.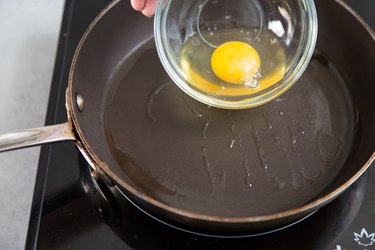 Step 2
Cover skillet. Allow Eggland's Best eggs to slowly cook for about 2 minutes, until whites are set but yolk is still runny. Remove cover. If desired, flip egg to other side and cook for 15-20 seconds to ensure whites are cooked through.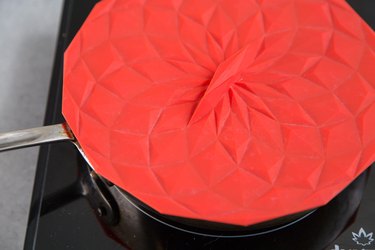 Step 3
Repeat with remaining Eggland's Best eggs.
Step 4
Transfer egg to portioned-out fried rice. Season with salt and pepper and a splash of Maggi seasoning.
Tip
Do not overcrowd the Eggland's Best eggs during cooking. Cook two or three eggs at a time, depending on size of skillet. A 10-inch skillet is great for 2 eggs, while a 12-inch skillet is better for 3 eggs.