Thin Mints are such classic treats. And if you eat a vegan diet, you'd be happy to know that these popular Girl Scout cookies have zero animal products! There is a catch, though. Despite their delicious flavor, boxed Thin Mints are made with refined sugar, artificial coloring, and preservatives. They also aren't available all year round. Luckily, when the craving hits, it's possible to make a batch of your own healthier vegan Thin Mints. Here's how to do it with just seven ingredients.
Peppermint Chocolate Cookies
Things You'll Need
1 cup whole wheat or all-purpose white flour

3/4 cup organic cane sugar

3/4 cup cocoa powder

2 to 3 tablespoons non-dairy milk

1/2 cup olive oil

1/2 teaspoon peppermint extract

1/4 teaspoon baking soda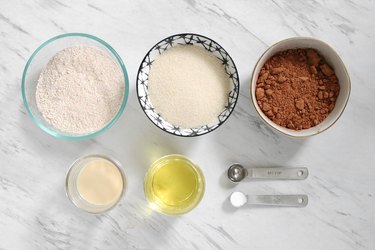 Step 1
Pre-heat the oven to 350 degrees Fahrenheit.
In a food processor, combine the flour, sugar, cocoa powder, and baking soda. Blend until totally combined.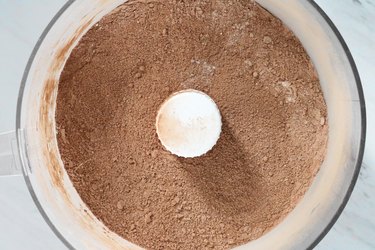 Step 2
In a small bowl, mix the olive oil and peppermint extract. Add to the food processor and pulse until combined.
While the food processor is running, slowly add 2 tablespoons of non-dairy milk until the dough forms wet clumps. Add more milk as needed.
Tip
Whole wheat flour soaks up more liquid than all-purpose flour. If using whole wheat, you will likely need 3 or 4 tablespoons of milk. Make sure to add it in small increments.
Step 3
With your hands, finish kneading the dough until the ingredients are thoroughly combined.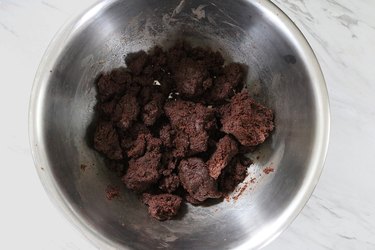 Step 4
Line a cookie sheet with parchment paper.
Roll the dough into 1 1/2-inch balls, about the size of small meatballs. Transfer onto the cookie sheet.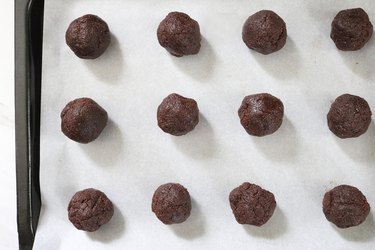 Step 5
Place a piece of parchment or wax paper on top. With a glass jar or cup, firmly flatten the dough into a 1/4-inch thick disc.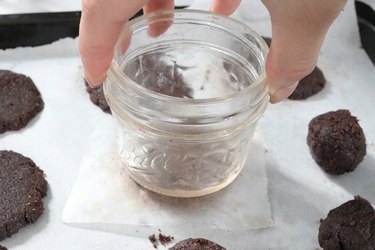 Step 6
Repeat with the remaining balls of dough.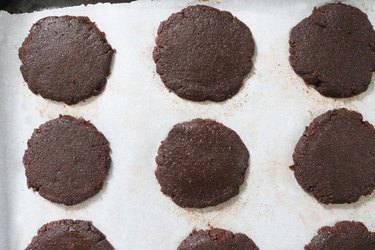 Tip
Don't worry if the edges aren't perfect. After all, they will eventually be coated with chocolate.
Step 7
Bake for 10 to 12 minutes or until the edges are crispy. Set aside to cool completely.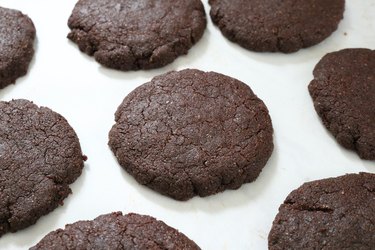 Peppermint Chocolate Coating
Things You'll Need
1 cup semi-sweet dairy-free chocolate chips

1 teaspoon coconut or olive oil

1/4 to 1/2 teaspoon peppermint extract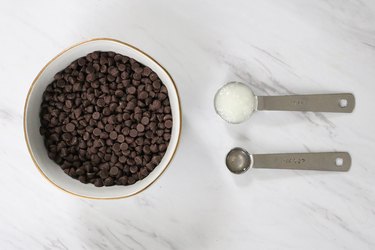 Tip
To melt the chocolate, set up a double boiler. Fill 1/3 of a small pot with water and lay a slightly bigger stainless steel bowl on top. The bottom of the bowl should not touch the water. Alternatively, you can place a heat-safe measuring cup right in the pot.
Step 1
Combine the chocolate chips and oil in the stainless steel bowl or heat-safe measuring cup.
Place the pot over low-medium heat. Warm the water until it is steaming, but not boiling. Continuously stir the chocolate until it is totally melted, even, and smooth.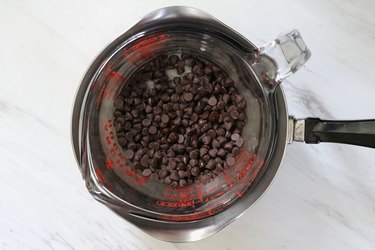 Step 2
Line a cookie sheet with parchment or wax paper.
Drop a cooled cookie into the melted chocolate. With a fork, flip the cookie to coat the other side. Lift up to let the excess chocolate drip off, then place on the cookie sheet.
Step 3
Repeat with the remaining cookies.
Chill in the refrigerator for at least 4 hours or overnight. Once the chocolate coating has completely hardened, the cookies are ready to gobble up.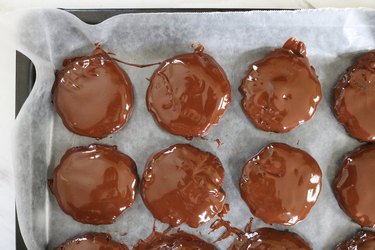 Store your homemade Thin Mints in the refrigerator or freezer. For best results, enjoy them chilled!