​eHow may earn compensation through affiliate links in this article.​
This Instant Pot peach cobbler is one of those dessert recipes that leaves a lingering scent of warm sugar and bubbling peaches. ​And​ it tastes better than it smells, if you can believe it! Make this peach cobbler in only 30 minutes–the perfect dessert for any occasion.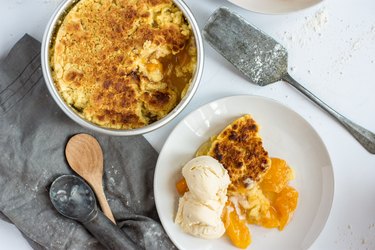 Things You'll Need
Cooking spray

1 can peach filling

1 teaspoon fresh lemon juice

5 tablespoons butter

3/4 box yellow cake mix

1 cup water

Vanilla ice cream (optional)
Step 1: Prep Peach Cobbler
Spray a 6-inch round cake tin with nonstick cooking spray. Pour the peaches into the bottom of the pan.
Melt the butter in a small bowl. Pour the cake mix in a separate bowl. Slowly stir in the butter and mix until the cake mixture pulls together and absorbs all the butter. It should have a crumbly appearance.
Step 2: Cook Cobbler in Instant Pot
Pour water in Instant Pot. Add in steam rack. Wrap the cobbler tin with foil. Lock lid, seal the valve, and cook on manual high pressure for 15 minutes. Let it natural release for 10 minutes.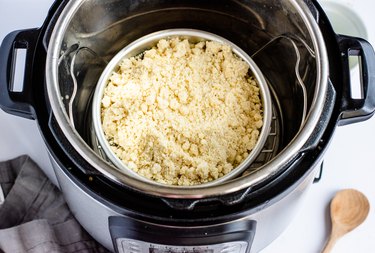 Step 3: Broil to Crisp and Serve
Preheat oven to broil. Remove cobbler from Instant Pot and remove foil. Let it broil for 3-5 minutes until browned on top. Remove and let rest for 5 minutes. Serve with vanilla ice cream while warm. Enjoy!