Create a cozy holiday vignette inside a lantern for quick and easy holiday decor. Simple-to-make and simple-to-clean-up is the best kind of craft. It's also portable so you can move it from mantel to table centerpiece to entryway and back again.
Things You'll Need
Lantern


Small truck figurine


Small people figurines


Small twigs


2 pennies


Printer paper


Hot glue
Step 1
Place a bed of snow confetti on the bottom of the lantern.
Step 2
Arrange a trio of bottle brush trees in one of the far corners of the lantern, varying the heights of the trees.
Step 3
Gather two small twigs and break/cut them so they're slightly shorter than the bottle brush trees. Print out a small sign on white printer paper or cardstock that says "Tree Farm." Cut it out and glue it to the twigs.
Step 4
To add a weighted base to the sign, glue the bottom of the twigs to pennies.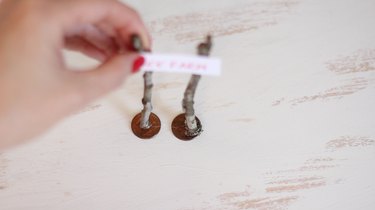 Step 5
Place the "Tree Farm" sign inside the lantern in front of the bottle brush trees.
Step 6
Place a small vintage truck figurine in front of the trees.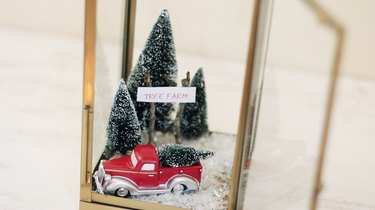 Step 7
Place small people figurines into the vignette to create the feeling of shopping and movement. I used a hipster-looking fellow holding some wreaths and a small puppy.
Have fun experimenting with your own creative vision to create a warm and glowing scene to stare at during the holidays!