Silky sweet potatoes topped with feather-light marshmallows and decadent pecans. This is the old-fashioned recipe you remember. Even better.
Things You'll Need
3 pounds sweet potatoes (about 5 to 6)

6 tablespoons unsalted butter, separated

1/4 cup brown sugar + 2 teaspoons

1/4 cup milk

1/2 teaspoon ginger

1/4 cup flour

1/4 teaspoon salt

1 teaspoon cinnamon

1/2 cup chopped pecans

Zest and juice of one orange

3 cups mini marshmallows
Step 1: Prepare Sweet Potatoes
Peel and cube the sweet potatoes into about 2-inch pieces. Transfer to a large stock pot, fill with water and bring to a boil. Simmer for about 10 minutes, until the sweet potatoes are very soft.
Drain the water. Pour the sweet potatoes into a large bowl and mash, along with 2 tablespoons of butter, 2 tablespoons of brown sugar and the milk.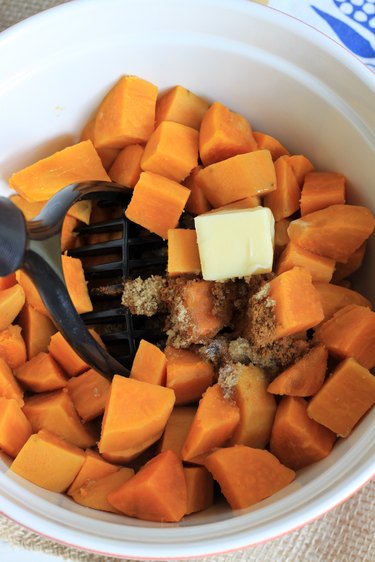 Step 2: Prepare Marshmallow Topping
Combine remaining ingredients (except the marshmallows) in a small mixing bowl: ginger, brown sugar, flour, salt, cinnamon, pecans plus the zest and juice of an orange.
Step 3: Layer Sweet Potatoes and Topping
Transfer mashed sweet potatoes to a buttered casserole dish. Add half the brown sugar topping.
Add half of your marshmallows. Repeat.
Step 4: Bake
Bake the assembled sweet potato casserole at 350°F for about 25 minutes, until the buttery brown sugar has melted completely and the marshmallows are toasted and gooey.