Did you know that pizza dough is very easy to prepare at home? You probably already have most (if not all) of the ingredients already available in your pantry. Homemade pizza is an incredibly fun weekend meal, and this is a simple recipe that actually has several applications. In addition to pizzas, you could use this for things like flatbread and calzones! Let's get started.
Things You'll Need
1 packet, or 2 1/4 teaspoons active dry yeast (instant yeast may be substituted)


1 cup warm water (105-115 degrees F)


2 1/2 cups all-purpose flour


1 teaspoon granulated sugar


1 teaspoon kosher salt


2 tablespoons extra virgin olive oil, plus more for greasing the bowl

Step 1: Dissolve Yeast in Water
Gather your ingredients. Whisk the yeast into the water and let sit for about 5 minutes to dissolve. If you're substituting instant yeast, skip this step.
Step 2: Add Dry Ingredients to a Food Processor
Place the flour, sugar and salt in a food processor (add the instant yeast here if substituting). Pulse to combine.
Step 3: Add Liquid Ingredients
With the machine running, add the water and olive oil.
Step 4: Remove from Food Processor
Once the dough comes together, remove from the food processor. It will be sticky, but should still easily form a ball. If the dough feels wet, you can kneed in an extra 1/2 - 1 tablespoon flour on a lightly floured surface or bowl.
Step 5: Place in a Large Bowl
Lightly grease a large bowl (at least double the size of the dough) with olive oil or an olive oil cooking spray. Cover with plastic wrap. Optionally, you can grease the top of the plastic wrap as well, but this shouldn't be necessary if the bowl is very large.
Step 6: Let Dough Double in Size
Let the dough double in size. This should take approximately one hour.
Step 7: Punch Down the Dough
"Punch the dough" is a baking expression; you can be gentle. Press down the dough to deflate it.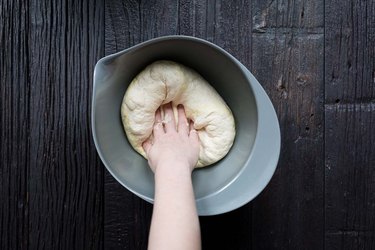 Step 8: Use or Store
Roll out the dough according to recipe instructions, or seal in plastic wrap and store in the refrigerator for up to two weeks. If making a thin crust pizza, the dough can be divided in half to prepare two pizzas.
Looking For Pizza Recipes?
Be sure to check out some of my other pizza recipes: