These cookies are not your typical nut butter cookies. They're the kind of cookie you can get away with eating half a dozen and not feel too terrible about it because: A) they're not loaded with processed sugar, and B) they're packed with good-for-you fats. Another bonus? They're made with oat flour, which makes them naturally gluten-free. And even if you're not into abstaining from gluten, you're not even going to miss it. These cookies are rich and crumbly. Four make the perfect serving, but we won't judge you if you decide to eat few before they even go into the oven (yep, these things are good un-baked too!).
If you're allergic to peanut butter (or just can't stand the stuff), you can swap it with almond butter, pecan butter or your favorite nut/seed butter. The cookies are fairly sweet with 6 tablespoons of maple syrup, but feel free to replace up to 2 tablespoons of it with equal amounts of non-dairy milk. If you're in the mood for chocolate, these are super delicious with a few handfuls of chunks tossed in. Or maybe peanut butter and jelly? Add roughly chopped dried strawberries and some white chocolate chips.
Things You'll Need
1/2 cup peanut butter, creamy or natural

6 tablespoons Grade B maple syrup

2 teaspoons non-dairy milk

1 1/2 cups oat flour
Step 1
Preheat oven to 350 degrees Fahrenheit. Line a large baking sheet with parchment paper; set aside.
Step 2
In a small mixing bowl, whisk together the peanut butter, maple syrup and milk until combined. Using a spatula, stir in the oat flour until well mixed.
Step 3
Using a 4-teaspoon cookie scoop, drop the dough onto the prepared baking sheet about 1 1/2 inches apart. Press with a fork to slightly indent/flatten the cookies.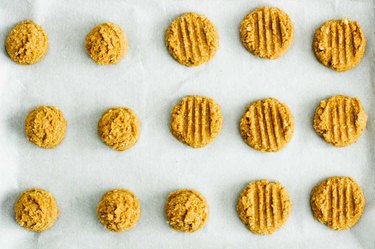 Step 4
Transfer the baking sheet to the freezer and chill for 15 minutes. Transfer the sheet to oven and bake for 10 minutes.Allow cookies to cool on the baking sheet for 5 minutes then transfer to a wire rack to cool completely. Store in an airtight container for up to five days.