You can transform your plain winter coat into a classy and fabulous one with this easy-to-make luxe faux fur collar.
Things You'll Need
1 yard of faux fur

1 yard of lining fabric

Newsprint or paper grocery bag

Tape

Measuring tape

Marker

Paper scissors

Fabric scissors

2 hooks and eyes

Pins

Needle and thread

Sewing machine
To make a large collar pattern, open two pieces of newsprint, lay them on top of each other, and tape one of the sides together.
Next, draw half of your collar on the newsprint and cut. The large collar shown above has the following dimensions:
If you'd like a little smaller collar, you can use the following dimensions:
When you open your pattern, it'll be a horseshoe shape.
Pin your pattern onto the faux fur and cut it out. Cut out an identical piece from your lining fabric.
With right sides together, pin the lining and the faux fur together. Leave a 6-inch opening in the bottom.
Sew around the outside of the collar with a 1/2-inch seam. Remember to leave a 6-inch opening in the bottom so you can turn it right-side out.
Turn the collar right-side out, pin the raw edges under and hand sew the opening closed.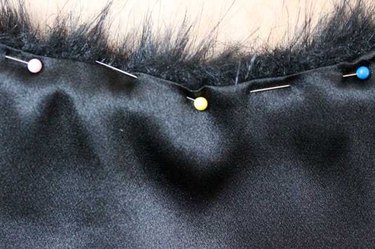 If you want to be able to remove the collar quickly, hand sew a hook and eye to each side of the bottom of the collar. If you'd like your collar to be a little more permanent, tack the faux fur collar to the coat at the shoulders and the bottom.
Now during the colder months you'll be stepping out in style!