Things You'll Need
2-inch wide strips of fleece fabric (approximately 700 yards of strips in total)

Safety pins

Measuring tape

Scissors

Sewing machine or sewing needle

Thread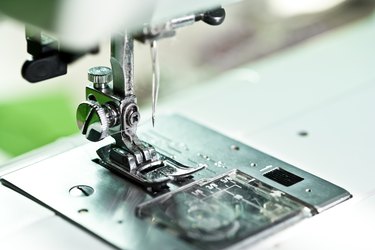 A braided blanket is relatively easy to make at home using inexpensive materials. Using fleece makes a blanket that is soft and warm. It also means you don't need to finish the edges of the fabric strips as fleece does not fray. You can use a sewing machine or hand-sew the blanket together. Use just one color/pattern of fleece fabric or as many different ones as you like, and customize the size to suit your preferences.
Step 1
Take three of the fleece strips and sandwich the ends together. Secure them with a safety pin to the arm of a chair or a cushion.
Step 2
Braid the three strips together. When the braid reaches 80 inches long, secure the three ends together with another safety pin. Machine or hand-sew a few stitches at each end of the braid to hold the three layers together and remove the safety pins.
Step 3
Repeat steps one and two to make additional braids. Make as many braids as you can with the fabric strips you have. You will need around 80 to 100 braids in total.
Step 4
Take two braids and align them together lengthwise. If you are hand-sewing the blanket, start at one end of the braids and whipstitch along the adjacent edges of the two braids. This means you sew through a small part of the fabric on the edge of one braid, then an adjacent part of fabric on the other braid and continue sewing in a zigzag fashion. To machine sew the blanket, set the machine to a wide zigzag stitch and guide the two braids under the presser foot so that the needle catches one braid and then the other alternately.
Step 5
Take a third braid and repeat the stitching process to attach it to one side of the two previously joined braids. Continue in this manner, adding more and more braids to the side of the previous one until the blanket is about 100 inches in length, or your desired size.
Tip
When sewing the braids together, backstitch at the start and end of each braid to prevent the stitches from unravelling.
You can vary the width and length of both the fleece strips and the braids to change the look of the blanket.
If your strip ends before the end of the braid, overlap a new strip with the end of the previous one and secure it with a few stitches.
This method creates a blanket that is about 80 inches wide and 100 inches long, but the size is very easily customized.