When it comes to the perfect dinner party dessert, there are two factors that make a recipe an outstanding choice: ability to make ahead of time, and wow factor. These individual Tiramisu pots not only have both of those in spades, they are also relatively easy to pull off, coming together in just about 30 minutes. It's the perfect way impress without the stress!
Things You'll Need
1 cup hot water

1 tablespoon instant espresso powder

¼ cup sugar, divided

½ teaspoon salt

2 tablespoons coffee liquor

2 large egg yolks

2 tablespoons brandy, cognac, or amaretto (optional)

8 ounces mascarpone cheese

1 cup heavy cream, chilled

16 savoiardi (crisp Italian ladyfingers)

2 tablespoons cocoa powder for garnish
Step 1
Stir together the hot water, espresso powder, 2 tablespoons sugar, salt and coffee liquor until well combined. Set aside, allowing to cool to room temperature.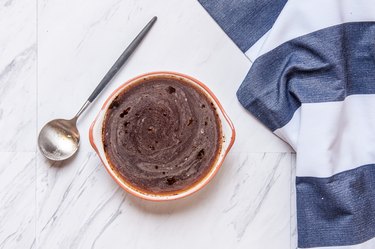 Step 2
Add the egg yolks, brandy or amaretto (if using), and remaining 2 tablespoons sugar to a bowl over gently simmer water.
Step 3
Beat with a hand mixer until light and tripled in size.
Step 4
Step 5
Beat the heavy cream until thickened and peaks form. Fold into the mascarpone mixture.
Step 6
Dip the lady fingers into the coffee mixture, breaking in half if necessary to fit into your individual container. Add in an even layer in the bottom of the container.
Step 7
Top with a layer of mascarpone custard. Repeat steps 6 and 7, layering soaked lady fingers and custard until the container is full.
Step 8
Sprinkle with cocoa powder.
Step 9
Cover and refrigerate for 3 hours and up to overnight.