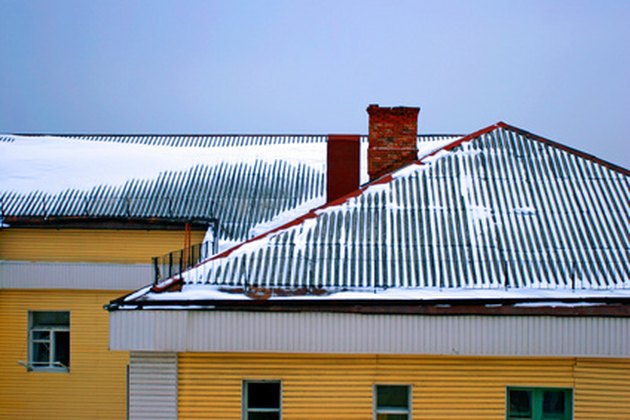 No matter what kind of metal roofing your house has, you may experience metal roofing problems. Typically the problems arise from installation problems, but you may find your metal roof has failed to hold out moisture for one reason or another. Depending on the type of metal roofing used on your home, you may be able to fix the leaks as a do-it-yourself project, although some types of metal roofs require professional repair.
Installation Problems
Other than corrugated metal roofing that you might install on a garage or barn, it's best to leave other types of metal roofing installation to professional installers. The metal sheets are heavy to handle and have extremely sharp edges. Even installing a corrugated metal roof requires that you exercise caution as you handle the corrugated sheets. You must prep the roof's sheeting with underlayment and you must use you use ring-shank nails or screws with rubber gaskets to secure the roofing material.
Standing-seam roofing, one of the most common types of metal roofing on homes, can develop problems if the installer doesn't press the standing seams together properly. Improper installation may even void the warranty that comes with the roofing material. Another common type of professionally installed metal roofing is a flat-lock metal roof. The soldered seams of this type metal roof shouldn't come loose, but it can happen with improper sealing of the seams.
Another common problem area with metal roofing is the metal flashing installed around chimneys, vents and in valleys of the roof. If there is any chance for water to find its way into crevices in these areas it does.
Improperly prepared roof sheeting can also cause metal roof problems. If the installer pulls up old roofing material in preparation for adding a metal roof and doesn't thoroughly check for signs of water damage, you may have to re-do your roof yet again. Telltale signs of leaks are soft spots in the roof's sheeting or dark, discolored areas that indicate signs of dry rot. Without a solid base, a metal roof can develop problems over time especially if the water seepage continues.
Another reason to have a solid base to avoid roofing problems is that a metal roof expands and contracts as it heats and cools. Without proper structure underneath, a metal roof eventually can pull loose.
Failure to take the prevailing wind patterns into account can also cause metal roofing problems. If wind has a chance to get under the metal roof, especially around the flashing, it can cause the roof to billow. Over time this can cause the roofing screws or nails to work loose.
Walking on a roof to install things such as television antennas can cause punctures. If left uncovered, water can get under the metal roof and cause problems.