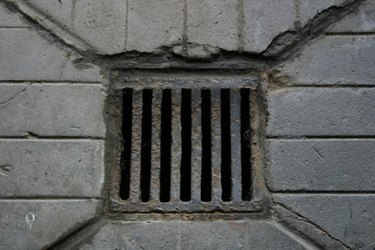 Replacing a floor drain is not a very difficult project to complete. The floor drain must be fully capable of removing water from the surrounding floor space, which is usually a basement or garage floor. Drains can range from 2 to 12 inches in diameter, but most have a 4-inch diameter. Ask a building department plumbing inspector about the requirements for replacing a floor drain in your location.
Remove the Old Drain
You will more than likely have to cut into a concrete slab to get to the old floor drain line and remove the pipes. You may be able to use a hammer to break the concrete, but a circular saw will work much better. Put a masonry blade on the saw. There should not be any electrical lines in this area, but you should proceed with caution anyway. Remove the old drain and pipes.
New Drain Pipes
Do not rely on the setup for the old system when installing the new components. If there was a building code in place when the first drain was installed, it may have been different from the current regulations. So, make sure that the installation, especially the slope, is in compliance with the current codes.
Getting the slope and the rest of the installation correct is vitally important, because once the drain pipes are attached and the cement slab is repaired, corrections will be difficult. Usually, the minimum size for a residential floor drain pipe is a 2-inch diameter. The commercial requirement usually is 4 inches. PVC is the most common material used for drain lines, but clay tiles are still a viable option.
Floor Drain Cover
Floor drain covers are made of a variety of materials, such as PVC, cast iron or stainless steel. Consider a cover with a more polished appearance if you are installing the drain in a finished area. Select one that fits your needs and budget. Keep in mind that the replacement floor drain must be the correct size for the drain line and very durable for garage or basement installations. The shape of the drain cover is a matter of personal preference.