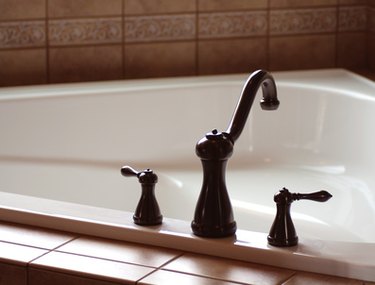 Whether you choose a corner, drop-in or drop-in/undermount tub, Kohler tub installation instructions are pretty general, and can be used for the various types of tub that are available. Most of the tubs are designed for the traditional three-wall alcove. Whether you are building a new bath or remodeling an existing bathroom, choose a style that has the features you desire, such as a removable apron or right-hand or left-hand drains, and will meet your needs.
Preparation
Drop-in Kohler tubs require a custom surround to be constructed. The tub must be supported by the subfloor, but the rim of the tub rests on a frame or apron, which you can cover with ceramic tile, marble or other water-proof finish.
Inspect the subfloor in the area where you will be installing the tub. The floor and the floor joists underneath the floor must be structurally sound. Make repairs as necessary. The floor must also be level. If necessary, cut out the opening for the floor drain.
Make sure that the walls are straight and square. This will ensure the best possible fit when you put the tub in place. Attach 2-inch by 2-inch boards or ledgers around the perimeter of the wall framing to provide support under the rim of the tub. Finish the wall surface approximately ¼ inch above the rim of the tub. You can choose whether to install tile-in bead if the tub will come in contact with the wall surface. Wipe the flange before putting the tub in place.
Securing the Tub
You can choose to apply a 2-inch bed of mortar on the subfloor to mount the tub in place. Make sure that you clear away the cement where you will place the leveling blocks. Also, place a waterproof membrane over the mortar bed after the mortar cures. Or, you can apply adhesive or silicone to the top of the blocks in order to secure the tub. After you move the tub into place, check to make sure that the leveling blocks are in the correct position. The tub must be level. Use wood wedges to level the blocks. Get someone to help you position the tub.
Drain And Overflow
Again, the type of tub will guide the installation of the drain-waste-overflow pipe connection to the trap. There are two types of drain installation: above-the-floor and through-the-floor drains. Follow the manufacturer's instruction for assembly and installation.
When you install the drain flange on the tub, put some putty around the underside. The putty will help prevent leaks. Do not tighten the connection on the trip lever for the pop-up drain apparatus because you will probably need to make some final adjustments to ensure that the mechanism operates freely.