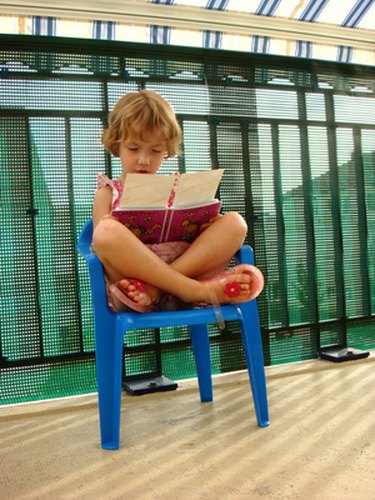 A nice awning provides outdoor space you can use for cooking, entertaining or just relaxing. An awning can be made of wood, metal, fabric or other materials. You will need to choose a plan that looks good with your home's architecture. Weather in your area will play a role in awning selection, as well. For example, if you live in a hot, dry area, you might need an awning primarily for shade versus protection from rain.
Sketch Your House
Make drawings of your home to experiment with different awning plans. For example, sketch a retractable awning or a stationary wooden awning with a covered top. Draw your home with an awning to cover a patio that has open wood slats to provide shade only. Consider metal awnings and fabric awnings for your home, as well. Review home design books and online websites to examine all of the possibilities. The exterior siding of your home will determine a lot about the type of awning you will select.
Consider Your Budget
Choose a design you prefer and figure out how to accommodate your budget. For example, you might design a high-end all-cedar awning constructed with brick-covered support columns. To make the design fit your budget, you might build the awning of salt-treated pine lumber instead. Pine is typically less expensive than cedar. To save on constructing brick-covered support columns, you might build cinder block columns covered with textured stucco instead.
Design for Activities
Create a patio space under the awning for cooking, watching TV or entertaining guests out of doors. Children can also use the space for doing homework in warm weather. Design storage in one end of a stationary awning by building cabinetry and shelving attached to support posts. If the awning is retractable, build a storage unit against a porch wall with a waterproof shelf to cover it. Invent ways to make the awning usable on many days of the year, so it will be worth the cost invested.
Make the Roof Special
The roof of a stationary awning should ideally be covered with cedar shakes, high-quality metal or upscale shingles. If the roof is visible from the lawn area, design it with unusual angles or well-crafted overhangs so it doesn't look too plain or cheap. The awning should look like thought and planning went into its design, so it adds to your home's visual appeal.
Design Good Flooring
An awning will get more use if the flooring is easy to maintain. Simple concrete, indoor-outdoor carpeting or exterior ceramic porcelain tiles make inviting surfaces. If possible, place a water spigot and water hose near the awning area to make scrubbing the flooring more convenient.
Light the Awning Area
Install exterior outdoor lights under the awning. This makes the area usable for more hours of the day. You can buy solar-powered lamp stakes (actually powered by sun-charged batteries) to push into the ground around the awning-patio space. Bamboo posts with built-in containers for holding candles or oil work well to light patio-awning areas, too. Special table candles can be burned to keep away mosquitoes.